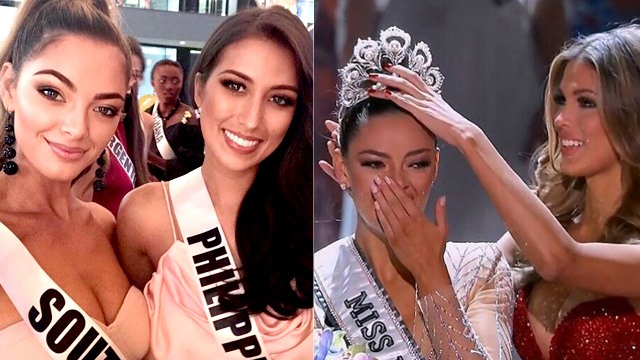 As a nation, we take our pageants seriously. And with good reason! Philippine bets have always made us proud with their beauty, grace, and genuine personalities. There's not one representative who hasn't given her all. 
And this year, crowd fave Rachel Peters made it to the Top 10 of the Miss Universe 2017 pageant. And while her journey to the crown ended there, we know Rachel has a bright future ahead of her, and we can't wait for what's next. In the meantime, here are some of our favorite moments from tonight's coronation:
ADVERTISEMENT - CONTINUE READING BELOW
1. Miss Universe 2016 Iris Mittenaere sharing her last thoughts as the reigning queen.
Before passing on the crown, the French beauty shared with all her supporters what she was most grateful for. While it's already been a year, Iris described that to her, it feels like only yesterday that she was in the Philippines, being crowned by none other than Miss Universe 2015 Pia Wurtzbach.
"It's like a movie...It's a hard job but it's also the most beautiful job in the Universe."
As a dentist, she was also delighted that she was able to support the Smile Train initiative, which helped brought smiles to children with cleft palates. "It's been an amazing year with a lot of different emotions...I'm proud to represent my country."
She posted a lengthy message on Instagram:
ADVERTISEMENT - CONTINUE READING BELOW
2. Ashley Graham saying that Filipina Rachel Peters was her favorite among the Asian candidates: "I was always rooting for you!"
According to the America's Next Top Model judge, Rachel got the biggest reaction when her name was called for the top 16. She also expressed that among the Asian candidates, Rachel was the one who really stood out to her.
3. The exciting Top 16 announcement
This year, the finalists were divided into three regions: Africa and Asia Pacific, The Americas, and Europe. Four finalists were chosen per region, and the last four were wild cards who could come from any of the remaining contries. What a way to build excitement!
The last four announced were Miss Philippines, Miss Venezuela, Miss Jamaica, and Miss China.
When Steve Harvey asked PH bet Rachel Peters what it meant for her to be in the top 16, she said, "It means the universe to me and I can hear the entire Philippines screaming for me all the way from here."
ADVERTISEMENT - CONTINUE READING BELOW
Ashley Graham also caught her after she left the stage. When asked about the support of her kababayans and her joining the Top 16, Rachel said: "I'm just overwhelmed! I mean, even during the dress rehersals earlier there were so many people here... I can't thank you enough."
And on her being a wild card: "Everything happens for a reason."
4. All of Steve Harvey's jokes about getting names right.
After introducing all of the judges, Steve congratulated himself by saying "I got all those names right!"
In case you've forgotten, Pia's win was almost upstaged by the fact that Steve Harvey first announced runner-up Miss Colombia as the winner.
Needless to say, he's never gonna live that day down. Glad to see he's able to laugh it off now!
5. Pia Wurtzbach coming back as a judge!
Clad in a gorgeous red gown and impeccable makeup, Pia Wurtzbach once again reminds us that, even without a crown, she is still a queen.
ADVERTISEMENT - CONTINUE READING BELOW
Best moment: Pia asking Steve Harvey, "Did you miss me?" 
6. A stunning Rachel Peters in her evening gown.
After a photo of her original dress was leaked online, Rachel released the following statement on Instagram stories: "To whoever leaked pictures of my evening gown, thank you for teaching me a lesson about being more careful who you trust. Not sure what your intentions were but no matter what, you're not dragging me down. At the end of the day, it's not about the dress you wear, how you walk, or the element of surprise. What's important is that you are kind and true to yourself—that's when a girl truly shines."
And it looks like she was right. She looked ethereal in her silver evening gown.
#MissUniverse #Philippines Rachel Peters looks stunning in her evening gown pic.twitter.com/cpnjSthAUx

— ABS-CBN Lifestyle (@ABSCBNNewsLife) November 27, 2017
7. A different Peters winning the crown.
ADVERTISEMENT - CONTINUE READING BELOW
We can't bring the crown home every year, and we know Rachel did her absolute best! She'll still come home a champ to us, so there's no reason why we shouldn't support the new Miss Universe, Miss South Africa Demi-Leigh Nel-Peters. (Well, we all knew a Peters was going to win, maybe we should have been more specific? LOL.)
Until next year, ladies!
Recommended Videos
Comments
Load More Stories