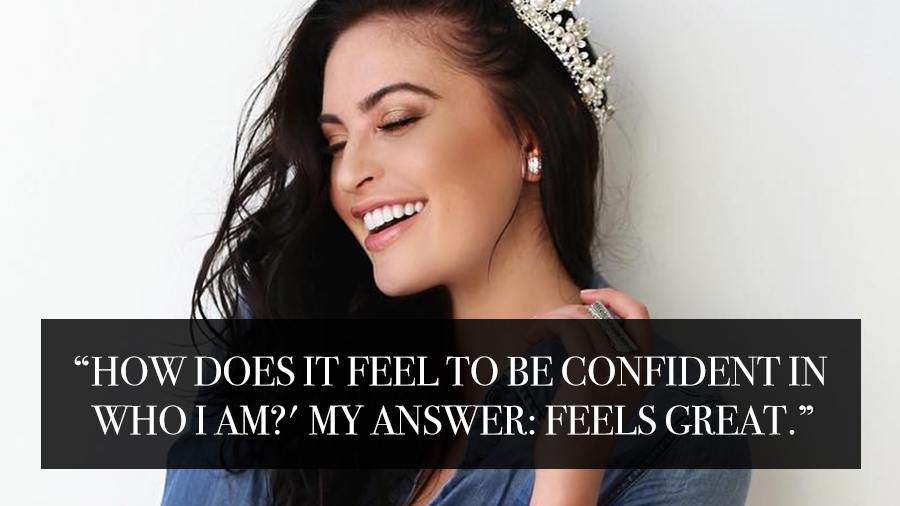 Beauty pageant contestants are all gorgeous women—but they're also vulnerable to harsh criticism from people who have crazy beauty standards. More often than not, these people aren't beautiful themselves, but they expect beauty queens to conform to some unrealistic physical qualifications.
1. Miss Canada
Canada's Miss Universe bet Siera Bearchell was recently hounded by haters who criticized her for supposedly gaining weight. A week ago, Bearchell had an Instagram post addressing this issue. She related, "I was recently asked, 'What happened to you? Why have you gained weight? You are losing points.'"

She went on to say, "I am first to say I am not as lean as I was when I was 16, 20, or even last year, but I am more confident, capable, wise, humble and passionate than ever before. As soon as I started to love who I was rather than always trying to fit what I thought society wanted me to be, I gained a whole new side of life. This is the side I am trying to bring to the Miss Universe competition."
ADVERTISEMENT - CONTINUE READING BELOW
CONTINUE READING BELOW
Recommended Videos
Despite Siera's crown-worthy body positive answer, there are still a lot of people who persist on focusing on the weight issue. Perhaps, these people don't realize that what they're doing is merely a variation of body shaming.
In a January 27 Instagram post, Bearchell related that during a press junket, somebody had asked her, "How does it feel to be so much larger than the other delegates?"

Bearchell related, "I thought, 'How does it feel to be myself? How does it feel to be confident in who I am? How does it feel to fulfill my dream of representing Canada on the Miss Universe stage? How does it feel to be a role model for so many young women who struggle to find someone to look up to? How does it feel to redefine beauty?' My answer: feels great."


Bearchell isn't the only beauty queen who has taken on body-shamers. Many others have faced the same challenge with sass!
ADVERTISEMENT - CONTINUE READING BELOW
2. Miss Iceland 
Last year, Miss Iceland Arna Ýr Jónsdóttir got a mean note from Miss Grand International founder and Thai TV presenter, Nawat Itsaragrisil. The note read: "Stop eating breakfast, eat just salad for lunch and drink water every evening until the contest."



Apparently, the pageant owner thought that Arna, a former gymnast, was "too fat." The beauty queen had this to say to him: "If the owner of the contest really wants me to lose weight and doesn't like me the way I am, then he doesn't deserve to have me in the Top 10. Yes, my shoulders are a bit broader than the other girls' but that is because I was a member of the Icelandic national athletics team and I am proud of that."
Arna then quit the pageant. She later landed an endorsement deal with Nike for making her body positive stand.

ADVERTISEMENT - CONTINUE READING BELOW
3. Miss Italy
In 2016, Paola Torrente, a 2016 Miss Italy contestant who was a runner-up for the crown, was criticized for her curves.
In particular, 40-year-old Croatian model Nina Moric, who was in Ricky Martin's "Livin' La Vida Loca" video, pointed out that Paola was only allowed to compete in the beauty pageant due to "political correctness."

Paola refused to comment on the issue, saying, "Despite being the runner-up I feel like a winner."



Meanwhile, pageant organizer Patrizia Mirigliani stated, "Stop the stereotypes. What we want is more female models who are closer to real people."


4. Miss Venezuela
In the case of Miss Universe 1996 Alicia Machado, she got body-shamed by business mogul Donald Trump who called her "Miss Piggy" and "an eating machine."


Trump owned the pageant franchise before selling it to William Morris Endeavor Entertainment (WME/IMG) in 2015.

Asked to comment on the fat-shaming episode 20 years later, Alicia decided to impart words of wisdom to other women, too. "No matter what, no matter who tells you that you don't look good, that is only outside. You are more than some weight. You are more than some phase. You are more than if you are short or tall, or you are black or you are white, or you are skinny or fat or whatever. Your value is how you can work, how you can feel for the people around you," she said in a feature on The Guardian.
ADVERTISEMENT - CONTINUE READING BELOW
This story originally appeared on Cosmo.ph.
* Minor edits have been made by the Femalenetwork.com editors.
Load More Stories