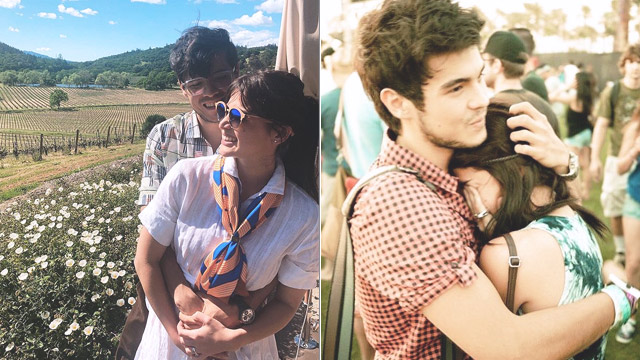 On Easter Sunday, Anne Curtis posted a sweet throwback photo of her and husband Erwan Heussaff from 2010 Coachella.
The photo came with a heartfelt open letter about the story behind the picture, and how much Anne appreciates Erwan for everything that he has done for her, even with just a simple gesture.
ADVERTISEMENT - CONTINUE READING BELOW
"Since it's Coachella weekend, I'm throwing it back to this time nine years ago - back when we were just dating and before we could even think of getting married," Anne started the post. "Story behind this photo - Coachella. 2010. I was so excited to watch She and Him live for the first time. I am a huge fan. Traffic was horrendous and I decided to get out of the car and sprint my way across the grounds to the outdoor theatre just to make it. When I got there, they had JUST finished their performance. I was devastated and this is how he found me - in tears.
"Here comes the sweet part: "He gave me a hug, comforted me and it helped and I felt so loved (even without him telling me he loved me yet )... And now, after nine years and now as my husband, I still get those kinds of hugs... and IT IS ENOUGH to make all well. No matter what I'm dealing with in life. I guess I'm getting all mushy and wanted to make an appreciation post for my husband who put up with my whiney baby-ness this whole trip. Je t'aime mon amour."
The other photo Anne shared is a current one during their California trip, where the couple can be seen hugging, surrounded by the beautiful view of the Joseph Phelps Vineyards.
"As you told me this morning, as you hugged me again, I've never been loved this much before and it's true and I will eternally be grateful to the Lord for sending you to me," Anne added. "Here's to more of those kinds of hugs and adventures together... we may have missed out on Coachella but Yosemite and having the best wine in Napa was worth it and I wouldn't have wanted it any other way."
ADVERTISEMENT - CONTINUE READING BELOW
Anne ended the letter with a hopeful thought for all the single ladies out there who are looking for love: "Here's to celebrating love and I hope you, who took the time to read this, find that one person (if you haven't yet) who can give you 'those' kind of hugs! Happy Easter everybody!"
Load More Stories