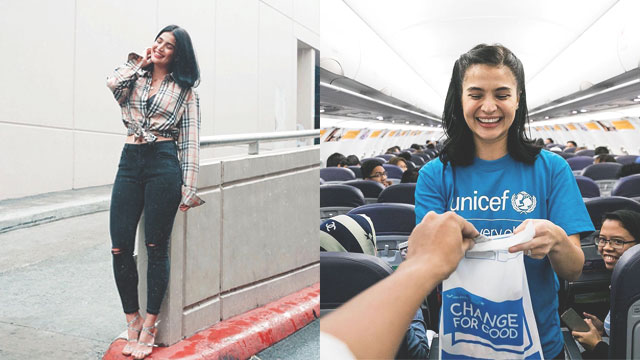 It's impossible to talk about Anne Curtis' accomplishments without mentioning her long history of doing charity work. In fact, one of her latest posts on IG is a photo of herself participating in the Change for Good program of UNICEF where the It's Showtime host asked for change from passengers of a Cebu Pacific flight from Cagayan De Oro. Proceeds go to UNICEF's 1,000 Days program, and Anne happily reported that they collected three bags in that flight alone.
ADVERTISEMENT - CONTINUE READING BELOW
Unfortunately, a netizen left an unsolicited comment on Anne's post, suggesting the actress should donate her own money instead of collecting from "low-income citizens." She also questions Anne's intentions, mentioning how she could be doing it only for publicity.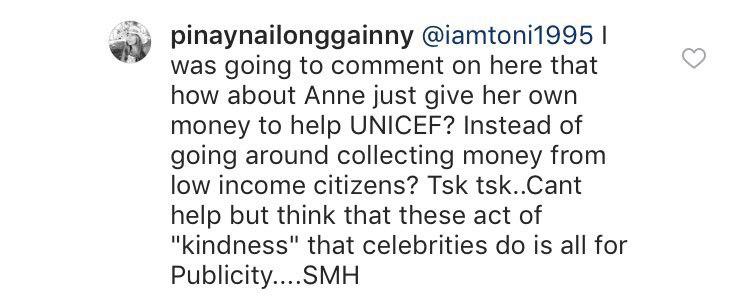 CONTINUE READING BELOW
Recommended Videos
Not one to mince words, Anne Curtis replies to the comment, and while remaining courteous, elaborates on her main goal which is "using where I am to INSPIRE others to do good and donate loose change—ONLY IF THEY CAN." She even mentioned how many children and mothers have already benefited from this simple yet meaningful project. And not that she needed to, but Anne clarifies that she has, on "many other different occasions," donated from her own pocket to UNICEF and her own foundation, Dream Machine.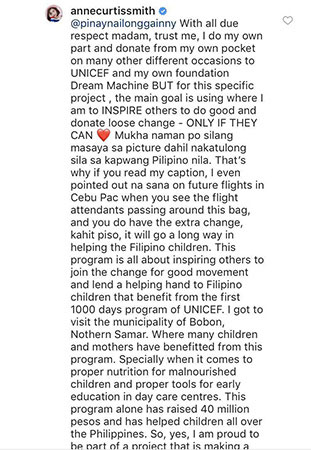 ADVERTISEMENT - CONTINUE READING BELOW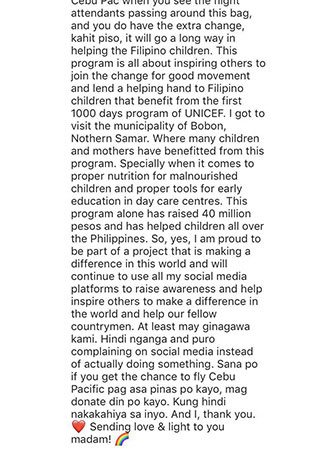 In fact, just recently, Anne Curtis finished the London Marathon for the benefit of the children of Marawi who have been affected by the war. Anne Curtis has been a UNICEF celebrity advocate since 2014, and has since worked to promote the welfare of Filipino youth.
ADVERTISEMENT - CONTINUE READING BELOW
Catch the minute-long video of her five-hour run, captured and edited by her husband, Erwan Heussaff, below: 
How proud were you the moment Anne Curtis lifted UNICEF's flag during the race?
ADVERTISEMENT - CONTINUE READING BELOW
During her interview on ABS-CBN's Tonight With Boy Abunda, Anne shared that they were able to raise P500,000, thanks to Filipinos all over the world, which Anne herself matched. That made a total donation of P1,000,000, which could certainly go a long way in helping the children of Marawi.
Anne has talked about war-torn Marawi several times, and another notable occassion was when she posted about 1LT Bala Tamayo of the Special Forces 134 Vishnu Company, whom Anne met at Fort Magsaysay while training for her upcoming film, Buy Bust.
ADVERTISEMENT - CONTINUE READING BELOW
In an Instagram post, she shared how she and the film crew became friends with 1Lt Tamayo, but "shortly after, we learned that the troops were to go fight the war in Marawi. We somewhat kept in touch—which was great because we knew exactly what the soldiers needed during such a harsh time and sent over care packages to somehow boost their morale.
"Along with my care package I sent over my @gopro to Bala—you see, he is actually a very good film maker and has done shorts for the Special Forces. His request to tell the story and experience the Marawi Siege from the boots of a soldier could not be left ungranted." Anne shared the video taken by 1Lt's GoPro in the same post, you can watch it here.
In August 2017, Anne also founded Dream Machine, which is a foundation that aims to stand as a voice against dream shaming. 
ADVERTISEMENT - CONTINUE READING BELOW
One of their recent successes was Sareena Calonzo, whom Anne met several years ago as she often attended Anne's mall shows and guestings. The young girl has recently achieved her dream of graduating college.
Through Anne's Instagram stories, she expressed how proud she was of Sareena.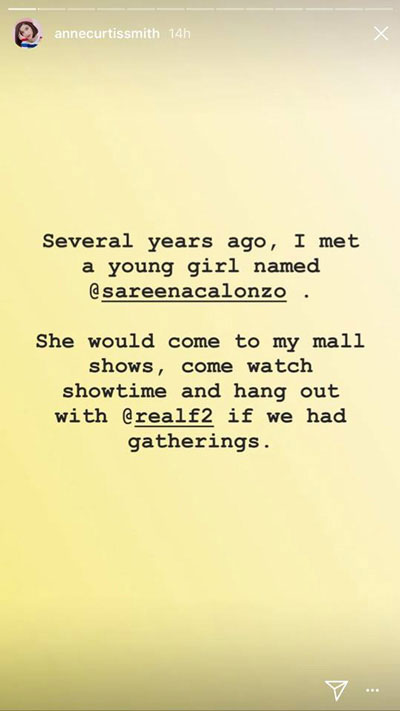 ADVERTISEMENT - CONTINUE READING BELOW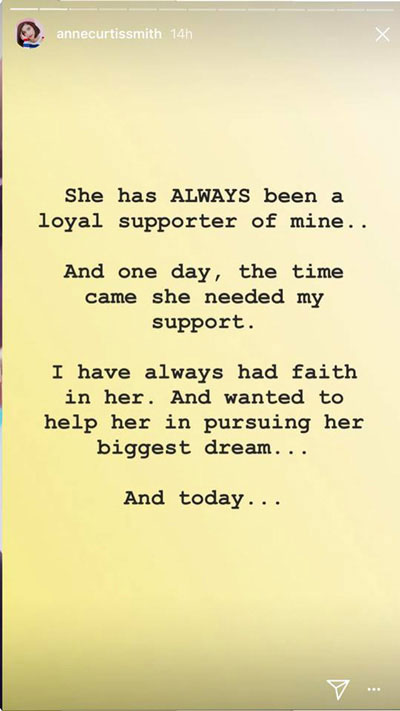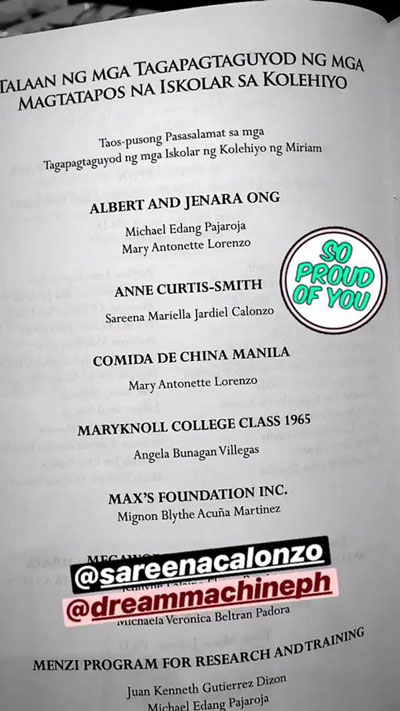 ADVERTISEMENT - CONTINUE READING BELOW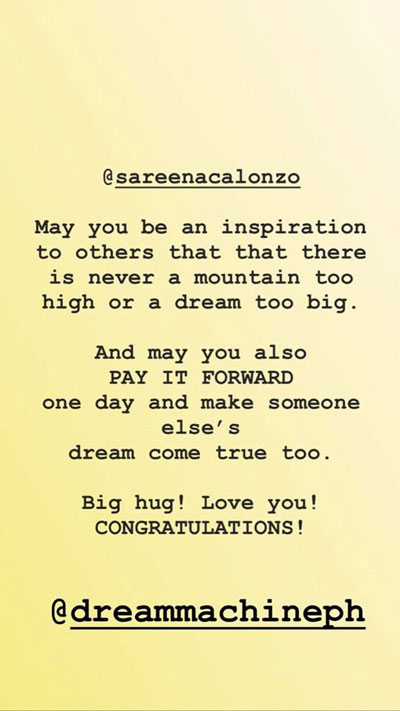 Ever since, Anne has continued helping people reach their dreams, including building additional classrooms for General Roxas Elementary School in Roxas District, Quezon City. They were able to do so thanks to the P7.47 million donation to UNICEF from the participants of The Color Run Dream, a charity event run by Dream Machine.
ADVERTISEMENT - CONTINUE READING BELOW
Load More Stories