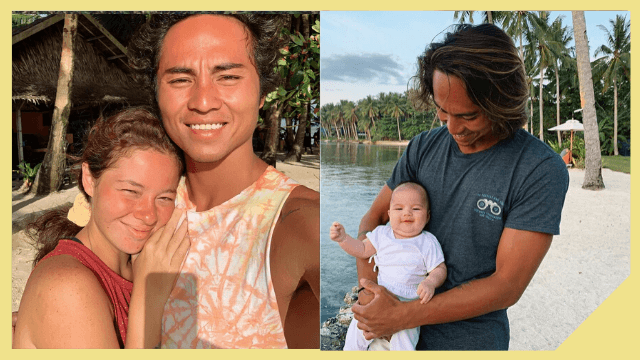 For the first time, Andi Eigenmann spoke about her relationship with her partner, professional surfer Philmar Alipayo, during a rare appearance at an event last week.
Since Andi announced that she was expecting in February 2019, she has always focused on the pregnancy itself, but rarely addressed issues being raised about Philmar. This time, the mom of two felt it was time to speak up.
ADVERTISEMENT - CONTINUE READING BELOW
"I didn't think that the relationship I was getting into was so uncommon," she shared during her talk, to answer criticisms she received after going public about Philmar.
CONTINUE READING BELOW
Recommended Videos
"As soon as I posted it on social media, it was inevitable for us to get negative criticism, because 'we're not bagay,' or because 'I'm maganda' and 'I come from a high profile family' and he was 'just a person from the island.'"
ADVERTISEMENT - CONTINUE READING BELOW
Andi assured Philmar that this was not how she saw him. 
"But I always tell him, 'You're not just a person from the island, you're the richest person I know, because…'" Andi had to stop as she was unable to hold back her tears.
"The right man for you should not be measured by how secure his future is or what he can give me because I can give that to myself," she pointed out.
ADVERTISEMENT - CONTINUE READING BELOW
"All that matters to me is that he has ambition and he has dreams and we can work on that together. Now we have a beautiful family."
Andi and Philmar share a daughter, 4-month-old Keliana Alohi, or Lilo. She was baptized in Catholic ceremonies in the island of Siargao in October. 
ADVERTISEMENT - CONTINUE READING BELOW
In an interview with GMA News, Andi said, "I know that a lot of people can relate to what I went through. Making that decision to be brave and ignore the hate from everybody else turned out well for me."
She hopes her 8-year-old daughter Ellie would take her cue when it's her turn to fall in love in the future. 
"Maybe when she grows older and goes out into the world and learns more and experiences more about the great unknown, she'll realize that 'Oh, my mom is in a relationship or situation that not everybody considered normal or to be okay,'
"And when she realizes that, I hope that she sees me as an inspiration as well, of some sort, for her to do the same; to go out there and feel what she should feel about. 
"It's for her, me fighting for freedom to love. It is also for her and the younger ones."
ADVERTISEMENT - CONTINUE READING BELOW
Comments
Load More Stories