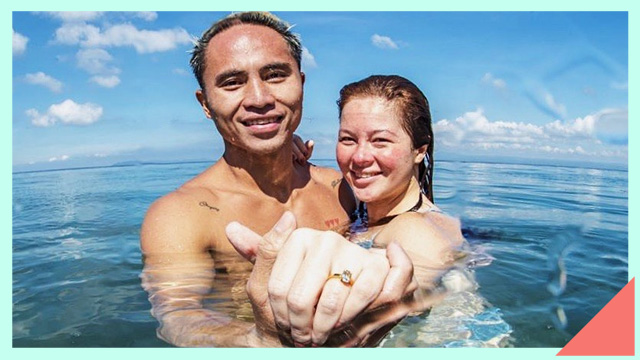 Andi Eigennman and Philmar Alipayo are engaged!
Andi, who is currently pregnant with her third child, shares her heartfelt thoughts on this special milestone in a December 20 Instagram post. 
"I never thought about how my engagement would go because quite honestly, I didn't think I'd have one," she says. "It would've been ok regardless, but it did happen. And it happened the way I wanted it and so much more. Nothing grand. Unprompted, simple, and oh so sincere. That's us. That's him. That is how I want the rest of my life to be.
ADVERTISEMENT - CONTINUE READING BELOW
"I am over the moon, so stoked to be spending it with you my mahal @chepoxz!"
View this post on Instagram
Her fiance Philmar also took to Instagram: 
"She said YES! I love you so much. So happy to spend the rest of my life with you. Promise to take care of you, Ellie, Lilo, and our coming baby number 3 and to make you laugh more and more everyday. 
"Together hinay hinajan nato maabot an ato mga pangandoy sa ato kinabuhe para sa ato pamilya. Mahal ko kamo karajaw gikan sa tibook nako kasing2. (Together we'll slowly reach our dreams for our family. I love you from all my heart.)" 
View this post on Instagram
Andi reveals in their most recent Happy Islanders episode that the engagement actually happened on the third day of their recent getaway in Batangas.
A text appears over a shot of the balcony of their accommodations, saying, "We'd like to keep the personal conversation between the 2 of us to keep it special, but want to share the moment with you all anyway." 
CONTINUE READING BELOW
Recommended Videos
"After a few moments of silence, papa started whispering nice things to me about our life together and our growing family," the text continues. "He doesn't normally talk about his feelings a lot so I was surprised."
After a quiet exchange (and Andi being very kilig), Philmar pops the question. "Gikan sa tibook nako kinasing-kasing, hangjoon ko kaw magpakasal ta. (From my whole heart, I am asking you if you will marry me)." 
We're not crying, you're crying!
Congratulations to the happy couple! 
Load More Stories