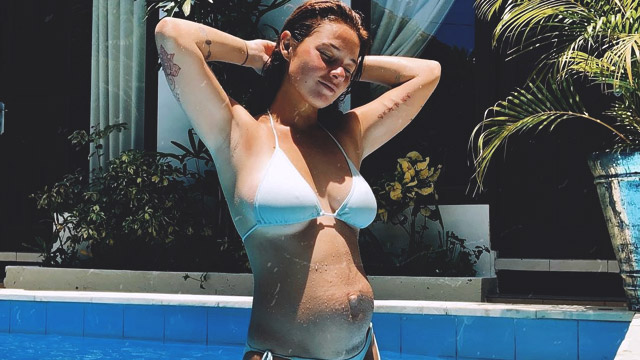 Andi Eigenmann hopes that her morning sickness is over and done for good. Now in her second trimester, she's determined to do what she can to make her second pregnancy healthier than her first one seven years ago.
ADVERTISEMENT - CONTINUE READING BELOW
The 28-year-old actress took a trip down memory lane with photos from when she was pregnant the first time and the time she had just given birth to daughter Ellie Eigenmann. "Oh my wow" were Andi's first reaction to the photos, which she shared on her Instagram Stories.
"My OB actually had to put me on a diet, which I obviously didn't obey, because I was gaining too much weight than what was expected," the preggo mom shared on her Instagram Stories. "I even had to go through an emergency CS because Ellie and I were both too big."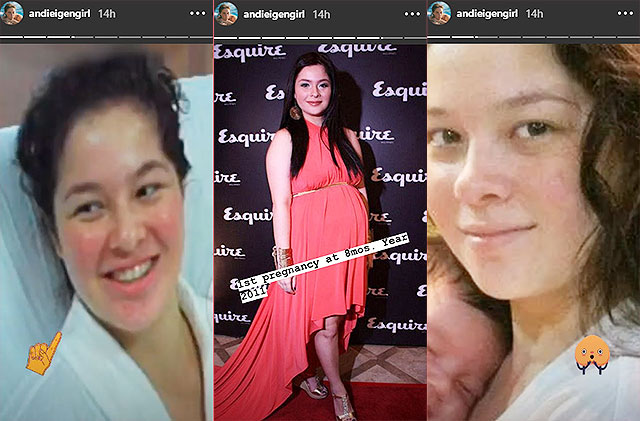 ADVERTISEMENT - CONTINUE READING BELOW
This time around, Andi said she started her second pregnancy journey at her fittest and healthiest self. Though suffering from morning sickness was a hurdle in her goals—she needed to take a break from healthy eating and her routine exercise to give her body time to adjust to the pregnancy—she's back on track.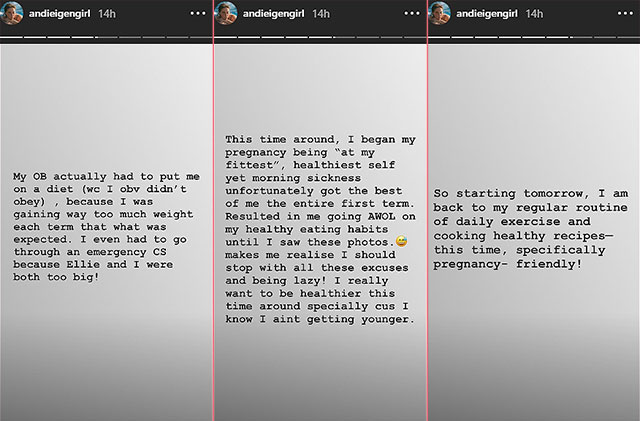 ADVERTISEMENT - CONTINUE READING BELOW
"[Seeing the photos] makes me realize I should stop with all these excuses and being lazy," Andi said. "I really want to be healthier this time around especially because I know I ain't getting younger," the 18-week-pregnant actress admitted. She welcomed March 2019 by hitting the gym for the first time in her pregnancy for a full but super easy body workout.
Andi admitted she didn't work out during her first pregnancy, so she's being extra careful. She listed her three self-imposed guidelines: First, no ab exercises until after giving birth. Second, to keep her workouts at 20- to 30-minutes max, and lastly, to never get to a point where she's already trying to catch her breath while speaking, which is the recommended benchmark for preggos so as not to overexert themselves.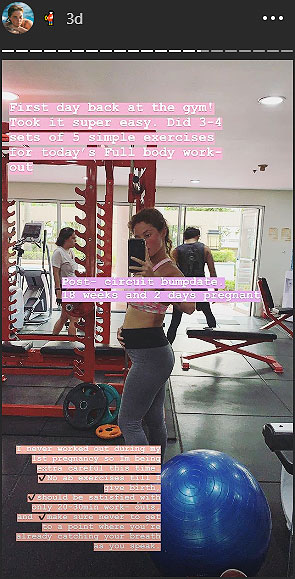 ADVERTISEMENT - CONTINUE READING BELOW
While keeping daily exercise in check and cooking healthy and preggo-friendly recipes, Andi has been sharing photos of Ellie as a baby and toddler. She's confident that Ellie is going to be a wonderful big sister, seeing how excited the little girl is for the new addition to their family, as she and her boyfriend Philmar Alipayo are.
"Lately, she has been so into taking care of me (my belly to be exact), and she even has her pregnancy app!" she shared. "My dear Ellie, you are the biggest blessing I have ever received in my life. I am who I am, because of you. And because of you, setting my fears aside becomes easy. I am so excited to take on this new chapter of my life, with you by my side."
The soon-to-be mom of two admitted to having fears and worries about being a mom the second time around. "But having Ellie and seeing the person she is turning out to be remind me that although I will never be perfect, I know I'm doing some things right!" Andi said.
ADVERTISEMENT - CONTINUE READING BELOW
This story originally appeared on Smartparenting.com.ph.
* Minor edits have been made by the Femalenetwork.com editors.
Recommended Videos
Comments
Load More Stories