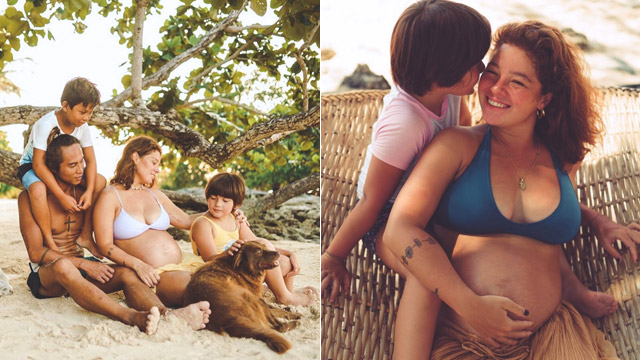 It's no secret that Andi Eigenmann has found happiness in her newfound family with Philmar Alipayo, and in a recent Instagram post, she echoed just that. Currently pregnant with her second child, she recalls how her life as a parent began as a "tiny family of two." Now, she also has Toro, Philmar's son, and Kanoa, who she hopes to meet soon.
ADVERTISEMENT - CONTINUE READING BELOW
CONTINUE READING BELOW
Recommended Videos
"Ellie and I started as a tiny family of two, we've been really happy together, but later I was blessed with not just Philmar, but Toro as well," she wrote in her May 18. "(He also has another adorable son named Kanoa who lives in France, and we are hoping to meet him very soon).
ADVERTISEMENT - CONTINUE READING BELOW
"Our family may not be ideal to some, but others' perception is not our reality. I love my family, and I love our life. We are aware that it is not ordinary—because it's extraordinary."
In another post, Andi expressed her gratitude for Ellie, who has been with her through out her pregnancy.
ADVERTISEMENT - CONTINUE READING BELOW
"Everything becomes so much more special because I know how excited she is to become a big sister, and I know she will be as great to her as she has been to me and everyone she loves." She then addressed her daughter: "Ellie, you will always be the greatest gift I have received. I will always be thankful to have you as my daughter, my very best friend, my light and my life. I can't wait for this new chapter of our life together."
ADVERTISEMENT - CONTINUE READING BELOW
Andi, Philmar, and the rest of their family will soon be welcoming a baby girl.
This story originally appeared on PEP.ph.
Load More Stories