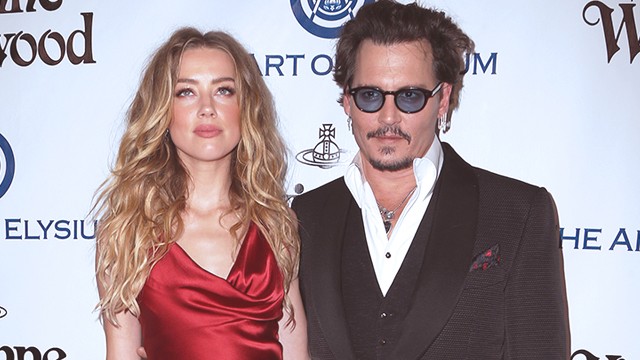 A video reportedly showing Johnny Depp smashing a wine bottle and glass during an argument with estranged wife Amber Heard has been leaked online.

The footage, obtained by TMZ.com, shows the furious actor arguing with Heard while appearing to throw a bottle and a glass while swearing.

<iframe src="//cdnapisec.kaltura.com/p/591531/sp/59153100/embedIframeJs/uiconf_id/6740162/partner_id/591531?iframeembed=true&playerId=kaltura_player_1413478522&entry_id=0_ho9ucbs7" width="664" height="421" allowfullscreen webkitallowfullscreen mozAllowFullScreen frameborder="0" style="width: 700; height: 394px;"></iframe>
ADVERTISEMENT - CONTINUE READING BELOW
The video was reportedly filmed months before the alleged incident on May 21, where the actress claims Depp hit her.

In the leaked clip, the Pirates of the Caribbean actor, who is wearing sunglasses and a cowboy hat, storms around the kitchen banging cupboards while shouting "Motherf****r!"
Heard repeatedly asks him what happened, before telling him, "Something happened this morning, you know that?" "Were you in here?" Depp asks his then-wife. She replies no, and he is heard saying, "Well, then nothing happened to you this morning."

She asks her then-husband, "Yeah, you're right. I just woke up and you were so sweet, and nice. We were not even fighting this morning. All I did was say sorry."

"Did something happen to you this morning?" he shouts at Heard, while throwing what appears to be a bottle or a glass on the floor. "I don't think so," he adds.

"You want to see crazy, I'll show you something crazy. All the crazy," he says as he pours red wine into a glass.
"Have you drank that whole thing this morning?" asks Heard, as she points to the near-empty bottle. That is when Depp spots the camera she has hidden to record the fight, and grabs it. "Oh, you got this going?" he says, as Heard shouts, "I just started it."

"Really?" he asks incredulously, and then the film ends.

Sources told TMZ.com that the footage was "heavily edited," and the website reports there are parts where the 30-year-old actress can allegedly be seen smiling and encouraging him.

It is unlikely the footage can be used in court if it has been edited, but also because it would appear that the 53-year-old actor was filmed without his knowledge.
The footage comes as Heard's lawyers postponed her deposition until Saturday after missing Friday's hearing due to an undisclosed emergency.

The actress had been due to fly back from London, where she is filming Justice League, to answer questions about her ongoing divorce from Depp, who she has accused of domestic abuse.

Friday's meeting was scheduled after Heard failed to give evidence during a planned session last weekend, when she was accused of arriving late and then reportedly refused to leave an office next to the deposition room, where she was allegedly seen crying and screaming by Depp's attorney Laura Wasser.

On Friday, Amber's lawyers Samantha Spector and Joseph Koenig filed court documents in Los Angeles asking a judge to grant the deposition postponement, stating, "To no fault of her own, Amber was unable to arrange for a flight to travel from London to Los Angeles which would arrive in Los Angeles by 10 a.m. on Friday August 12, 2016 so that she could appear for deposition on that date and time."

The pair - who met on the set of 2011 film The Rum Diary and were married for just 15 months - split in May.
ADVERTISEMENT - CONTINUE READING BELOW
Load More Stories