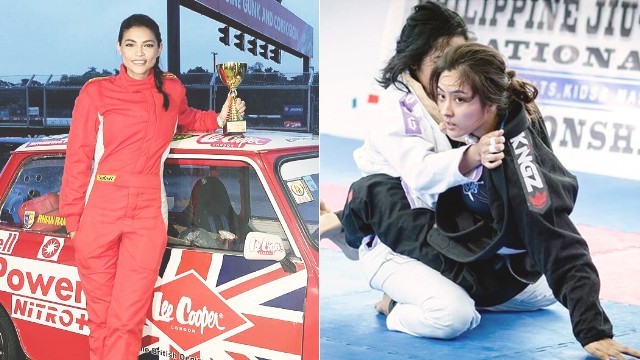 Female celebrities are frequently asked about their diets and exercise routines, but unless they're famous athletes, they barely get to talk about the sports they play. While all these showbiz personalities are already blessed with good looks, acting or hosting chops and stunning bodies, another thing they share in common is that they excel in male-dominated sports. Here are five female stars who prove that they can do just about anything:

1. Jinri Park
You've seen her on the cover of FHM, but you probably didn't know that this Korean beauty is also a fighter. Just last October, she participated in the Philippine Jiujutsu National Championship and even won a match. She also took home the bronze medal during her first international competition in Seoul.


ADVERTISEMENT - CONTINUE READING BELOW
Before Jinri Park entered the world of Brazilian jiujutsu, she admitted during an interview with Sports 5 that she was initially afraid because she wasn't used to technical sports, but eventually, she just went for it and ended up enjoying herself. 
2. Rhian Ramos
She's not just a beautiful, talented actress—she's also a race car driver. According to the 26-year-old star, racing is one of the sports she really enjoys. "This seemed like something fun to do. I run, that's a sport that's okay for me kasi solo – you know parang if I lose, I only let myself down, wala akong responsibility to anyone else."
ADVERTISEMENT - CONTINUE READING BELOW
Recommended Videos
In 2014, Rhian Ramos, along with other stars such as Phoemela Barranda, Sam YG, Jinno Rufino, and Fabio Ide competed at the three-leg 2014 Toyota Vios Cup held in Clark, Pampanga. "Practicing is one thing, participating is another," said the actress. "But once I experienced 'yung race mismo, I fell in love with it na." Watch her in action below:
3. Reema Chanco
This isn't too surprising as you may have seen her on GAME, the weekly sports news program on GMA 7. But just how devoted is she to fitness? Well, the 39-year-old health enthusiast is also a player for the Ultimate Frisbee Philippine Team apart from being a certified fitness trainer.

While Reema and husband Erik Waldie run a restaurant called Wingman, she makes it a point to stay fit by doing TRX training where she develops her strength, balance, flexibility and core stability simultaneously.
4. Iya Villania
Apart from being a fun and quirky TV host, new mom Iya is also a top triathlete. She won a gold medal in her first ever triathlon event in 2014 and secured the third spot in an Olympic distance triathlon a year after that.

According to Iya, exercising and joining marathons is a way for her and husband, Drew Arellano, to spend time together.

"She's so disciplined, she's very determined with whatever she wants to do," says Drew about his wife.
ADVERTISEMENT - CONTINUE READING BELOW
5. Kylie Padilla
Aside from painting, acting, and doing martial arts, the Encantadia star is also into race car driving. Along with Rhian Ramos and Phoemela Barranda, the 23-year old actress also participated in the Vios Open in Clark, Pampanga.

In an interview, Kylie said that it was her manager who encouraged her to try racing since she loves things that give her an adrenaline rush. "Bata pa lang kami, nag-go cart na kami."

The star also shared her action star dad, Robin Padilla's worries. "Sabi lang niya mag-ingat ako kasi alam niyang dare devil ako eh."
6. Isabelle Daza
More known for her acting, hosting and modeling skills, the daughter of former beauty queen Gloria Diaz was also active as an athlete during her school days. She tried different kinds of sports such as horseback-riding, tennis, basketball, and football. She even made it to her school's football varsity team.

In her interview with Health Today magazine, she opened up about her athletic achievements and goals. "My learning curve [with sports] is pretty good but only if I really want to excel in something. With watersports, I had more of a difficult time, but snowboarding I learned pretty quick."  

Here's a video of Belle in action:



ADVERTISEMENT - CONTINUE READING BELOW
Load More Stories