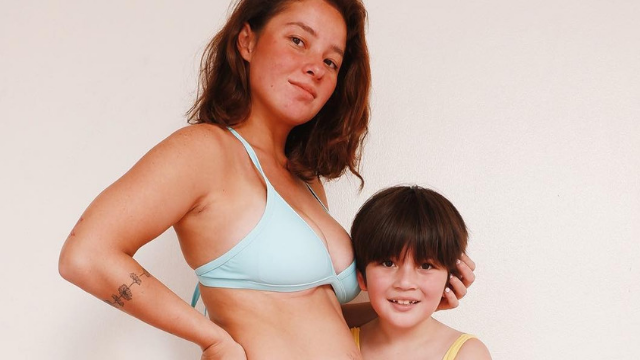 This 2019, you can expect more adorable baby posts to come as these celebrities are joyfully awaiting or are already doting on their second offspring:
1. Andi Eigenmann
Andi surprised her Instagram followers on February 1, 2019, when she revealed that she was 14 weeks pregnant, her second after seven years. The actress, who is now based in Siargao, is having a baby girl with surfing champion Philmar Alipayo.
ADVERTISEMENT - CONTINUE READING BELOW
Andi's first child is Ellie, her daughter with Jake Ejercito, the son of Manila Mayor Erap Estrada and former actress Laarni Enriquez.
2. Georgina Wilson
Georgina announced her second pregnancy in the most fashionable way as expected. She was six months pregnant when she posted on Instagram a photo from her mini maternity photo shoot.
Georgina and her husband Arthur Burnand welcomed their son Archie in December 2016.
3. Chynna Ortaleza
On Easter weekend, Chynna and her husband Kean Cipriano revealed that they were expecting. The announcement came a day after their daughter Stellar's third birthday on April 20.
ADVERTISEMENT - CONTINUE READING BELOW
4. Rica Peralejo
Rica, husband Pastor Joseph, and their five-year-old son Philip happily announced that they were again pregnant after experiencing two miscarriages in 2016 and 2017.
The celebrity mom, who was four months and a half pregnant at the time, shared the news through her YouTube channel, where she narrated the highs and lows of her experience.
ADVERTISEMENT - CONTINUE READING BELOW
In an Instagram post dated April 17, Rica recalled a time when she became worried and wanted to buy a portable doppler to monitor her baby's heartbeat.
"Everyday I felt afraid to not know if my baby's heartbeat had already stopped beating..." she wrote. But Rica kept the faith and "began to believe that even when I do not feel it, my baby is alive."
ADVERTISEMENT - CONTINUE READING BELOW
Rica is now in her third trimester.
5. Saab Magalona
Friends and family rejoiced when Saab posted the words "Kuya Pancho" on her Instagram post. Saab and husband Jim Bacarro confirmed the pregnancy in February, two days before their son Pancho's first birthday. 
ADVERTISEMENT - CONTINUE READING BELOW
The couple experienced a heartbreaking loss when they lost Pancho's twin Luna at birth, but the young parents now believe that their baby girl has made her way back to them through Saab's second pregnancy.
In an Instagram post dated April 14, Saab wrote: "It's heartbreaking to lose a child — how do you even number the succeeding ones? There's no right or wrong way to go about it, it's different for all parents, but Jim and I know in our hearts that our baby has returned to us. A Christmas gift to our family, a birthday gift to Pancho—whatever he/she is—we are so grateful for baby number two..."
ADVERTISEMENT - CONTINUE READING BELOW
6. Divine Lee
Always up for a good time, Divine actually wanted to schedule her baby announcement on April 1, April Fool's Day. She would have wanted people to guess whether the news was a prank or not, but her husband Blake Go couldn't contain his glee and announced it on March 25.
The 37-year-old host-blogger has a goal: To become a mother of four by the age of 40, and she is halfway there.
Divine and Blake are expecting a girl. Their firstborn Baz will turn one on May 5.
ADVERTISEMENT - CONTINUE READING BELOW
7. Maya Flores
The soon-to-be Mrs. Geoff Eigenmann is presently on the "final stretch" of her second pregnancy.
Maya and Geoff posted the news that they were expecting a baby boy on February 14, Valentine's Day, and two months later, the couple revealed that they have gotten engaged.
They have a daughter named Arabella.
ADVERTISEMENT - CONTINUE READING BELOW
8. Fatima Rabago
Remember the Spanish model-entrepreneur with a tiny baby bump on her fifth month of pregnancy?
Fatima Rabago is now closing in to her eighth month of pregnancy.
ADVERTISEMENT - CONTINUE READING BELOW
She and husband, model Hideo Muraoka, are expecting a baby boy.
They have a daughter named Danda.
2019 has also witnessed celebrity moms welcome their second baby.
9. Marian Rivera
Fans were thrilled when Marian and Dingdong Dantes confirmed that baby no. 2 was on the way.
They shared the good news in September 2018, and two months later, they announced it was going to be a boy. Jose Sixto IV or "Ziggy" was born on April 16, 2019.
ADVERTISEMENT - CONTINUE READING BELOW
Dingdong and Marian's firstborn Zia is three years old.
ADVERTISEMENT - CONTINUE READING BELOW
10. LJ Reyes
Summer Ayanna Contis was one of the first celebrity babies born in 2019. LJ Reyes and Paolo Contis welcomed her on January 4.
Paolo has two daughters with ex-wife Lian Paz, while LJ has a son named Aki by her former boyfriend Paulo Avelino.
ADVERTISEMENT - CONTINUE READING BELOW
Deeply grateful, LJ mused on on Instagram: "In this lifetime, I was given the chance to bring into this world two amazing kids..."
11. Andi Manzano
Andi and GP Reyes', second daughter Amelia was born on January 19. 
ADVERTISEMENT - CONTINUE READING BELOW
The celebrity mom wrote on social media that she could hardly believe how much her life has been filled with joy and love: "I remember 10 years ago thinking how my life would be as a 32 year old woman.
"Right now, there is nothing more I can ask for. These two plus the hubby fill up my life with so much joy. Plus you guys have nothing but love to give. Can't explain how happy I am right now and blessed."
ADVERTISEMENT - CONTINUE READING BELOW
12. Nadine Samonte
Nadine is the latest celebrity mom to welcome her second child this 2019. On April 28, she gave birth to Austin Titus, her son with husband Richard Chua.
They have a two-year-old daughter named Heather Sloane.
13. Miriam Quiambao
Back in August 2018, Miriam announced her pregnancy at the age of 43. She and her husband Ardy Roberto had been trying to conceive, and considered undergoing in vitro fertilization or adoption. Fortunately, the former beauty queen got pregnant naturally.
ADVERTISEMENT - CONTINUE READING BELOW
On February 16, Miriam gave birth to her son Elijah.
Her first child is Joshua, Ardy's son with his late wife Tingting.
ADVERTISEMENT - CONTINUE READING BELOW
This story originally appeared on Pep.ph.
* Minor edits have been made by the Femalenetwork.com editors.
Load More Stories