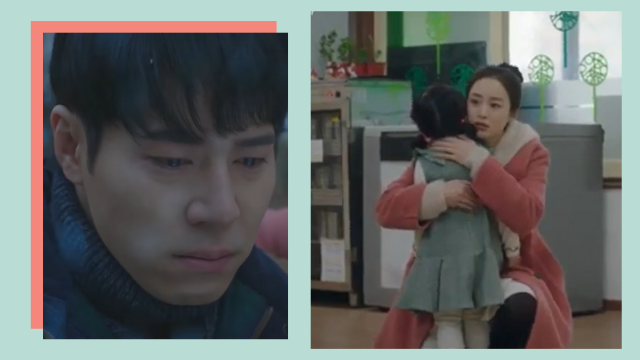 Hi Bye, Mama! aired its final episode on April 19. However, that doesn't mean we're over it or that our tears have dried! Here, we listed down 10 scenes which made us cry buckets—and will undoubtedly make you cry again—from the show: 
ADVERTISEMENT - CONTINUE READING BELOW
1. When Yu-ri's mom always tried to put on a brave front. 
When it happened: Episode 1
The first time we met her, Yu-ri's mom scolded her husband at the temple for being too emotional. Later, however, we see her all alone in the bathroom, turning all the faucets on so that no one can hear her crying. It's one of the very first scenes that told us this drama was going to be super emotional and heartbreaking.  
CONTINUE READING BELOW
Recommended Videos
2. When Gang-hwa begged his in-laws to raise Seo-woo. 
When it happened: Episode 2 
After Yu-ri's death, Gang-hwa was understandably a mess. He brought his newborn daughter to Yu-ri's parents to ask them to take care of her, but they refused, telling him that he needed to be with his daughter more than ever now that Yu-ri's gone. 
3. When Yu-ri got to hug her daughter for the first time. 
When it happened: Episode 2
ADVERTISEMENT - CONTINUE READING BELOW
She spent five years as a ghost, just watching her husband and daughter and never being able to touch or talk to them. When she is brought back to life, Yu-ri goes to Seo-woo's school, where Seo-woo runs into her arms. 
4. When Hyuk-jin's mom finally came to pick him up. 
When it happened: Episode 4 
At first, some of us probably got irritated at Hyuk-jin because Seo-woo almost died because of him, but learning about his backstory was just another heartbreak. As a kid, he didn't know that he'd already died, and he spent every day with his previous classmates waiting for his mom to pick him up. But she never came, until Yu-ri somehow found a way to bring her back to the preschool. 
5. When we saw how much Yu-ri's dad grieved for her. 
When it happened: Episode 8
We also see the pain Yu-ri's death caused her best friends. In the scene, Hyeon-jeong and Geun-sang ask a composed Mr. Cha to get some sleep. He refuses and they later see him on the floor, crying and begging the heavens to bring his daughter back. 
ADVERTISEMENT - CONTINUE READING BELOW
6. When Mr. Kim got to attend his daughter's wedding. 
When it happened: Episode 8
One of Seo-woo's teachers turned out to be Mr. Kim the ghost's daughter. He watched his daughter lament that if only she'd gotten married sooner, he would be able to walk her down the aisle and celebrate with her. His friends would've been able to congratulate him. During the actual wedding, however, we see how happy both father and daughter are! 
7. When all Yu-ri wanted was for Gang-hwa not to cry again. 
When it happened: Episode 8 
Hyeon-jeong wants to tell Gan-hwa that Yu-ri should go back to being his wife, but Yu-ri tells her that Gang-hwa and Min-jeong love each other and that's all she wants for him. 
8. When Yu-ri told Ms. Mi-dong how much Seo-woo loves her stepmom. 
When it happened: Episode 12 
We are shown a scene where Seo-woo tells her, "Mom is my favorite." Yu-ri recollects how Seo-woo runs to Min-jeong every time they see each other, and says that Seo-woo "can't live without her mom." For her to say that, knowing that she is Seo-woo's real mom and she should be Seo-woo's favorite, is just heartbreaking. 
ADVERTISEMENT - CONTINUE READING BELOW
9. When Gang-hwa absolutely refused to let her go. 
When it happened: Episode 15 
During their confrontation, Gang-hwa asks Yu-ri why she lied about dying again in 49 days. She keeps telling him that she doesn't have a place in the world anymore, but he tells her that they will find a way.
"When I was missing you so much that my heart hurt, that I wanted to carve it out, you weren't here...Then you appeared out of the blue and now, you're going to die again?!" 
10. That ending, where she said goodbye to Gang-hwa and Seo-woo. 
When it happened: Episode 16 
"I'll remember you," Gang-hwa tells her. "I'll only cherish the happy memories." They parted with a hug, instead of a kiss. Meanwhile, during her goodbye scene with her daughter, Seo-woo calls Yu-ri "mom" for the first and last time, instead of "pretty auntie."  
Load More Stories