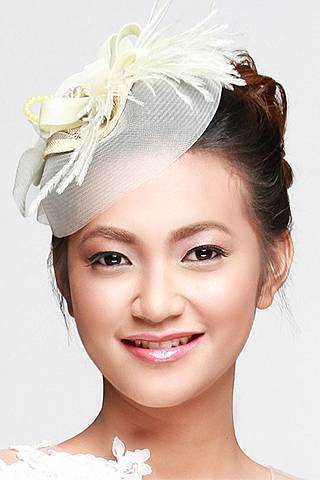 (About the Artist)

She quit her day job as a HR practioner and now in the pursuit of her being a loving wife to her husband Jessie, Supermom to her kids Joaquin and Julia, and BFF (Best Friends Forever) to her clients.

She started out in the fashion industry in Manila as a commercial model in 2003 appearing in various advertisements campaigns as an on-cam talent where she got her exposure in the field of beauty from the industry's best artists.

To get formal training in the science of beauty, she enrolled in 2010 at the Center of Aesthetic Studies for both Hair and MakeUp Artistry.

Now she enjoys the scene behind the limelight to glam up bride-to-be's and their grooms on their special day.
ADDITIONAL INFORMATION
Traditional MakeUp with Hairstyle (High Definition-Ready)
Airbrush MakeUp with Hairstyle (High Definition-Ready)
For Bridal Beauty, Debuts, Editorials, Advertising Campaigns and other Special Occasions Bridal Beauty : Traditional MakeUp with Hairstyle for Bride and Groom
1. FREE Hair & MakeUp Trial for actual wedding day look for the Bride only
2. FREE Traditional Hair & MakeUp for Pre-Nup Photo shoot Session with UNLIMITED Retouch and FREE 3 change looks on any Metro Manila location
3. FREE UNLIMITED Retouch for everyone at the prep venue during prep
4. FREE UNLIMITED Retouch for the Bride & Groom at the church before ceremony
5. FREE UNLIMITED Retouch for the Bride & Groom at the church after ceremony for photo session
6. FREE Change look for the Bride at the church before leaving for reception venue

Bridal Beauty : Traditional MakeUp with Hairstyle for Bride and Groom PLUS 2 entourage
1. FREE Hair & MakeUp Trial for actual wedding day look for the Bride only
2. FREE Traditional Hair & MakeUp for Pre-Nup Photo shoot Session with UNLIMITED Retouch and FREE 3 change looks on any Metro Manila location
3. FREE UNLIMITED Retouch for everyone at the prep venue during prep
4. FREE UNLIMITED Retouch for the Bride & Groom at the church before ceremony
5. FREE UNLIMITED Retouch for the Bride & Groom at the church after ceremony for photo session
6. FREE Change look for the Bride at the church before leaving for reception venue

Bridal Beauty : Traditional MakeUp with Hairstyle for Bride and Groom PLUS 3 entourage
1. FREE Hair & MakeUp Trial for actual wedding day look for the Bride only
2. FREE Traditional Hair & MakeUp for Pre-Nup Photo shoot Session with UNLIMITED Retouch and FREE 3 change looks on any Metro Manila location
3. FREE UNLIMITED Retouch for everyone at the prep venue during prep
4. FREE UNLIMITED Retouch for the Bride & Groom at the church before ceremony
5. FREE UNLIMITED Retouch for the Bride & Groom at the church after ceremony for photo session
6. FREE Change look for the Bride at the church before leaving for reception venue

Bridal Beauty : Airbrush MakeUp with Hairstyle for Bride and Groom
1. FREE Hair & MakeUp Trial for actual wedding day look for the Bride only
2. FREE Traditional Hair & MakeUp for Pre-Nup Photo shoot Session with UNLIMITED Retouch and FREE 3 change looks on any Metro Manila location
3. FREE UNLIMITED Retouch for everyone at the prep venue during prep
4. FREE UNLIMITED Retouch for the Bride & Groom at the church before ceremony
5. FREE UNLIMITED Retouch for the Bride & Groom at the church after ceremony for photo session
6. FREE Change look for the Bride at the church before leaving for reception venue

Bridal Beauty : Airbrush MakeUp with Hairstyle for Bride and Groom PLUS Traditional MakeUp with Hairstyle for 2 entourage
1. FREE Hair & MakeUp Trial for actual wedding day look for the Bride only
2. FREE Traditional Hair & MakeUp for Pre-Nup Photo shoot Session with UNLIMITED Retouch and FREE 3 change looks on any Metro Manila location
3. FREE UNLIMITED Retouch for everyone at the prep venue during prep
4. FREE UNLIMITED Retouch for the Bride & Groom at the church before ceremony
5. FREE UNLIMITED Retouch for the Bride & Groom at the church after ceremony for photo session
6. FREE Change look for the Bride at the church before leaving for reception venue

Bridal Beauty : Airbrush MakeUp with Hairstyle for Bride and Groom PLUS Traditional MakeUp with Hairstyle for 3 entourage
1. FREE Hair & MakeUp Trial for actual wedding day look for the Bride only
2. FREE Traditional Hair & MakeUp for Pre-Nup Photo shoot Session with UNLIMITED Retouch and FREE 3 change looks on any Metro Manila location
3. FREE UNLIMITED Retouch for everyone at the prep venue during prep
4. FREE UNLIMITED Retouch for the Bride & Groom at the church before ceremony
5. FREE UNLIMITED Retouch for the Bride & Groom at the church after ceremony for photo session
6. FREE Change look for the Bride at the church before leaving for reception venue

Debutant Beauty : Traditional MakeUp with Hairstyle for Debutant and Mom
1. FREE Hair & MakeUp Trial for actual event day look
2. FREE Pre-Debut Photo Shoot Hair & MakeUp Session with FREE UNLIMITED Retouch during shoot on location and FREE change look (max 3 lay-outs)

Debutant Beauty : Airbrush MakeUp with Hairstyle for Debutant and Mom
1. FREE Hair & MakeUp Trial for actual event day look
2. FREE Pre-Debut Photo Shoot Hair & MakeUp Session with FREE UNLIMITED Retouch during shoot on location and FREE change look (max 3 lay-outs)

Out-Of-Town Hair & MakeUp Services (Add-on only)

Traditional MakeUp with Hairstyle for Pre-Nup Photo Shoot Session on location
- FREE Unlimited Retouch on any Metro Manila location
- FREE 3 change looks (hair/make-up)

Hair Extensions Add-on
- Free Styling of Hair Extensions yours after the event

Ordinary Hair & MakeUp Services (Traditional/Airbrush)
Load More Suppliers
---