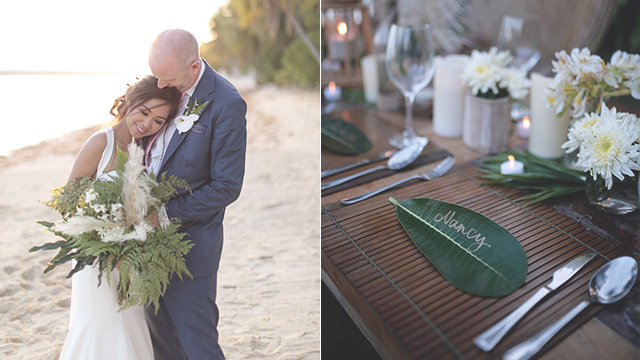 In October, entrepreneur and fashion blogger Yuki Higson (then Tansengco) married her fiancé, Nick Higson, in a romantic, tropical wedding on the gorgeous island of Siargao. 
Before the big day, guests enjoyed a welcome lunch at Guyam Island, a tour with Mabuhay Restop, and the Despedida de Soltera at Kermit Surf Resort. 
ADVERTISEMENT - CONTINUE READING BELOW
CONTINUE READING BELOW
Recommended Videos
ADVERTISEMENT - CONTINUE READING BELOW
The wedding itself was held at Sto. Nino Parish, Dapa, followed by a reception at Bayud Boutique Resort.
ADVERTISEMENT - CONTINUE READING BELOW
The bride revealed that from the very beginning, she and her stylist agreed to "make it a zero-waste wedding as much as possible (or at least try) so definitely no balloons, floating lanterns... Even the wooden signage we had made was used all throughout the wedding weekend para sulit."
Read on to learn about the adjustments they had to make in an exclusive interview with Female Network, as well as how they managed to keep the affair classy and elegant with a little resourcefulness and sensitivity:
ADVERTISEMENT - CONTINUE READING BELOW
Female Network: Why did you choose Siargao?
Yuki Higson: From the beginning, Nick and I wanted an intimate wedding that would also be a treat for our guests (especially his family flying in from the U.K.).
We agreed to do an intimate destination wedding (we initially aimed for 50 people but ended up with a total of 75—but including entourage na!) so we could spend quality time with each one of our guests and make them feel super special and highly involved on our big day.
ADVERTISEMENT - CONTINUE READING BELOW
We wanted our guests to feel the happiness and high Nick and I get from traveling to beautiful destinations and Siargao was just a flight away. Plus, from the airport to your resort, it would just be a 20-30 minute car ride.
I feel like Siargao is one of those hidden treasures (it was a first time for a lot of our guests). Nick and I love the beach, too and why go far when the Philippines has the best islands and beaches? Siargao gives me a feeling of being so at home. I love the chill vibe, it would be a treat for the guests to see Siargao, the food on the island is fantastic and the island itself is so beautiful you honestly wouldn't need to style it.
FN: Any tips for planning a wedding in Siargao if you're based in Manila?
YH: The best decision I made was hiring my good friend Martina Bautista of The Lightswitch Studio as my event stylist (She is an interior designer and also styles Spectrum Fair Manila.). We started planning in January and all we needed was to do one ocular in Siargao in May so Martina could see the actual church and reception venue. It also helps to get a local team from the island (The Events Factory Surigao) to partially assist Martina and provide the set-up to be used so we could avoid bringing too many items from Manila to Siargao in our efforts to lessen logistical issues and waste as [much as] possible.
ADVERTISEMENT - CONTINUE READING BELOW
FN: Tell us about your successful projects/ideas to be more environmentally conscious, and other tips for brides planning destination weddings.
YH: We definitely wanted to do (in our best efforts) a zero-waste wedding so from the beginning, Martina and I agreed no single-use anything: no plastic gloves for the island lunch, no plastic water bottles, no balloons or floating lanterns, etc. We [wanted to] preserve and highlight the beauty of the island and not over-style it.
Prepare a giveaway guests can actually use (and reuse!)
Some people just discard wedding giveaways so Martina and I agreed we'd prepare welcome kits that would double as giveaways! My brand, Style Cat, customized jute sacks for men and a stylized version of our local buri bag into a cute clutch they could use at the wedding reception in our color motif: navy blue and milennial pink. It was cute seeing our male guests carry around the cat jute sack with their towels and the girls use the clutch!
ADVERTISEMENT - CONTINUE READING BELOW
Use classic elements so you can maximize and re-use whatever you can:
The reception was simply styled with locally sourced white flowers, greens and "talahib" as the centerpieces, banig and pillows for the cocktail area.
For my wedding gown, I opted for a simple classic serpentina silhouette by Ryan Madamba that I could wear again and for the entourage, the bridesmaids wore white top and tulle seperates so they could re-use it again.
ADVERTISEMENT - CONTINUE READING BELOW
The "NY" wooden monogram we had made was maximized by using it throughout the island lunch, despedida de soltera and the reception.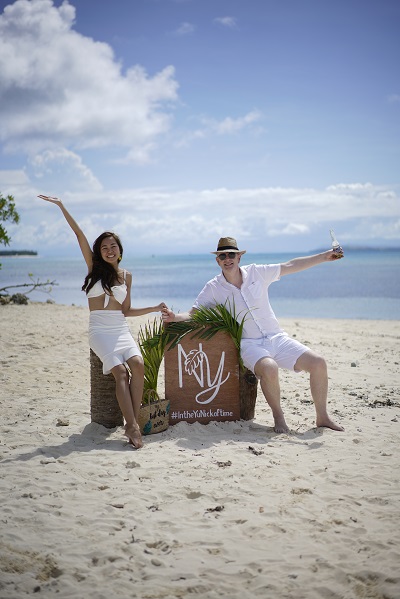 The white decorative lanterns were styled in Kermit and re-styled in the cocktail area of the reception.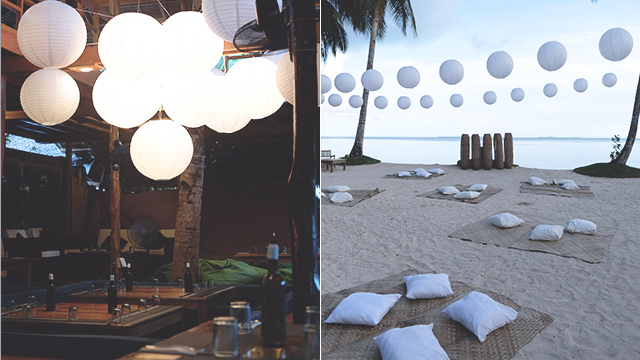 ADVERTISEMENT - CONTINUE READING BELOW
We provided straw hats for the guests during the lunch on Guyam Island and the spare hats were shared with the staff of Bayud Resort—their gardeners and housekeeping staff loved them!
To future brides planning destination weddings, always remember that what you bring to the island should not be waste afterwards, reusable or else—take it back with you! Let's have a responsible destination wedding and preserve the beauty of our islands.
Load More Stories