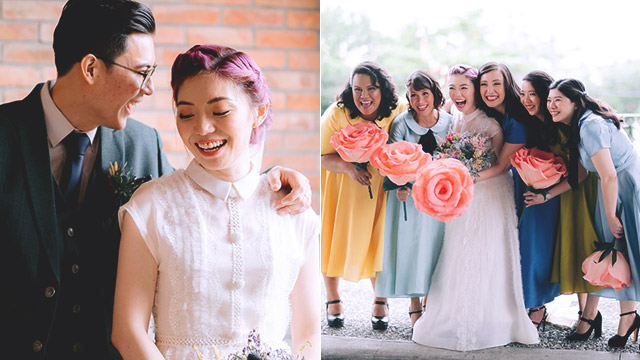 Many couples dream of a formal wedding reception. Imagine an immaculate white wedding punctuated with gilded gold accents or perhaps some glittery silver details. But such wasn't an option for newlyweds Jenifirst Osmeña and Greg Aguilar, who share the same love for cats and boardgames. The two opted for a bright, quirky, and overall fun nuptials. Below, we talk to the bride as she shares all the details about their unconventional wedding.
ADVERTISEMENT - CONTINUE READING BELOW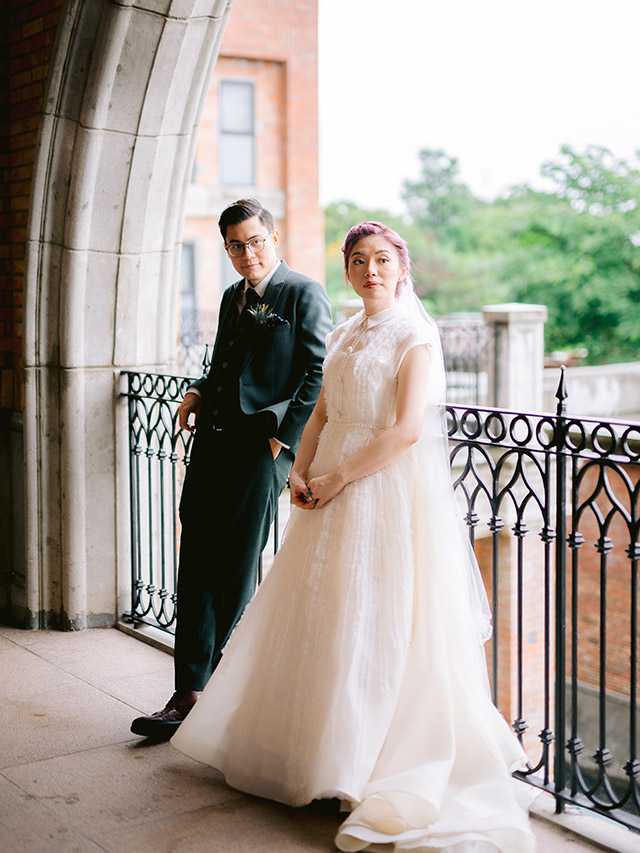 CONTINUE READING BELOW
Recommended Videos
Congratulations on your wedding! How was your special day? Could you share with us the details of how it went down?
"It was a blur! Everything happened so fast. Honestly, half the time I think we didn't know what was going on anymore, there's just so much happening! Our coordinators—Jets, Rhona, and their team—along with our friends and family really came through to make everything go smoothly and according to plan."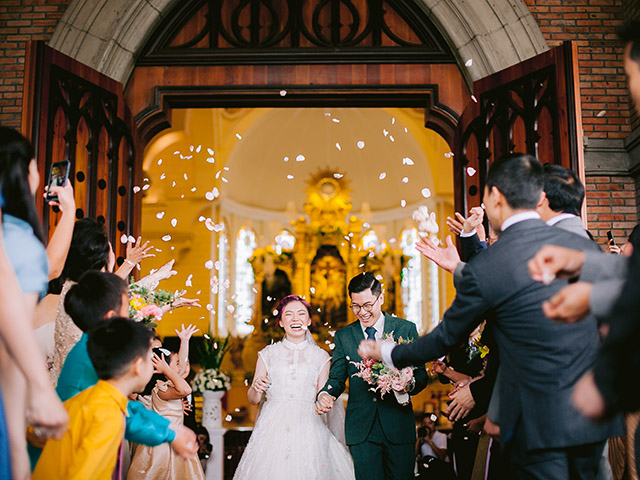 ADVERTISEMENT - CONTINUE READING BELOW
What was the inspiration behind the dress? Why did you decide to go with this style or aesthetic?
"I'm drawn to dresses that have a more vintage, whimsical aesthetic. My dress was made by Jun Escario and he really got what I wanted. Our initial peg was this Viktor and Rolf gown with ruffles but with a Filipino twist—we kept the ruffles but added this beautiful French lace to give it a Barong feel. I think it went well with Greg's green three-piece suit which was by Ziggy Savella."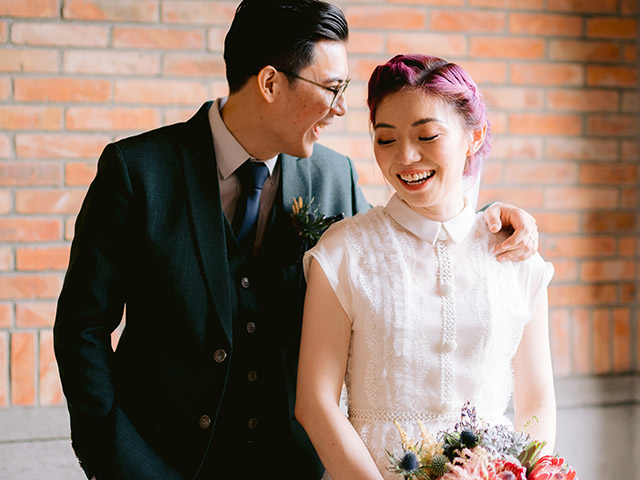 ADVERTISEMENT - CONTINUE READING BELOW
How about the accessories you used?
"I didn't have any special accessories for the wedding except for my wedding shoes, which were a pair of sequinned Chuck Taylors. I never (don't know how to) wear heels and am in sneakers all the time so it seemed appropriate."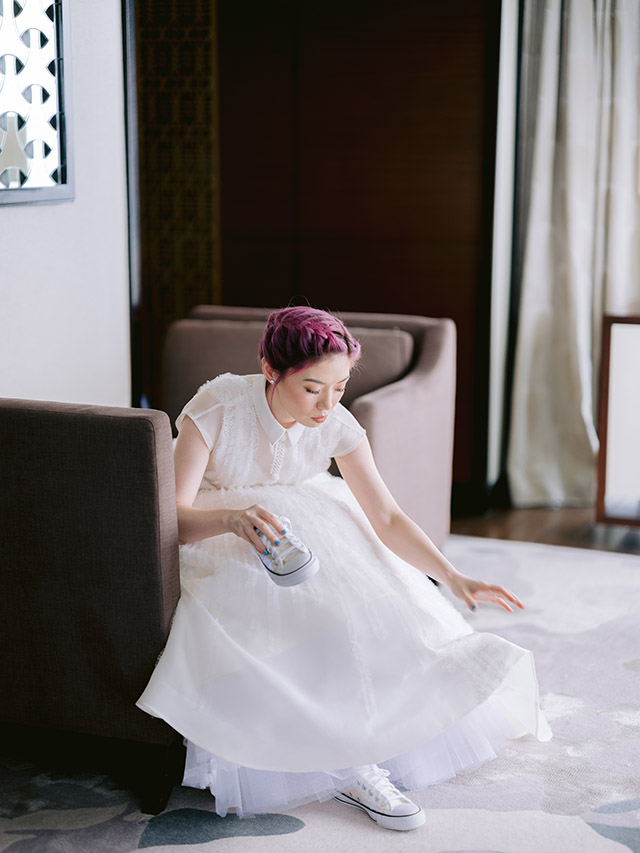 Jen skipped the uncomfortable heels and opted for a pair of white Converse sneakers instead. 
ADVERTISEMENT - CONTINUE READING BELOW
We saw the cute cat-themed invitations! Whose idea was that and what made you decide to pursue this?
"Our cat-themed Save The Date was Greg's idea! He found this vintage photo of cats dressed up for wedding portraits and we just thought it was the cutest thing! For our actual invite, it was more like a train ticket theme with holes punched out for the date and time of the church ceremony."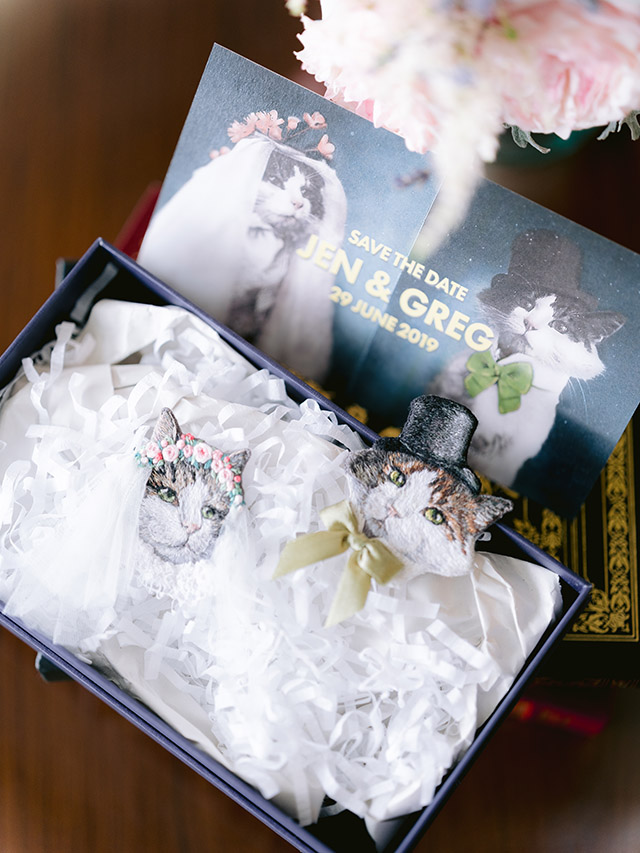 ADVERTISEMENT - CONTINUE READING BELOW
Let's talk about your reception. Could you share with us the deets?
"We like Wes Anderson's aesthetic so we wanted to capture some of that in our wedding. We had a really hard time explaining when people would ask us the color motif or theme of the wedding because I think we just put in a lot of different things that we looked without really thinking of the theme."
"We spent a lot of time on everything! I'm not sure if couples are supposed to be involved in every single detail (since it drove us a bit crazy) but we realized as we were planning the wedding that we were very specific about everything and wouldn't have had it any other way."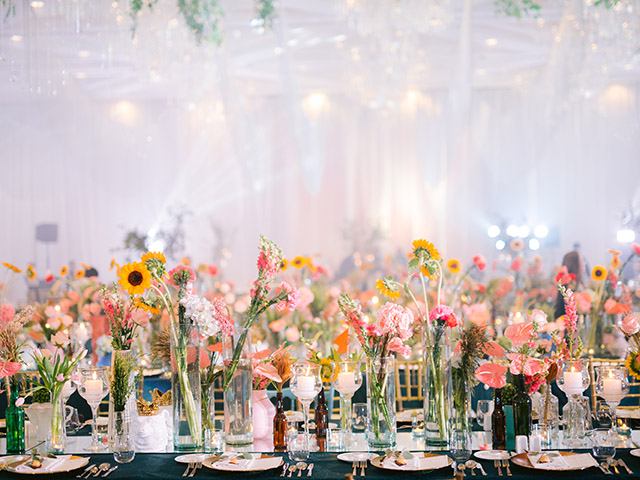 ADVERTISEMENT - CONTINUE READING BELOW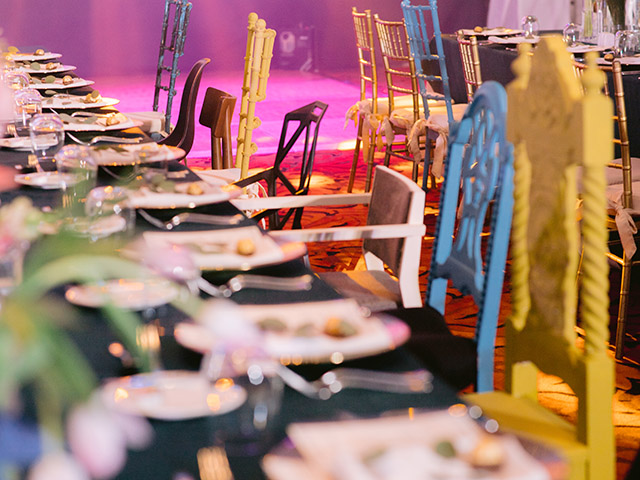 "For main reception design, we rented an assortment of 40 different chairs; for the long tables, we had to give the tables a more interesting look. We bought a lot of our own things like assorted vases, ceramic animals, old books to help bring a more garden wedding feel to the reception. This was a little difficult since we had it at the Sofitel Ballroom but Joyce Aguilar of 2171 Floral Creations really worked her magic and made it happen. The ceiling installation of leaves, crystals, and fringe, plus all the beautiful flowers really helped make our vision a reality."
ADVERTISEMENT - CONTINUE READING BELOW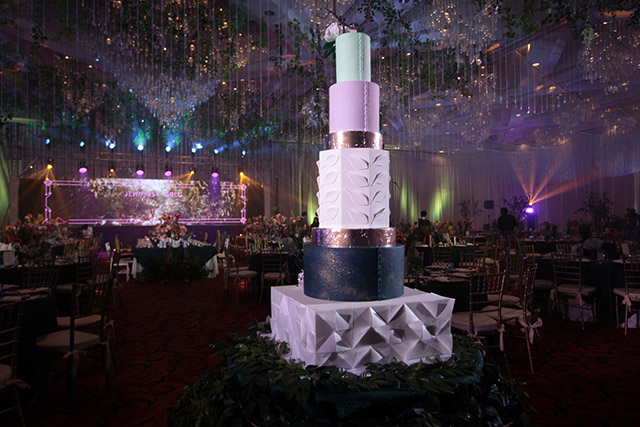 "We had our cake done by Jomel Salas of Miel Cake Designs. It had lots of beautiful colors and details that really complemented our reception's theme. Music was provided by Manila String Machine—we decided to go for a string quartet because we thought it would be more chill than a full band and we didn't really plan to do a lot of dancing afterwards."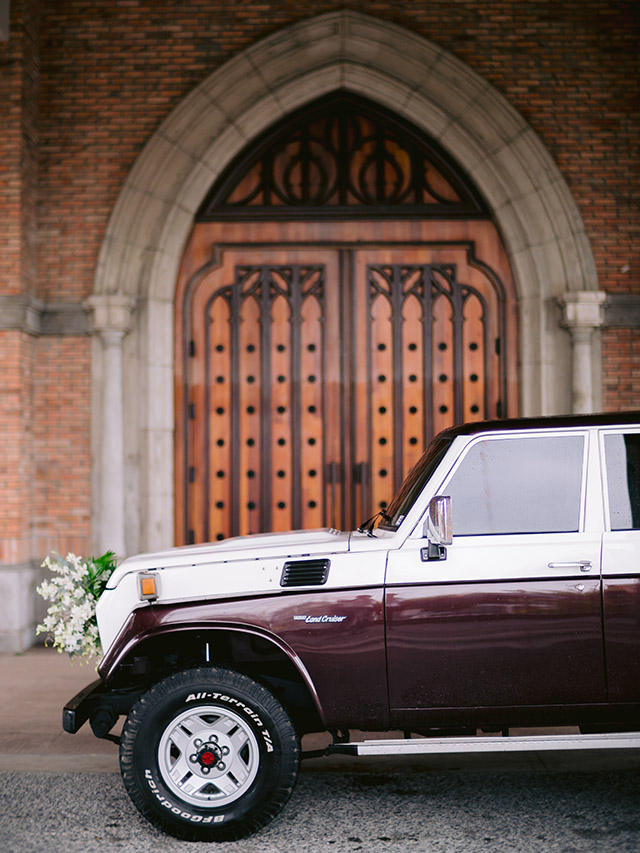 ADVERTISEMENT - CONTINUE READING BELOW
"Our wedding car was a vintage Land Cruiser, which was perfect for our theme. We had a friend who generously lent us one from his collection. For our photo booth, we had Tipping Point Collective set up a three different panels with tons of vintage props in true Wes Anderson fashion so people could get creative with their poses."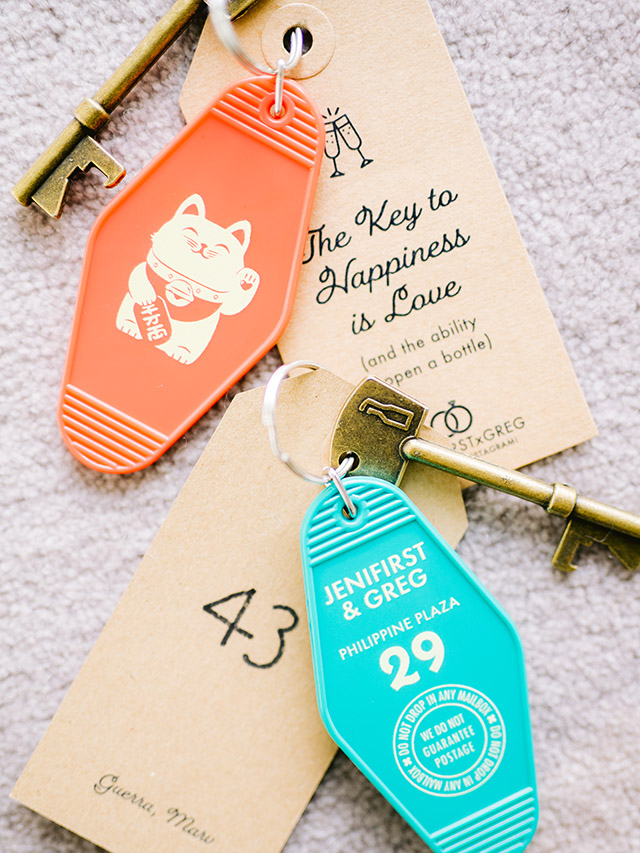 ADVERTISEMENT - CONTINUE READING BELOW
"The souvenirs were vintage motel keychains with a key bottle opener attached. Our very talented friend, Mica Santos (who also created all of our printed materials) designed them for us. We wanted our souvenirs to be something people could actually use after the wedding so we're hoping they did!"
"The maid of honor, the matron of honor, and the secondary sponsors each had a giant paper rose that we made ourselves instead of traditional bouquets. We also replaced the bouquet throw with a game called Kahoot, and it's a multiple choice quiz platform that can be accessed online. Points are computed based on accuracy and speed. So since it was our wedding, it was trivia about us. It's a good game because it gives people an opportunity to learn about us—like, that I own 63 pairs of Chuck Taylors or that Greg's first CDs were Ace of Base and Boyz II Men."
ADVERTISEMENT - CONTINUE READING BELOW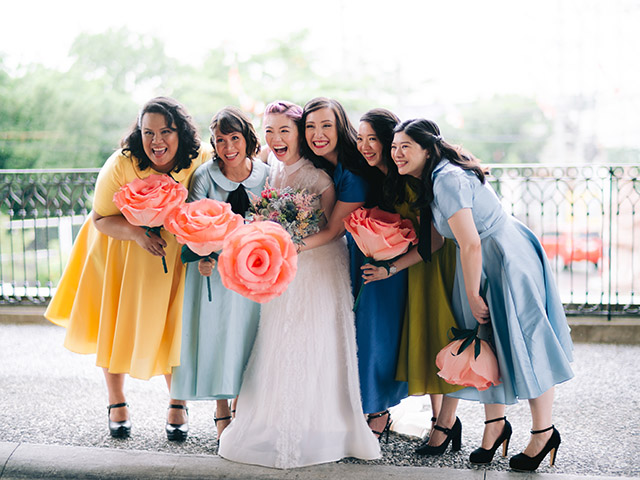 Comments
Load More Stories