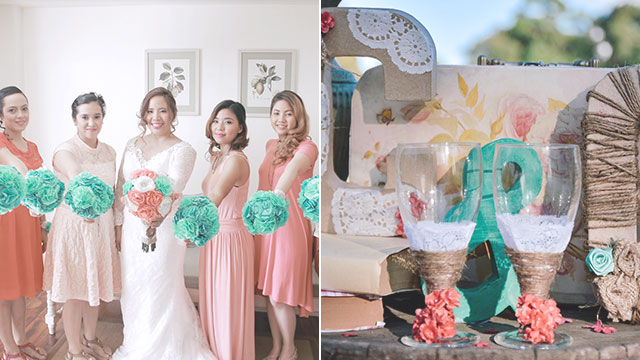 It's not easy to plan for a wedding—much less do almost everything yourself—but for Trixie Torralba, creating her big day with her own hands from the ground up was definitely worth it. From bouquets to table decors and edible giveaways, this Pinay shows how much you can do on your own if you have the right amount of creativity and patience to start with.
ADVERTISEMENT - CONTINUE READING BELOW
Female Network: What were the facets of your wedding that you created on your own?
Trixie Torralba: Oh gosh! There's a lot. 
Bouquets & Corsage: Bridesmaids, maid of honor, bride
Bowtie, suspenders, and boutonnieres:  groomsmen, groom, best man, sponsors
Tutu skirt, headband and lace tambourine (instead of flowers to throw): flower girl 
Fan: primary & secondary sponsors
Veil, cord, ring pillow, coin pillow, bible  (We wrapped the bible in jute rope, [and] made the ring [and the] coin pillow from scratch along with the veil and cord.)
Pillow for kneeling down (made this from scratch)
Bride's garter 
Invitations
Lace curtains for the bridal entrance

Giveaways 

for bridesmaids: wooden hanger with their names on a wire; for groomsmen: mini mason jars with their faces on caricature (caricature by a friend); for sponsors: choco-banana jam
Giveaways for guests: We bought local pasalubong treats and prepared paper bags so that our guests could fill it up on their own
Dessert: Black Sambo
Table numbers: The wooden blocks were supposed to be our gift for our principal sponsors but since they were a fail, we turned them into table numbers by writing on them with a white marker
Table decorations: We collected cans and wrapped them with jute string
Other decorations: Flowers along the bridal march aisle; name tags for seating chart, Japanese lantern with lace; wrote quotes on black illustration board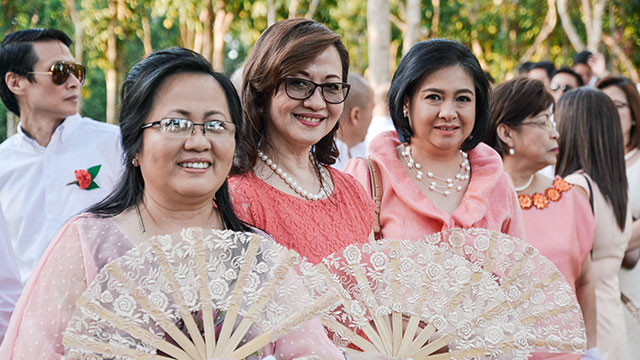 FN: When you got engaged, did you immediately know that you'll try to DIY a lot of things for your big day? What made you decide to go DIY?
Trixie: When I got engaged, I knew that I didn't want to spend a lot on a wedding since we believed that we could use the money on other important things like buying a house or preparing a fund for when I got pregnant. 
ADVERTISEMENT - CONTINUE READING BELOW
The original plan was to have the wedding inside our favorite small cafe in Cebu. It could only accommodate 20 people though but we were ready to cross out people from our list. I really wanted to get married at Circa 1900 in Cebu but it was too expensive for us. I didn't want to pay P70,000 just for the food and venue alone so we kept looking for other options. My grandparents, however, requested to have the wedding in Bacolod (my hometown) since they could not travel anymore. We decided to have the wedding there and started looking around. There were a few options but when we saw Bantug Lake Ranch, we knew it was the perfect venue for our rustic theme.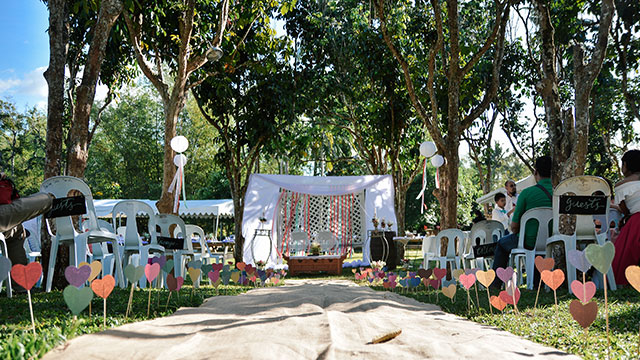 ADVERTISEMENT - CONTINUE READING BELOW
I decided to DIY the wedding since I am very meticulous and detailed. I didn't want to end up as a bridezilla and be disappointed with everything so I decided to do whatever I could on my own (and with the help of my hubby) so that if something fails, I had no one else to blame but myself.
FN: For the uninitiated, it's not easy to source materials. How did you choose yours?
Trixie:  Ha! I know what you mean! We had a lot of trouble looking for seafoam green suspenders anywhere in Cebu. Thankfully, I found a guide online on how to dye garters and turn them into seafoam color. The next issue was where to buy the suspender clips. We searched everywhere and finally settled on ordering from an Etsy store in China. This was another problem since we had to wait around one month for it to arrive via the Philippine post office. As for the cans, we were blessed to have friends who donated their old corned beef/condensed milk/corn cans and we had to clean them and wrap them in jute string. On our off days, hubby and I would go to downtown Cebu and hunt for materials. It also helped a lot that we were able to find some things online.
ADVERTISEMENT - CONTINUE READING BELOW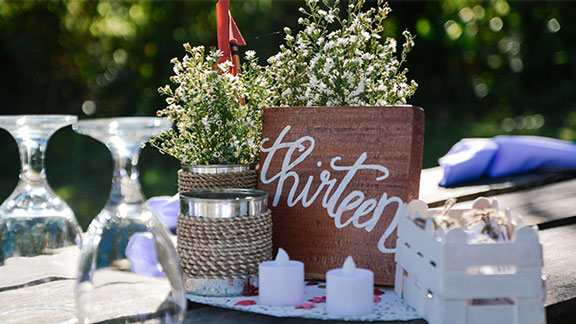 FN: With all the things that needed your attention during planning, how did you keep your cool and know where to start?
Trixie: I listed down the things I needed to do and made sure to keep myself updated if something has already been done. 
ADVERTISEMENT - CONTINUE READING BELOW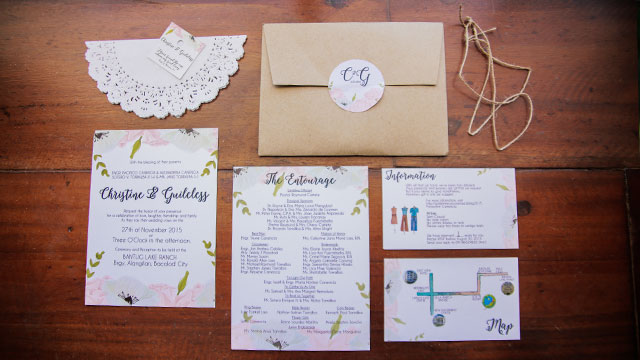 FN: Was there any point when you felt frustrated? How did you deal when things that didn't go your way?
Trixie: My husband was the very thing that kept me sane. I would have random melt-downs and tell my husband I didn't want to push through with the wedding anymore or that we should just head over to the Mayor's Office and get this thing done with already. My husband was very helpful and took over whenever I wanted to give up. It also helped that he would sit down with me and help me with things I couldn't do (like use a cutter without injuring myself). 
ADVERTISEMENT - CONTINUE READING BELOW
FN: What was the most rewarding moment you had while planning your wedding?
Trixie: Whenever I did something right the first time. I would be especially pleased whenever I kept doing something for several times but ended up in failure but on the nth attempt, would get it right. I loved the feeling of being able to finish a DIY project no matter how many tries. 
FN: What tips can you share with other brides who wish to go DIY on their own big day?
Trixie: Pinterest and Google are your best friends! There [are] so many DIY guides nowadays that you can easily find online. The important thing is that you give yourself enough time to prepare and look for other options if you really can't do something right. It's not your fault. There are some guides that don't really write down instructions properly so it's really trial and error. Just be patient with yourself. DIY isn't for everyone. But if it's something you really love doing, go for it! 
ADVERTISEMENT - CONTINUE READING BELOW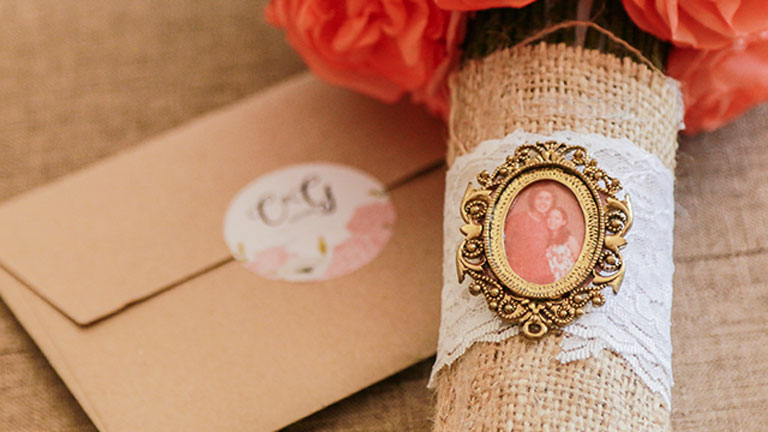 Load More Stories