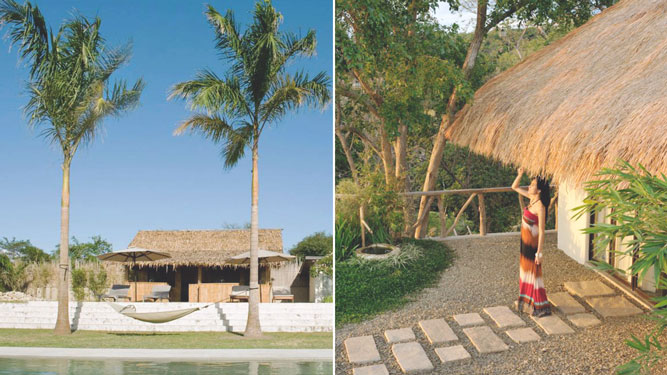 It's many a girl's dream to have a gorgeous sunset wedding overlooking mountains and beaches, and in the Philippines, future brides have 7,107 breathtaking islands to choose from. Unfortunately, planning a destination wedding often equates to a lot of extra expenses, which leads to many brides opting for more "sensible" set-ups in the metro. But Pia Bonalos (now Pia Bonalos-Mercado), proves that with careful planning, you can have make your dream destination wedding come true even on a budget. Read on to learn about her experience as a Calatagan bride.
ADVERTISEMENT - CONTINUE READING BELOW
Location
"I didn't actually choose Calatagan. I've always wanted a sunset wedding and since we're on a budget, I knew I had to be creative. So I googled beach houses in Batangas and Bataan. Puesto del Sol was our first stop and my heart just fell in love with the place right then and there. We did check out the other places too, but it was really Puesto del Sol that gave me that "this is it" feeling."
Puesto del Sol is a resort with private villas and casas on top of a seaside hill. It overlooks crystal waters and Cape Santiago Lighthouse. It has two pools (including a 21-meter infinity lap pool) and is five minutes away from the beach. It's a great location for families with kids, couples, and yes, your entourage!
ADVERTISEMENT - CONTINUE READING BELOW
ADVERTISEMENT - CONTINUE READING BELOW
ADVERTISEMENT - CONTINUE READING BELOW
Suppliers
After securing the venue, the search for suppliers was on. This part was a bit tricky for Pia and Eric, her groom. But they were able to make it work by exploring different options and not taking no for an answer.
"Since I'm a budgetarian bride, I wanted to get a local caterer so that I [wouldn't have to] pay out of town fees. But I guess I was pointed to the wrong directions, kasi the ones I found there didn't really suit the mood and feel of my wedding. Although we [did find] this quaint pizza place ran by an Italian and Filipina couple called Mama Mia Pizzeria that delivered the pizzas for cocktail hour.  
ADVERTISEMENT - CONTINUE READING BELOW
"Another challenge was the church! They don't usually hold weddings there and when I asked the local parish if we could have it [in their church], they actually said no. I had to write to the Archbishop of Batangas to allow us to get married there." The ceremony was held in Saint Isidore the Farmer Church. See the quaint church and gorgeous reception venue in their SDE below:
ADVERTISEMENT - CONTINUE READING BELOW
Preparations
Planning an out of town wedding is no joke, especially if you're doing it on top of a day job. Below are some tips future brides should take into consideration:
Be patient, and allot enough time for wedding tasks.
Pia shares that she was very hands-on when it came to planning the wedding, which took up a lot of her time. "Get ready for a lot of back and forth to the place if you're not hiring a full coordinator," the bride shares. So make sure to free up your weekends so you won't have to use up all your leaves—save them for the honeymoon. *wink*
Choose your entourage wisely!
"I was lucky [with my entourage] to have a great group who was willing to go the extra mile for me," says Pia. Remember, no one expects the bride and groom to do the dirty work on their big day. Make sure to find people who will truly be there for you every step of the way. Weddings are also a celebration of friendship, after all.
ADVERTISEMENT - CONTINUE READING BELOW
List everything down!
"Make a checklist of all the things you need to bring on the day of the wedding—from the church preparations to the reception venue. It will be hard to source materials that you forgot if you're out of town."
Find a strong support system
"Join a wedding group!" says Pia. "It helps to have a support group of other brides-to-be and those who are already married who gives you a lot of great advice along the way." 
Keep calm.
"Always go back to the reason why you chose the venue in the first place. There were moments during the planning when I was telling myself I shouldn't have chosen a location so far away, hassle for the guests, what if they don't show up. But the best advice I got was this—it's [YOUR] wedding day and as long as your groom and the priest show up, that's all you really need. Thankfully, a lot more people than me and the groom showed up and celebrated with us!"
ADVERTISEMENT - CONTINUE READING BELOW
Prepare for the worst, and manage your expectations.
One of the biggest mishaps of the day was that Pia's OTD (on-the-day) coordinator did not show up. (!!!) But the show must go on! Her event stylist, Best Day Ever Productions, had to take over coordination duties last minute. Luckily, the rest of the day still went as planned. So always remember not to let these hiccups get you down. You've only got one wedding day! 
Load More Stories