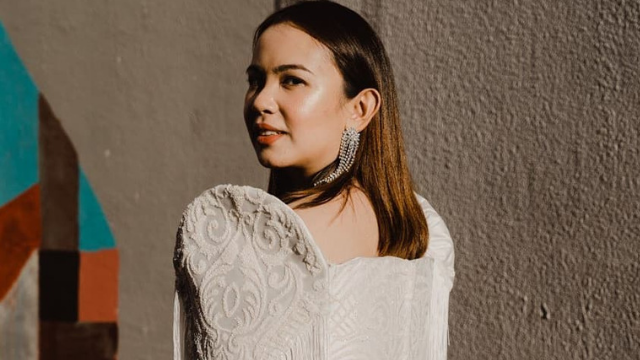 With our local designers continuously putting the spotlight on Filipinianas, we've been seeing our traditional garments done in a modern yet equally stylish take. Case in point is this Filipiniana wedding dress that bride Phyllis Santos-Tanteckchi wore to her civil wedding in Perth, Australia.
It was the bride's idea to wear a modern Filipiniana wedding dress. "Growing up, I have always admired my mom as she attended various Rigodon Balls and she would always wear a Filipiniana dress," Phyllis tells Preview.ph in an interview. "I myself have always wanted to wear a Filipiniana dress because I find the butterfly sleeves unique and elegant. But let's face it, there's not much modern RTW Filipiniana dresses out in stores. I figured my civil wedding in Australia would be the best occasion for me to wear and have one made! I really wanted to bring a piece of home with me on our special day. Also, as my Instagram handle is @Phylippines, I wanted a chance to say 'Phylippines in a Filipiniana!'"
ADVERTISEMENT - CONTINUE READING BELOW
Local designer Mara Chua was tapped to create the dress, which was also Gatsby-inspired, and was actually based on an existing gown she made for a different client. Mara told Preview.ph that the dress is "a mix of ideas—roaring '20s, subtle hints of Baroque and Rococo, and [her] love for vintage '50s old Hollywood glam and corsetry." The fabric also reflects its rich inspiration. "The fringe is made of silk threads and its details [are made of] studded lace handsewn to the garment for a seamless effect. The base itself is made of silk gazar," says the designer.
ADVERTISEMENT - CONTINUE READING BELOW
"I just updated the neckline," Mara reveals. "The original dress [had a] sweetheart [neckline]." The designer added a sharp, angular V-cut on the neckline to "balance the traditional and feminine elements," resulting in an ultra modern yet chic wedding dress for the patriotic bride.
Load More Stories