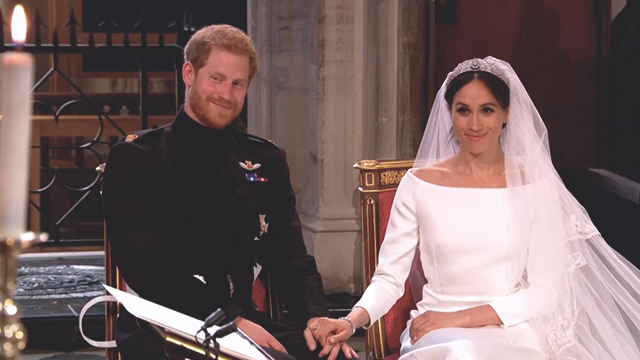 Today was the day we were all waiting for (in the past five months at least): Prince Harry has found his princess in Suits actress Meghan Markle, and they were wed in a not-so-intimate yet still incredibly touching ceremony at St. George's Chapel within Windsor Castle, with two receptions: the first at St. George's Hall and then Frogmore House.
ADVERTISEMENT - CONTINUE READING BELOW
While the grand affair had the world watching, it was also the little details that made the nuptials more meaningful. Here are a few things you may have missed:
The beautiful flowers by wedding florist Philippa Craddock
According to the Royal Family's website, Philippa made sure that they were sourced locally "and that the designs reflect the landscape that's around Windsor Castle." White garden roses are in the church floral arrangement, and sit alongside peonies (Meghan's favorite flower) and foxgloves, says BBC.com.
CONTINUE READING BELOW
Recommended Videos
A closer look at Meghan's bouquet
"Prince Harry handpicked several flowers yesterday from their private garden at Kensington Palace to add to the bespoke bridal bouquet designed by florist Philippa Craddock," reads a statement from Kensington Palace. 
"The spring blooms include Forget-Me-Nots which were Diana, Princess of Wales' favourite flower. The couple specifically chose them to be included in Ms. Markle's bouquet to honour the memory of the late Princess on this special day." The Evening Standard reports that her bouquet also featured myrtle, in keeping with royal tradition. 
ADVERTISEMENT - CONTINUE READING BELOW
Meghan's wedding bespoke dress
While royals are required to follow very conservative protocols (the dress has to be white with a neckline that isn't too low, among others), Meghan was still able to let her personality shine through in a Givenchy gown (and shoes) with a boat neck and sleeves. Following the tradition of choosing a British designer, Meghan went with Claire Waight Keller, who used to helm the fashion house Chloé.
ADVERTISEMENT - CONTINUE READING BELOW
Prince Harry in his military uniform
Prince Harry wore the Frockcoat Uniform of the Blues and Royals to his wedding. It's common knowledge that he served in the army for a decade and completed two tours of Afghanistan, but why wear his uniform for the wedding? "Stemming from Queen Victoria's wedding, her husband Prince Albert donned a full military uniform for their wedding day in 1840. In the years since, all male members of the royal family—including Prince Philip, Prince Charles, Prince Andrew and Prince William—have worn their military uniforms."
ADVERTISEMENT - CONTINUE READING BELOW
The Queen in her bright green dress
Queen Elizabeth has been known to wear bright or neon outfits in all of her engagements. According to Sophie, the Countess of Wessex in the documentary The Queen at 90, "She needs to stand out for people to be able to say 'I saw the Queen'. Don't forget that when she turns up somewhere, the crowds are two, three, four, 10, 15 deep, and someone wants to be able to say they saw a bit of the queen's hat as she went past." For her grandson's wedding, she chose a bright green ensamble contrasted by purple accents.
ADVERTISEMENT - CONTINUE READING BELOW
Princess Charlotte, the cutest bridesmaid ever
She was also part of the entourage of Pippa Middleton's wedding. What a scene stealer!
The wedding cake
ADVERTISEMENT - CONTINUE READING BELOW
The Royal Family and Kensington Palace Twitter account both shared that the lemon elderflower wedding cake incorporates "the bright flavours of spring." It is covered with buttercream and decorated with fresh flowers. It is made of 200 Amalfi lemons, 500 organic eggs, and ten bottles of Sandringham Elderflower Cordial. It was created by Claire Ptak, a pastry chef from California (where Meghan is from) who now owns London-based bakery Violet Cakes.
The wedding guests
Aside from royals, Meghan Markle's Suits castmates were there for the big event! Here they were having their "last supper" before the royal wedding:
ADVERTISEMENT - CONTINUE READING BELOW
Gina Torres, who plays Jessica Pearson, looked stunning.
Sarah Rafferty, who stars as fan favorite Donna, looked absolutely regal.
ADVERTISEMENT - CONTINUE READING BELOW
Meghan's on-screen hubby Patrick J. Adams was also suited up for the festivities.
And of course, Gabriel Macht, who plays Harvey Specter, looked as suave as ever.
ADVERTISEMENT - CONTINUE READING BELOW
Best-dressed celebrity guests...
Actor George Clooney wife human rights lawyer Amal were in attendance.
David and Victoria Beckham arrived in style (of course!).
ADVERTISEMENT - CONTINUE READING BELOW
Remembering Diana
According to E! News, the hymn "Guide Me, O Thou Great Redeemer," which was performed during the ceremony, was also sung at Princess Diana's funeral.
The venue's special meaning
ADVERTISEMENT - CONTINUE READING BELOW
Aside from Windsor Castle being a popular wedding venue for royals, it's also where Harry was christened when he was three months old, and is a short walk from Eton College, where he eventually went to school. It looks like the venue truly did have a special meaning for the groom.
Their royal titles
A few hours before the ceremony, the Queen announced the official royal titles she gifted the couple. Prince Harry now becomes His Royal Highness The Duke of Sussex, and Meghan Markle, Her Royal Highness The Duchess of Sussex. Prior to the announcement, the website Royal Central had predicted he would be named the Duke of Sussex upon his marriage, a title that has been available for over a century.
Load More Stories