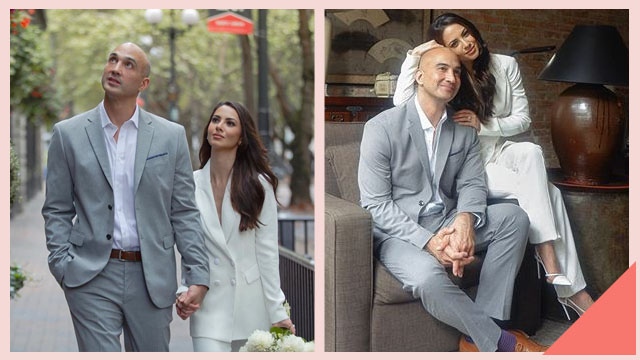 KC Montero and Filipino-Kiwi fiancée Stephanie Dods are now married.
The 42-year-old host tied the knot with his girlfriend of five years in an intimate civil wedding ceremony in Seattle, Washington, on September 9.
Only the couple's closest family members-including his mom Cynthia Miller and brother Colby Miller- were present during the ceremony. Colby brought his wife Elle and their son Josey.
To celebrate their first month as a married couple, KC and Stephanie shared photos from their wedding on their Instagram accounts on Sunday, October 11. According to the couple, their civil wedding took a week to plan.
KC's post recounted how his "forever began."
In the photos, he was in a gray suit, while the bride wore an all-white ensemble.
He wrote, "They say that every great love has a story, and mine began the day I met Stephanie 5 years ago. When my forever began.
"In the 42 years of my life I've made many decisions and at times have felt lost. But every decision, whether right or wrong, has lead me down a unique path that has led me to her, my wife. On September 9th, 2019, I married my best friend."
He went on to enumerate all the things he loves about his wife.
KC continued, "She's the person I plan vacations with just to realize that we never really wanted to leave home in the first place, the one person who calls out my shit and brings me back to earth.
ADVERTISEMENT - CONTINUE READING BELOW
"A person who isn't afraid to be honest with me and makes me want to be honest with her.
"She's the one who loves me more than I've ever been loved before and never afraid to show it or feel it.
"She's the one who picked me up after my father passed, let me cry and at the same time made me strong. She became my reason 'why'... why I work, why I smile, why I laugh and why I can finally sleep.
"The reason why I'm happy to go home after a long day knowing she's on the other side of that door. Every doubt, every question disappears when I look into her eyes. She is my home. She is my wife."
Stephanie shared more photos, one of which had the caption: "Meet the Millers."
KC's real name is Casey Miller.
Stephanie revealed that the only thing she wanted on her wedding day was to walk down the aisle with her grandmother.
The 2007 Miss World New Zealand titleholder recalled, "A couple of days ago my husband said something to me; that our relationship isn't contingent on anything else but our friendship and being there for one another.
ADVERTISEMENT - CONTINUE READING BELOW
"One month ago I officially married my best friend. I never dreamed of a big wedding, the only thing that I knew I wanted was for my Lola to be there and for her to walk me down the aisle. But sometimes things happen that are out of our control.
"Our first ceremony happened at the beginning of the year, holding my lolas hand in the hospital, something we chose not to share. Life doesn't always happen the way you imagined it."
It took them just a week to plan their civil wedding ceremony.
She continued, "Sometimes things don't go to plan and you end up planning a courthouse wedding in a week.. and you're painting your shoes white till 3am because you couldn't find anything else.
"Life isn't perfect and you can't control every aspect of it. But you can control who you spend the rest of your life with and I couldn't be more blessed to have found my husband, my best friend, who I will continue to choose everyday for the rest of my life."
ADVERTISEMENT - CONTINUE READING BELOW
In her last Instagram post, Stephanie expressed her love for KC, "Love you, Love you more, love you the mostest."
KC and Stephanie started dating in 2015, and got engaged at Truckee, California on Christmas Day, December 25, in 2017.
KC was previously married to singer-actress Geneva Cruz. Their divorce was granted in 2012.
ADVERTISEMENT - CONTINUE READING BELOW
Load More Stories