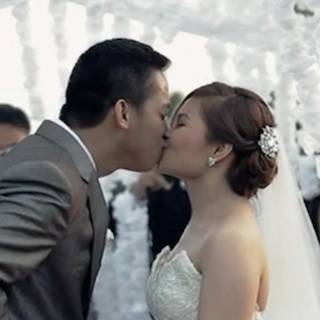 Like any couple, Raissa and Reiner had their share of trials. Raissa was at the De La Salle University campus when a bomb set off on September 26, 2010, and she lost both her legs to the incident. However, Raissa and Reiner proved their mettle, and they weathered the challenges of the bombing's aftermath. Two years later, the couple tied the knot in a beautiful ceremony in Tagaytay.

The couple picked Derek Yee to capture their big day's special moments on video. They share, "When we had our meeting before the wedding day, we just shared our love story and our character as a couple, and believed in his talent and the rest of the crew."

Prior to the wedding, Derek had asked Raissa and Reiner to choose a song for the video, but the couple's reply didn't reach Derek. The couple narrates, "On our wedding day, we were surprised that the song used for the SDE was Knock, Knock by Lenka, and we just laughed about it when Derek told us that it was his personal choice since we weren't able to give a reply. It all worked out [and turned out even better] in the end! We searched for the lyrics of the song, and we thought that this song perfectly captures our love story."

ADVERTISEMENT - CONTINUE READING BELOW

The video mirrored the love and happiness that the couple felt on their big day. Raissa and Reiner were at ease in front of the camera, and they impart what they've learned. "One thing we realized is that it really does help to be comfortable with the crew, and the camera follows. We really enjoyed the company of Derek and his crew on that very day, and that helped us a lot to act naturally and not portray some character," they say.

 
Comments
Load More Stories