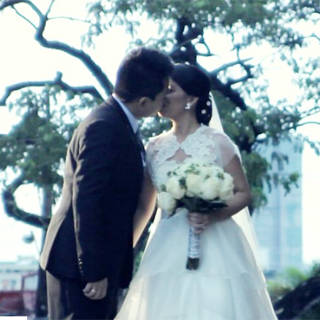 Gel and Jay make one cheery couple, and their wedding day was filled with their infectious energy. Their celebration featured lots of fun moments, and the couple asked Zoombox Wedding Videos to document their most special day.

The couple's same-day-edit (SDE) video showed the day's highlights in style. Gel and Jay chose Ben Rector's White Dress to accompany the video. Shares the bride, "The lyrics of the song depicts how much our love for each other is. The song has been our choice since day one of planning for our wedding. I still remember the 1st time Jay had me listen to the song, and almost immediately, I said 'I want this to be our SDE audio.'"

After picking the track for the video, Gel and Jay entrusted the rest of the details to their videography team. "We just told them that we want that song to be on our SDE video, and Zoombox Wedding Videos did all the magic," says Gel. Because the couple was at ease in front of the camera, the team was able to get the shots they needed. The bride tells other couples, "Just pretend that there is no camera around. Act naturally, and just enjoy."
ADVERTISEMENT - CONTINUE READING BELOW
CONTINUE READING BELOW
Recommended Videos
Load More Stories