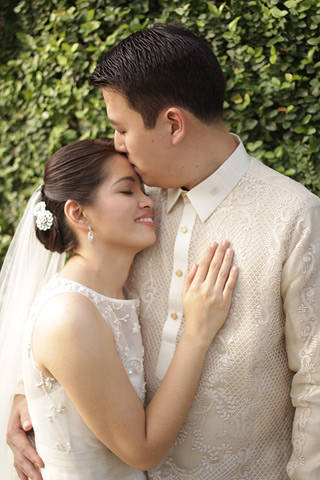 Geni and Steven's wedding was a classic Pinoy celebration. With the colors of the ocean as their motif, the couple made their simple affair truly their own.
Want to know more about Geni and Steven's story? Click on any of the following links:

Love Story
Geni and Steven's meeting was set up by their common friends. They attended a get-together which their friends organized, and they sat beside each other. While they didn't get to talk much at the event, Steven mustered the courage to text Geni when they had left the party. He had asked for Geni's number from their friend, and his gesture signaled the start of exchange of text messages and phone calls. Geni and Steven started going out on double dates with their friends, and eventually, they were dating on their own.
After eight years of being together, Geni and Steven realized that they wanted to spend the rest of their lives together. They chose a ring together, but the ring had to be resized, and so the couple agreed that Steven would still surprise Geni with the ring when it was already resized.

One New Year's eve, Steven visited Geni's house. They were seated with Geni's dad at the dining table. Steven decided to show Geni the ring under the table, and they both couldn't stop cracking up. Later in the evening, Steven finally asked Geni's dad for her hand in marriage, and the rest of the family was called to the table for the good news.
ADVERTISEMENT - CONTINUE READING BELOW
Back to main page
Find out about their wedding preparations
Wedding Preparations
Geni and Steven opted for a classic Filipino wedding, and they filled their big day with special details to make it truly their own. The couple chose shades of blue, teal green, and silver gray--colors of the ocean--as their motif.

To personalize their wedding, Geni and Steven incorporated caricatures of themselves in several details--among those were their invitations, souvenirs, and their wedding cake. Family and friends also helped the couple make their big day memorable, as they participated in the program through performances and games.

The couple was able to pull off the wedding they wanted, and the bride shares that choosing a great coordinator saved them from the stress of the tasks. Other ways by which Geni and Steven planned their big day was by attending bridal fairs and logging on to BridalBook.ph. While they were hands-on with the wedding, the couple just relaxed when the wedding day rolled in. "Enjoy your day! If something isn't going the way you planned it, let go and let God handle it. It always turns out okay in the end," says the bride.
Comments
Load More Stories