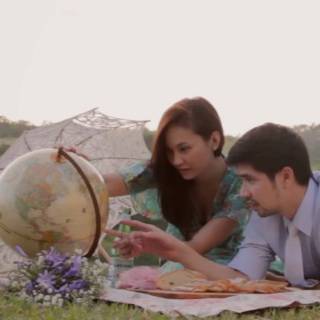 After posing for a colorful prenuptial pictorial, Patty Laurel and Patrick Filart gamely did an engagement video that showed their fun side. "We wanted to make a video that would stand the test of time but would also bottle up all the silliness of our youth," says Patty.
To execute what they had envisioned, the couple collaborated with videographer, Thirty Six-O's Nicollo Lopez, who's also a friend of the couple. Patty shares, "We completely trusted the vision and creativity of Nico--it's important to also let go and just allow the experts to do their thing. Patrick and I are pretty much game for anything so it was a very easy shoot!" 
Because of their rapport with their videographer, Patty and Patrick were easily comfortable in front of the camera. Patty gives a tip to other couples. "Get lost in each other's company and have fun with the shoot. When you become too camera-conscious, your movements become limited and your facial expressions less genuine."
ADVERTISEMENT - CONTINUE READING BELOW
In the end, Nicollo Lopez gave the couple a video that not only represented their personalities, but their upcoming wedding as well. "We will be having a small wedding outdoors, away from the hustle and bustle of the metro, so [the video] reflects a similar, laid back, back to nature vibe that we'd like to have for our actual wedding," Patty says.
CONTINUE READING BELOW
Recommended Videos
Comments
Load More Stories