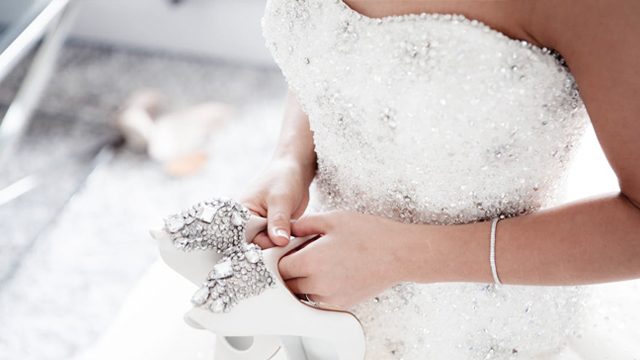 While there are some brides-to-be who take months (or even years) to finalize their wedding preparations, this woman had everything ready in less than a week.
Emily Hardman and Rob Reading were on a hike at Sedona Verde Valley, Arizona when Rob decided to pop the question with an $8.88 ring he bought at a grocery store that same day—and an hour after their climb, Emily started to plan their wedding.
ADVERTISEMENT - CONTINUE READING BELOW
"As soon as we had cell phone reception, I called the banquet hall, and then I called my parents, and told them, and then I called the temple," Emily told ABC News.
Emily says that you can plan a beautiful wedding in a week. You don't need to prolong the pressure. Heck, their invitations were sent through text message with a collage of their selfies and the words: "We're getting married!"
When asked why everything seemed to happen so fast, she explained that she didn't want to stress over it (like most brides do) and just "focus on what's important."
Every time she made a decision, she asked herself these two questions: "Does this achieve the goal of making people at my wedding feel loved and appreciated for the role they play in my life? Will it help strengthen my marriage and the promises we made each other? If the answer was no, I didn't waste any more time."
ADVERTISEMENT - CONTINUE READING BELOW
"I had become convinced that modern weddings had become way too burdensome. Starting at age seventeen, I started helping my friends and my siblings plan their weddings, and I just saw this stress that was going into the napkin colors and I just thought nobody is going to notice the napkin colors, nobody is going to walk out with their bag of peanuts and be like, 'Wow, I just feel so loved that you stayed up for three days tying a ribbon around these peanuts.'" 
Not only were they able to avoid the stress weddings can bring, they were also able to save a lot when it came to party expenses. As mentioned, on top of the engagement ring Reading bought for less than $10, photography, hair and makeup cost them about $395, her wedding dress was a lace top that cost $10 while her skirt was made by her mom. Not only that, they only spent around $4,000 for their reception—not bad for a wedding, right? 
ADVERTISEMENT - CONTINUE READING BELOW
Load More Stories