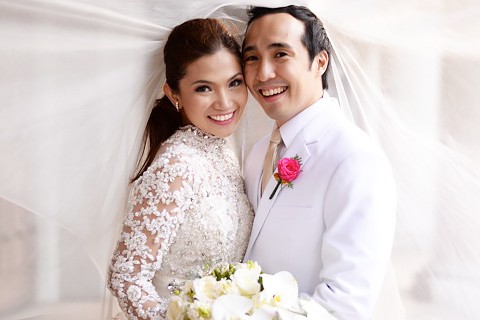 Denise and Mias' wedding was all about elegance with a hint of Christmas coziness. Back-dropped by the greenery of Cavite, it was a celebration of love centered on family and friends.

Many women have a dream wedding in mind, but unlike them, Denise just went with the flow. She knew, however, that she wanted wide open spaces. "I wasn't the 'just insert groom here' bride who already had every detail planned out in her head way in advance," she said. "But if there was one thing I really dreamt of from when I was still a little girl, it was to get married in a big church, where I would have a long walk down the aisle, with a joyful choir singing in the background. Very similar to how Fraulien Maria got married to Captain Von Trapp in the 'Sound of Music!'

"And so we decided to get married at St. James the Great. Aside from it being a really beautiful church, it is also in the village where we live so we thought it would be nice if all of the church rituals and sacraments of our family would be centered there, starting from the birth of our family which is our wedding."

Denise and Mias tied the knot during the Christmas season, which was why they opted for warm colors. "We wanted to play on the rich colors of Christmas while of course, incorporating my favorite color, pink," explained Denise. "We wanted rich hues, with touches of gold and a dash of shimmer - we wanted it to be opulent, the opposite of shabby chic!"

Probably one of the most special things about the wedding was Denise's gown which she designed herself. A beautiful ensemble of custom-crafted lace and Swarovski crystals, it spoke of her personal history. "I'm very proud of my gown because in a lot of ways it represented both the culmination of my journey as a single woman and the evolution of my design as a fashion designer," she said. ". I wouldn't be the strong woman and the confident-enough-to-design-her-own-gown bride if not for all my challenges, tears, and home-sick nights of studying fashion in a foreign land... So if only for that, everything was worth it. My wedding gown is truly my proud labor of love."
CONTINUE READING BELOW
Recommended Videos
ADVERTISEMENT - CONTINUE READING BELOW
As beautiful as the entire ceremony went, the preparations were not without any hitches. Denise and Mias got a supposedly experienced wedding coordinator, who turned out to be less than what they expected her to be.

"I remember... that three months before the wedding, I specifically asked my planner to do one thing: that she coordinate with my entourage for their gown fitting while my fiancé and I were away in Tokyo for our prenup shoot. Upon our return from Tokyo, I found out that she forgot to text my entourage and that the gown fittings never happened. That was a big red flag for me, since it was the first thing that I asked for. [It was] something as simple as coordinating with the entourage and she couldn't get it done."

Denise, who considered herself a "bride-chilla," realized that she would not be getting the service that she expected after the coordinator took on a defensive stance regarding her lapses.

"I knew that all suppliers should be booked ideally at least six months before so I was already panicking [and] wondering if there was a another planner who could and would accept me one month before the big day. Then I remembered chancing upon a planner during the wedding of one of my good friends. Luckily, I kept her calling card and called her immediately... in retrospect, what she did was that she planned my whole wedding in roughly three weeks."
ADVERTISEMENT - CONTINUE READING BELOW
In spite of all the missteps, the wedding itself was a beautiful celebration of love. "[What was] most memorable for me was that moment when the church doors opened and I saw the aisle that would become the path for the most unforgettable walk of my life," Denise recalled. "So many thoughts, memories, and emotions raced through my heart as it was a walk that was my farewell to my previous life, with my parents leading me to my new life with God's best for me. My heart was so happy then as I knew that from that moment on, my life would change, that it would be amazing, and that I couldn't help but be thrilled and excited for that new life to start."

Comments
Load More Stories