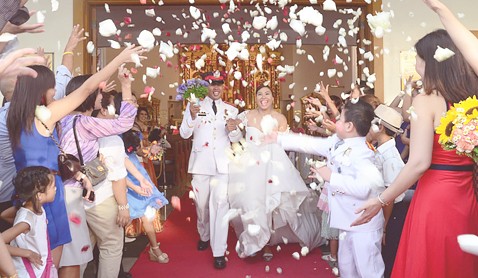 "Wala ka nang kawala" is what criminals usually hear when the police cuff their hands behind them, but in this instance, the handcuffs served as a symbol for being happily bound in love.

Claire and Steve Maico both serve the country under the Philippine National Police. When they met in the summer of 2007, Claire was a recruit from the Headquarters Support Services (HSS) in Crame, while Steve was from the elite Special Action Force (SAF) in Bicutan. Both were undergoing the same training course, where Claire had to share a testimonial.

"Speaking in front of my 204 HSS classmates and the 400 plus recruits from SAF was something I wanted to get over with fast, but I guess someone from the audience took my speech seriously," Claire shared. "After that, I remember that whenever our class would pass by the SAF batch during mess halls and training runs, somebody from SAF would shout my name followed by a lot of jeers."

Claire initially found it rude, but she never got around to finding out who kept on seeking her attention, until Steve came clean and admitted that it was him. He was straight-forward about saying that he liked Claire and he pursued her with a passion, sending her letters and often finding ways to see her during their training.

"After graduation, I returned to the National Dragon Boat Team as a PNP athlete, while Steve underwent Commando training and got designated at various posts," Claire continued. "There were a lot of struggles, but despite the fatigue and the rigidity of our schedules, we managed to work things out and provide time for each other.

"No proposals were needed for us. It was only a question of when."

The wedding preparations were a riot, and reflected much of Claire's and Steve's personalities. "I really wanted to incorporate our love story into the wedding, which was the reason for our uniquely long wedding theme -- seaside sunset summer barbecue picnic motorcycle police wedding!" She then excitedly ran everything down in bullet points:

"Seaside sunset: Because we love the colors orange and blue, these became our wedding colors particularly for the entourage.

"Summer: We became a couple on a sunny day in April and so our wedding date was set exactly six years after. My wedding flowers were mostly summer blooms. Sunflowers, wildflowers, and other bright-colored in-season flowers in mason jars also adorned our reception area.

ADVERTISEMENT - CONTINUE READING BELOW

"Barbecue picnic: I wanted a colorful yet simple setup for the reception to celebrate our casual, harabas (or eat-anywhere) vibe, hence the blue gingham table covers, picnic lunch boxes for the kids and our colorful spork souvenir for the guests.

"Motorcycle: The motorcycle was our main form of transportation then and I also used to bike-commute a lot to go from place to place. Thanks to my good friend, Jojo, who let us use his classic powder blue Vespa, we were able to ride from the church to our reception venue in style. During reception, our entourage members were introduced while back-riding on a motorcycle driven by a policeman, while our flower girls and bearers rode their kiddie bikes. (Shout out to my wedding coordinator Shasha for being able to orchestrate this perfectly). Our wedding cake also featured a mini-motorcycle and bike.

"Police: Of course, this theme should never be left out since Steve and I would never have met if we did not enter the PNP. But - from being flanked by swords by HSS honor guards during the ceremony and reception to Steve's military 'white duck' uniform along with the mini white ducks that our cute bearers wore during the wedding ceremony, the 'take-life' corner in our wedding's cocktail area, the police blotter book (for guests to write their messages for us), the military phonetic alphabet as table numbers, our dancing policeman classmate, Lloyd, who directed the flow of traffic during the entourage presentation with his legendary Michael Jackson moves, down to our wedding concept, "Wala Nang Kawala" which inspired the graphics of our invite - who would've guessed?"

As Claire and Steve both knew what they wanted for their big day down to the last detail, the rest of the arrangements were fairly easy. Claire requested for a simple and functional white gown which would soften the muscles on her arms from designer Amonn Velasco, who created a white chiffon dress with sequined sleeves, and a belted A-line skirt. Whatever hitches the couple had during the big day were almost comical. "I had a little trouble with the sleeves of my gown because it constantly kept sliding off my shoulder, so I had to pull them up repeatedly during our energetic dance presentation," said Claire. "Good thing the sleeves didn't fall off entirely, otherwise my huge arms that I was trying to hide the whole time would totally steal the show."

The "energetic dance presentation" was actually the couple's rendition of the famous "Thriller" scene from the movie "13 Going On 30." Claire proudly shared that they came up with it without a dance instructor.

Although it's been three years since the wedding, Claire still enjoys going back to those memories. "Seeing your hard work and unconventional ideas unfold before your eyes was a dream come true. Steve and I were glad to have shared tears, joy, and even sweat with our family, friends, and loved ones during our unique celebration of love."

Comments
Load More Stories