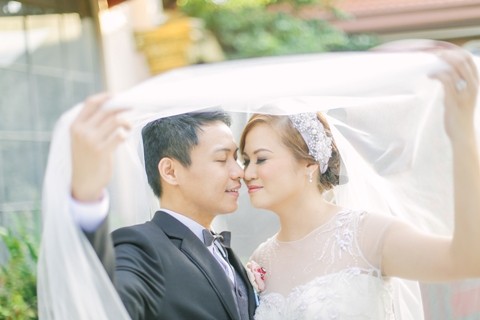 CJ and Miel wanted a unique yet  romantic wedding, despite their different personalities. So the couple decided to incorporate the gentleness of the bride's personality, and the playfulness of the groom. The couple chose pastel colors to suite their beautiful garden wedding.
Want to know more about CJ and Miel's wedding? Click on any of the links below:

Love Story
CJ and Miel met at their college dormitory. Miel had a crush on CJ for the longest time, yet he had no guts to talk to her. Finally, after a while and with a help of a few friends, Miel mustered the courage to approach CJ. He pursued her until they became a couple. "I had a few suitors before but I never really found the one who'll make me say yes until I met Miel," the bride explains.
CJ always knew that Miel was the man for her. On a cold December night, Miel finally proposed to CJ. He took out a Tiffany & Co paper bag, pulled out a beautiful ring and asked her to be his wife. "It was an intimate proposal. Afterwards, we were both crying and hugging each other," CJ says. The couple decided to get married on their tenth anniversary as a couple.
ADVERTISEMENT - CONTINUE READING BELOW
Wedding Preparations
CJ and Miel wanted a wedding that mixed both of their personalities, and so they aimed for a unique celebration.

The couple peppered their wedding ceremony with DIY projects. Among their crafts were their missalettes with their monogram, and ribbon wands for their chapel exit.

Since the groom is a basketball fanatic, they had a basketball-themed reception. The couple and their entourage had a basketball championship-inspired entrance. The bridesmaids acted like cheerleaders while the groomsmen pretended to be basketball players.
The celebration continued as the couple did a surprise special number on the song Kahit Maputi na ang Buhok Ko. The meaningful promise behind it is what the couple also wants to keep even in the future.

Despite their disagreements during their wedding preparations, CJ and Mie's love was love for each other over came it all. "There will always be clashes during wedding planning. During these moments, just discuss calmly and take a few days off. This will give you a new perspective," says the bride.

ADVERTISEMENT - CONTINUE READING BELOW
Comments
Load More Stories