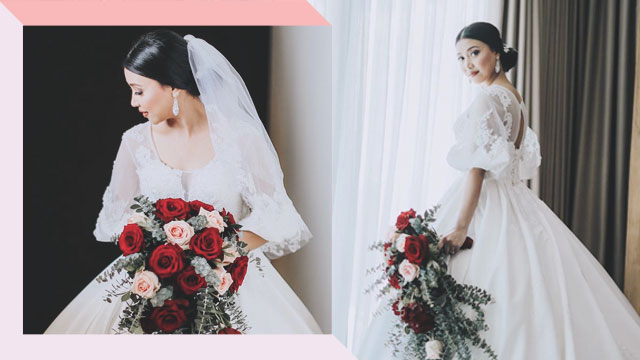 When it comes to celebrating life's greatest milestones, people often think that spending exorbitant amounts of money is the best way to do it. If it's so important, it must be worth dropping a serious amount of dough, right? Well, this Filipina bride just proved that celebrating a lifelong commitment of love doesn't have to be expensive. For Cai and Majo Pelone's wedding, which took place in June 2019, the bride did not hesitate to browse through online e-commerce platform Lazada to do some bridal gown shopping. 
Bridal gowns nowadays can easily cost a hundred thousand bucks, depending on the designer and the complexity of the design. In an interview with Bride and Breakfast, a Philippine-based wedding website, Cai said she wanted to put away the funds for other important matters, like her honeymoon. 
ADVERTISEMENT - CONTINUE READING BELOW
"When my now-husband, Majo, proposed to me in August. I got excited by the thought of walking down the aisle dressed in a beautiful white gown. I started to search early for a wedding gown in Lazada feeling positive and lucky to get a steal. As a practical bride on a budget, I don't want to splurge a lot of money for a gown that will be used for one-time and just a few hours. I'd rather put the money for our new beginnings and honeymoon funds. I meticulously check each and every wedding dresses every day until I came up with three best dresses (for pre-nup, ceremony, and reception) ready for check out."
"I waited and ordered it during Lazada's 11/11 Online Revolution Super Sale. They give out additional discounts and free shipping! Shipping usually takes 10-15 days for overseas items. I got the gown on 21st of November. It is ready to wear on our wedding day on June 8 the following year."
Cai's wedding gown was from Taobao, a brand that carries various ready-to-wear wedding gowns. She shared that what helped her choose the right gown were the comprehensive reviews from other brides, as well as the size chart stated in the description. Other tips she shared were to coordinate with your tailor regarding your exact measurements (so you could match it with the online size chart), check out the fabric in stores, and to research other brands that may carry the same dress for a cheaper price. 
Lo and behold, her intensive research paid off. Based on the couple's wedding photos, the gown fit perfectly, and for an online purchase, the design was quite tasteful. It featured a ball gown skirt, lace bell sleeves, and a sweetheart neckline with a sheer overlay. Completing the romantic look was a train topped with lace appliqués. It gave off old-world vibes that made for a classic wedding gown. 
ADVERTISEMENT - CONTINUE READING BELOW
ADVERTISEMENT - CONTINUE READING BELOW
According to Cai, Lazada's wedding gowns range from P2,000 to P3,000 for mermaid-cut dresses, while ball gown dresses range from P4,000 to P8,000 (with a train). If you think about it, that's pretty much the grand total of a long day of shopping, or perhaps a cool pair of sneakers. That said, would you consider buying a wedding dress from Lazada?
Load More Stories