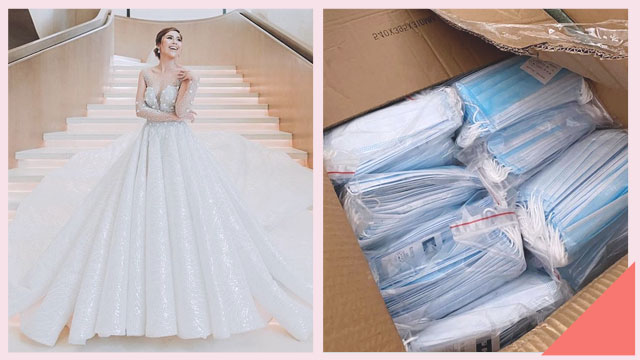 Now more than ever, in a time of great turmoil, every little act of service and kindness can go a long way—and that's exactly what Tinjoy Gutierrez sought out to do. As our medical frontliners continue to risk their lives while saving those infected by the dreaded coronavirus, it's no secret that resources, specifically protective gear, have been scarce. 
ADVERTISEMENT - CONTINUE READING BELOW
To help support the health crisis, at least within her area, Tinjoy found a unique way to raise money for the cause. She put up her own wedding gown for sale. "I am a nurse by profession, and I've got a ton of friends in the frontlines, particularly in the Southern Philippines Medical Center (SPMC) in Davao. I was alarmed that from four COVID-19-positive cases it rose up to 26 in just 24 hours," Tinjoy tells Preview, referencing the beginning of the breakout here in the Philippines. 
Crafted by bridal designer Val Taguba, Tinjoy wore the aforementioned frock to her fairly recent wedding to her now-husband Reyjhie Gutierrez back in December 2019. When asked why she chose to give up such a sentimental piece, she explained, "I wanted to turn my dress into something more. It is so easy to pull out money from my account and donate, but giving up something important to you for the benefit of many is just more rewarding and something your future children can be proud of."
The response was overwhelming to say the least. Hundreds of people started vying for her wedding gown, from her friends on Facebook to her followers on Instagram. Tinjoy even recalls a few friends suggesting that she put the gown up for auction in order to collect more money for PPEs. However, taking into account her gown's next owner, she stood her ground and sold the fated dress for exactly half the price of its original cost. "I was honestly very picky as to whom I'd sell it to. I was relying on my intuition to see if the next one who gets to wear my dress would really take good care of it."
ADVERTISEMENT - CONTINUE READING BELOW
In the end, Tinjoy sold her gown to an Instagram follower, who, although she has yet to have a groom to wed, was both eager to help and had absolutely fallen in love with her bridal frock. With the money she raised, she and her husband were able to procure thousands of surgical masks to be used by their fellowmen in SPMC, and there's more to come too! "I ordered another 70 boxes (with the help of some donations from my followers on IG). I am still procuring stocks of masks now and helping out a fundraising donation for PPE suits," Tinjoy adds. 
ADVERTISEMENT - CONTINUE READING BELOW
Suffice to say, her inspiring actions have not only benefited medical workers in the frontlines. It has also encouraged other women to do the same. In similar fashion, Instagram user Pennie Morillo-Sto. Domingo has taken to social media to sell her Mel Orlina wedding gown as well. "Every day I have been receiving requests for PPEs, facemasks and faceshields from frontlienrs in different hospitals. My batchmates and I are continuously raising funds to save the people who save us. I was inspired by @iamkristindora who sold her gown and I thought so hard if I would sell mine too," she wrote on her post. "It was a hard decision but I think I'm giving my dress more purpose by doing this,"
ADVERTISEMENT - CONTINUE READING BELOW
Hats off to these women for continuing to fight the good fight! 
For more stories on COVID-19, please click here.
Load More Stories