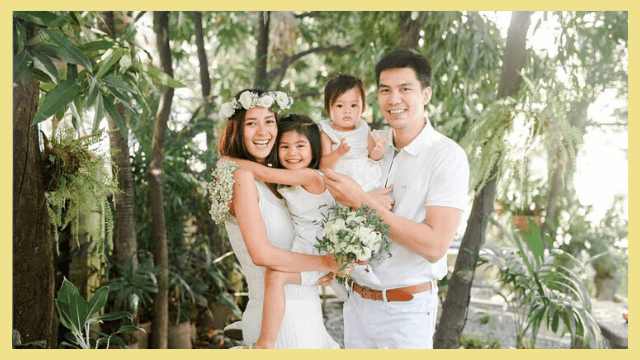 Bianca Gonzalez and JC Intal renewed their wedding vows on their fifth anniversary as wife and husband on December 4.
ADVERTISEMENT - CONTINUE READING BELOW
As it was at their El Nido wedding in 2014, their anniversary celebration only involved their loved ones and a close circle of friends.
Their renewal ceremony, which was held at a village's clubhouse, also has only two main witnesses: their daughters Lucia, 4, and Carmen, 1. 
Bianca's caption in her Instagram post reads: "Renewing our vows as husband and wife, in the presence of our daughters Lucia and Carmen, to celebrate 5 years of being married on this day."
JC adds in his own post: "Thank you to our friend Bro Hans Pe for your time and words of wisdom, and of course to my wife for this beautiful surprise."
Official photos are taken by Cocoon Studio.
ADVERTISEMENT - CONTINUE READING BELOW
Memorable spot
Bianca and JC got married in the Lagen Island of El Nido in 2014.
Every now and then, they return to their "favorite island" to relive their wedding day.
They stand by the altar where they exchanged vows and take a commemorative photo on the same spot.
Their subsequent commemorative photos first included their daughter Lucia, who was born on October 23, 2015, and then, most recently, baby Carmen who was born on October 29, 2018.
ADVERTISEMENT - CONTINUE READING BELOW
ADVERTISEMENT - CONTINUE READING BELOW
Load More Stories