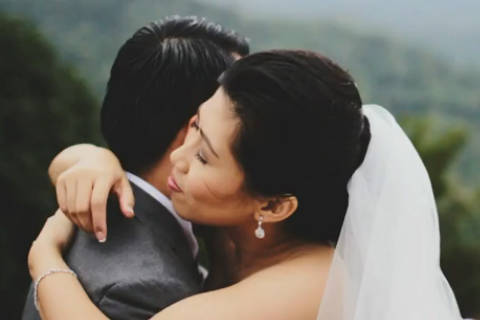 Angel and Andrew had a dreamy wedding at ChilLine in Tagaytay. The simple yet romantic affair featured classic and modern inspirations in ash brown and gray. Moreover, the groom showcased his artsy side through several DIY projects.
Jake Olaso Wedding Films documented the couple's special day in a heartwarming wedding video. The stellar team pieced together the highlights of the gathering, and came up with a tearjerker reel that effortlessly tugs at the heartstrings.
"I don't just see you as my wife or my bride now, but I see you as my life," is an excerpt from Andrew's heartfelt vow. The couple's emotional exchange of vows, which set the mood of the video, brought the couple and  their loved to tears.
Michelle Featherstone's song We Are Man and Wife, was an apt choice for the couple's wedding video. The lyrics and mellow tone of the song channeled the couple's undying love for one another.
ADVERTISEMENT - CONTINUE READING BELOW
CONTINUE READING BELOW
Recommended Videos
Get the latest updates from Female Network
Subscribe to our Newsletter!
Comments
Load More Stories
You're leaving?

How about one more story before you go?
No Thanks