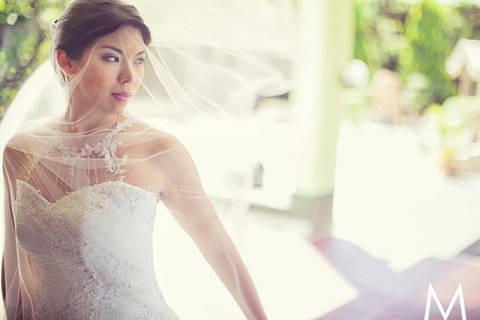 The most unforgettable moment in a wedding is when the bride walks down the aisle in her ravishing and stunning wedding gown. After countless weeks of preparing for your big day you would want to look your most beautiful self in your unforgettable ensemble. Zandra Lim, an exceptional wedding gown designer shares tips on looking your best.
Be confident
"It's important to embrace your wedding gown with confidence," Zandra shares. Since your bridal gown is custom made for your personality and silhouette, you must flaunt it with style and conviction. It's also good to maintain perfect posture to assure that your gown fits correctly when you walk down the aisle--and you'll look taller and slimmer!
Eat healthy and exercise
You can achieve your breathtaking bridal glow by starting a healthy lifestyle months before your wedding. Injecting fitness into your daily routine will make you showcase your best assets as you wear your gown. "Diet together with exercise will make you fit effortlessly in your gown even after your wedding is over," Zandra says.
ADVERTISEMENT - CONTINUE READING BELOW
Practice posing in your gown
All eyes will be on you during your wedding day, so you might as well practice posing in your wedding gown. Zandra says, "Brides should know their best angles so they can embody their gown," Also, practicing in front of the mirror can help you work with your photographer, because you already know which pose suits you best.
Give extra care to your gown
Brides should give extra TLC (tender loving care) to their gowns during wedding preparations. Zandra shares, "I've had instances in the past when my bride's gown got ruined because of unpredictable situations. To avoid this, you must only let your wedding suppliers touch your gown." In case your gown supplier can't zip you up on your wedding day, bring a meticulous friend or family member to your final fitting so she can watch how your designer assists you. On your wedding day, she'll be assigned to help you as you get dressed.
ADVERTISEMENT - CONTINUE READING BELOW
Hire an excellent wedding gown designer
Since your wedding is a once-in-a-life-time occasion, it's important to invest in a wedding gown designer who is not just skilled in crafting dresses, but who also offers a hands-on approach on your special day. When you book Zandra Lim, she will give you her full dedication. In fact, if her schedule permits, she can also be the one to dress you up on your wedding day to make sure that your gown fits you flawlessly for your happily ever after.
To inquire and book Zandra Lim for your wedding, click here.

Comments
Load More Stories