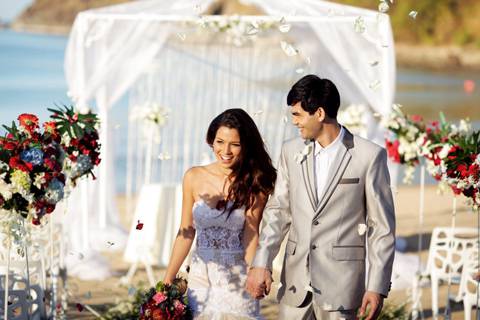 Couples who wish to make their big day even more memorable may choose to have a destination wedding. Among the popular places for such weddings is Batangas, known for its sunny beaches and luxurious resorts.

Pico de Loro Cove at Hamilo Coast in Nasugbu, Batangas proves to be the ideal pick for an out-of-town celebration. Below are just some of the reasons why you should tie the knot at this piece of paradise.

You'll have beautiful natural sights as backdrop


Pico de Loro exudes an air of romance with its 1.5-kilometer coastline, from which you can watch the beautiful sunset on the horizon. It is also laden with wondrous coves that you may visit via boat. With such breathtaking sights at Pico de Loro, a wedding by the shore, at their garden, or at their ballroom will surely paint a picture of romance.

The resort is easily accessible from Manila


One of the factors that discourage couples from having a destination wedding is the arduous travel that they and their guests have to endure. Pico de Loro is only a 90-minute drive from Manila via the Cavitex-Ternate-Nasugbu route. If your guests choose to drive to the venue on the day of your wedding, they won't have to worry about not getting to the resort on time.

Everything is in one compound


At Pico de Loro, you'll find everything you need within the resort, so you don't have to worry about the travel time from the church to the reception venue. Pico de Loro houses St. Therese of the Child Jesus Chapel, which has a view overlooking the beach. The church can accommodate up to 250 guests. After the ceremony, you and your guests can head to the reception venue within the same compound. Moreover, you can also check in at Pico Sands Hotel before and after the wedding.

They offer customizable wedding packages


Different couples have different preferences, which is why Pico de Loro offers customizable wedding packages for your unique celebration. Their staff can take care of various wedding needs like catering and décor, but if you wish to bring in your team of suppliers, you may also do so. Weddings at Pico de Loro--which may be held at the ballroom, beachfront, bar, restaurant, or garden--cater to a variety of couples, so you'll surely be able to pull off your own vision of a beautiful wedding.
To start planning your unique wedding at Pico de Loro, click here.
Comments
Load More Stories