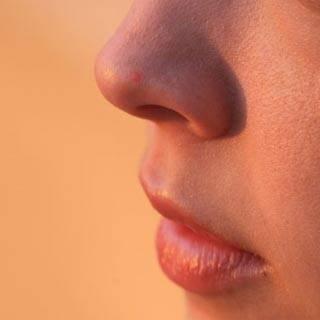 You may have done your best to prepare for everything in time and have everything prefect on your wedding day, but sometimes a surprise or two will still pop up-quite literally. It's every bride's nightmare to have a fresh pimple pop up on her wedding day, but occasionally, it does happen. What do you do when you wake up with a zit on your big day?
Mariel's answer:
To address the issue of a big bump on your big day, it's helpful to know how a pimple forms to begin with. "Specialized cells called keratinocytes line all of the pores, or hair follicles, on your skin," explains Richard G. Fried, M.D., Ph.D., author of Healing Adult Acne: Your Guide to Clear Skin & Self-Confidence. "These [eventually become] dead cells [that] slough off and are replaced by new, healthy cells." According to Dr. Fried, this is usually a microscopic occurrence that you won't even notice, one that takes place whenever you take a shower or apply astringent, for example. It is when these lining cells become abnormally sticky that clogged pores occur. "These sticky keratinocytes can no longer be shed one at a time, but instead, become clumps that clog the hair follicle. This clogged pore is the basis of every pimple in every individual, regardless of age, ethnicity, or race," says Dr. Fried.
ADVERTISEMENT - CONTINUE READING BELOW
When this happens, a bacterium called P. acnes can get trapped in the follicle and then fed by the oil produced by the sebaceous gland-then a previously innocuous blackhead or whitehead gets inflamed, resulting in a breakout.

The best emergency response would involve a dermatologist with a syringe and a vial of cortisone--if you have time, book a quick appointment with your doctor's office or a trusted facial center. If the clinic is already booked, explain your special situation, which may help get you a slot. In fact, if you're prone to breakouts, cover all your bases and advise your doctor beforehand, so you can squeeze into the clinic schedule without an appointment. A shot of dilute cortisone immediately reduces redness and inflammation, which lessens pain and swelling, making it easier to camouflage the zit with makeup.

Once this is done (or if you don't manage to talk your way into getting emergency treatment), you'll have to employ some calming tactics--both on the zit itself and on your psyche.

First, saturate a cotton pad with Visine or Eye-Mo. The active ingredients in eye drops help quell redness. Tape the wet pad over the affected area and keep it there while you go about the day's preparations (while setting your hair, for example). You'll look funny walking around with cotton stuck to your face, but you have to do what you have to do. You can also apply a 10% benzoyl-peroxide cream if you've used it before and have had no sensitivity to it (try Panoxyl). Otherwise, stick to a lower percentage or a salicylic-based gel.

ADVERTISEMENT - CONTINUE READING BELOW
Next, when your makeup session begins, your makeup artist should be equipped with his or her own arsenal of zit cover-ups that includes a creamy face base the exact shade as your skin, and loose powder to set it in place. S/he may have to do an extra layer or two to fully conceal the blemish. You might want to carry a little of that powder and foundation with you in your bridal bag, along with a small, clean lip brush to apply it with. Also consider taking Claritin or a non-drowse antihistamine tablet (check with your doctor to be sure) because that red spot could actually be the start of a rash and an allergic reaction, and not a pimple.
ADVERTISEMENT - CONTINUE READING BELOW
More importantly, RELAX. Seriously. You've made it this far. The only thing that should have you really worried is getting a feeling in your gut that you need to take it all back and walk away--in response to which a famous makeup artist I know likes to tell brides, "You can still back out." But, if you're completely sure and with conviction simply want to make it down that aisle, as gorgeous as you've ever been. then go for it! As for said zit? Good news is, these days, everything can be fixed in post-production! So, enjoy your big day and leave your anti-blemish concerns to your photographer.
About Mariel Chua:
Mariel Chua is a former beauty editor of Seventeen, Cosmopolitan, and Ok! Magazine Philippines. She also dabbles in makeup artistry and is now based in New York, working as a writer and editor for Studio One Networks and as a copywriter for a boutique beauty brand. Her column, "Beauty Rx," comes out every Friday in the Philippine Daily Inquirer. Visit Mariel's blog at http://NyMinuteNow.com.
ADVERTISEMENT - CONTINUE READING BELOW
Comments
Load More Stories