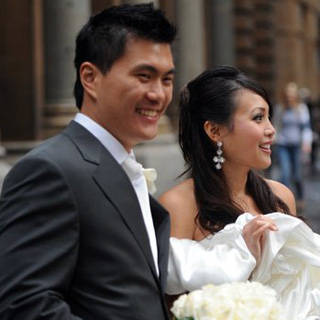 A bigger, better, and uniquely conceptualized bridal fair is set to bring newly-engaged couples' experience of selecting and putting together their dream team of wedding suppliers to a whole new level.
On October 21-22, 2012,  CCG Expo and Fairs Co. unveils "We're Engaged! Bridal Fair" at the PICC Forum, CCP Complex.
The organizers of the much-anticipated fair  took the company's philosophy to heart when they visualized We're Engaged! - "We take care of your wedding needs, we take care of your bridal business" is their promise to couples who will attend as well as to wedding suppliers who will participate as exhibitors.
Over 3,000 soon-to-wed couples and guests are expected to attend the 2-day fair. The couples can expect top wedding suppliers from all over the metro gathered under one roof in a relaxing, stress-free ambience. CCG realizes that in this day and age of information readily available at one's fingertips, nothing beats a personal interaction with potential suppliers and has designed a clutter-free set-up
to encourage conversations between the bride and the supplier. This allows them to get to know each other--and each other's styles--a little better. A wide array of suppliers from different categories - from caterers, photographers, wedding gowns, and rings - also ensures couples will be able complete their roster of wedding suppliers in one go.
Couples may now start pre-registering at www.ourweddingphilippines.com for free admission to the event.
Exhibitors, on the other hand, can also expect the same attention from the organizers. Suppliers who participate in the event not only get prime space, CCG also provides suppliers with marketing tips and best practices to help them make the most of their booth. They are also committed to assist exhibitors every step of the way, from the initial inquiry to even after the event itself.
ADVERTISEMENT - CONTINUE READING BELOW
Wedding suppliers looking to showcase products or service and touch base with potential clients are urged to reserve booth space as early as now to avail discounted rates. Inquiries may be sent to info@ourweddingphilippines.com.
Start the new year right, start your journey towards planning (and executing) the perfect wedding by becoming a part of "We're Engaged! Bridal Fair" today.
Comments
Load More Stories