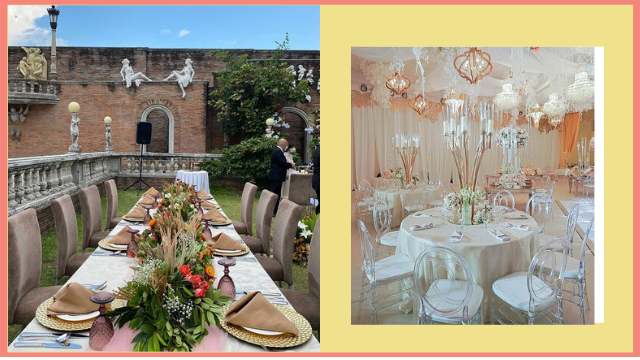 Looking for a wedding venue in Quezon City is no easy task. The city simply has a lot to offer every bride, regardless of their preferences and budget. But if you're obsessed with aesthetics, you have to find one that's already lovely as it is. This way, you can be assured of a picture-perfect celebration even with minimal styling. 
The following are a few gorgeous venues you may want to check out for your big day.
Wedding Venues in Quezon City
1. The Felicidad Mansion Events Place
Location: 2 Baler St, Roosevelt Ave, San Francisco del Monte, Quezon City
Contact: 89618038, felicidadmansionph@gmail.com, www.felicidadmansion.com.ph
If you're into anything vintage or are interested in architecture, you will surely like the Felicidad Mansion Events Place. Built in the 1970s, this mansion was named after Doña Felicidad Tayag, who used to live in it along with her family. The structure boasts an elegant design, which has both modern and European influences.
ADVERTISEMENT - CONTINUE READING BELOW
The moment you pass through its gate, you'll be greeted by its quaint fountain area that's perfect for a romantic photo session. When you enter the mansion, you will be wowed by its vintage ceiling accents that are made of hardwood as well as its carved doors, vintage windows, and crystal chandeliers. 
In total, it has six function rooms that come in varying sizes, which means this events place can cater to your needs, regardless of how many guests you have on your list. In case you want an outdoor reception, that can be arranged, too, as it also brags tastefully landscaped gardens and an elegant pool area that looks even better at night.
2. Casa Juico by Las Casas Filipinas De Acuzar
Location: 134 Roosevelt Ave, San Francisco del Monte, Quezon City
Contact: 09171366796, www.lascasasqc.com
One foolproof way of having a nice wedding is by holding it at a venue that's considered a work of art—just like Casa Juico. The original structure of this two-story Art Deco mansion was designed in the 1960s by National Artist for Architecture Pablo Antonio. It served as home to late businessman Felipe Sangil Juico and his family for five decades. Las Casas Filipinas De Acuzar bought it from the Juicos in 2016, restored it, and turned it into the events place we know today. It's now part of the Las Casas Heritage Collection, which is a roster of boutique hotels and events spaces owned by the Acuzars.
ADVERTISEMENT - CONTINUE READING BELOW
Casa Juico is the main house in Las Casas QC, which has its own chapel and plaza. It has a Filipino restaurant and function rooms that can be divided into smaller spaces. Its main attractions include a grand staircase and an elegant dining hall jazzed up by a chandelier set in gemstone hues and Mrs. Juico's antique plates mounted on the walls. Outside, it has gardens with old trees of different varieties and an iconic fountain adorned with nymph statuettes.
ADVERTISEMENT - CONTINUE READING BELOW
3. The Blue Leaf Cosmopolitan
Location: Robinsons Bridgetowne, 80 Eulogio Rodriguez Jr. Ave, Bagumbayan, Quezon City
Contact: 09178682583, cosmopolitan@theblueleaf.com.ph, www.theblueleaf.com/blue-leaf-cosmopolitan 
Old buildings may have their own charm, but newly designed structures can be as captivating. If you agree, it may be a sign that The Blue Leaf Cosmopolitan is for you. It's relatively new, but it has already earned its reputation as one of the prettiest venues in the metro with its modern-contemporary architecture that radiates the youthful vibe of the city.
You can be easily impressed by this concrete structure's clean and sexy lines and curves, as well as its large glass windows. It also has an amphitheater complete with stylish wooden benches where you can have an elegant ceremony. After that, you and your guests can party in one of its simple yet elegant banquet halls, which are called Monet, Picasso, and Matisse, respectively. Though these spaces are already beautiful by default, you are free to have them decorated as you please.
ADVERTISEMENT - CONTINUE READING BELOW
4. Fernwood Gardens
Location: 69 Cenacle Dr, Sanville Subd, Quezon City
Contact: 09178049150, info@fernwoodqc.com, www.fernwoodgarden.com
This place has been around for quite some time now, but its beauty hasn't faded at all. To this day, it remains that dreamy venue that's just perfect for fairy tale weddings. And it's all thanks to Al de Veyra, the same person behind the equally famous Fernbrook Gardens in Alabang and Fernwood Gardens Tagaytay. He wanted to use his expertise in designing gardens to come up with a wedding venue. However, what he originally imagined as a humble garden landscape turned into a jaw-dropping display of vegetation.
Among the many things Fernwood Gardens are known for is its iconic skydomes. These have become so popular that whenever people see them in wedding photos, they instantly recognize the venue. It has four indoor gardens, which are called Fernwood 1, Coral Tree, Courtyard, and Cycad. All these spaces have one thing in common: They all flaunt the beauty of nature, especially with all the plants covering some parts of their walls and even hanging from their ceilings.
ADVERTISEMENT - CONTINUE READING BELOW
5. Light of Love Events Place
Location: 1163 Santol St, Sampaloc, Quezon City
Contact: 8714 3871, sales@lightoflove.com.ph, www.lightoflove.com 
This venue is literally a paradise in the middle of a concrete jungle. In fact, when you drive along Santol Street, where it is located, you wouldn't immediately think there's a two-hectare secret garden in the area. But it is right there, enveloped by rare trees and blooms, and it is ready to transport you to a different world the moment you set foot in it. It even has lagoons and falls that will surely make you forget you're still in Metro Manila.
Light of Love Events Place has five indoor spaces, namely Love and Integrity, Trust, Loyalty, and Atrium. Among them, Atrium stands out due to its Grecian pillars and a unique glass-covered ceiling that's made even more stunning by a huge chandelier. The venue also has two outdoor spaces, called Cherish and The Garden. These spots can give you and your guests a full view of nature's beauty while enjoying an al fresco celebration.
ADVERTISEMENT - CONTINUE READING BELOW
These venues just prove that you don't have to drive for long hours away from Metro Manila to find an ideal location for your big day. Moreover, they remind us that there is beauty everywhere.
Load More Stories