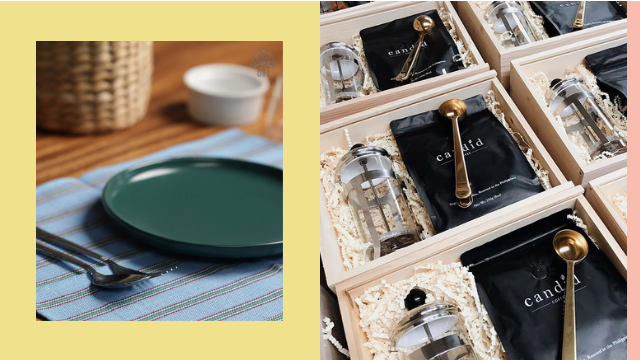 Before anything else, here's your reminder that wedding souvenirs are not mandatory. While your guests might expect good food at the reception, they certainly won't expect to receive gifts from you especially if they're your principal sponsors. So if you're working with a tight budget, feel free to skip the souvenirs and allocate the money to other wedding expenses.
That said, those who want to hand out tokens of appreciation for their ninong and ninang would do well to consider practical gift ideas. You want to give them something that they can actually use, rather than something that would just gather dust on their shelves. Consider the following ideas if you don't have a clue what to give your sponsors.
ADVERTISEMENT - CONTINUE READING BELOW
Wedding Souvenir Ideas for Your Principal Sponsors
Coffee Beans
Coffee beans make thoughtful gifts as many of us rely on a good cup of coffee to perk us up in the morning. And because these are consumable goods, there's no chance of them ending up as junk in your sponsors' homes. 
TRY: Bro Beans Coffee
Bro Beans Coffee sources premium beans and blends from the Cordilleras and Batangas. They offer different coffee varieties in pouches ranging from P240 to P640. The best part? You can place your orders via GrabMart or Shopee.
TRY: La Boite
This local business specializes in all sorts of gift boxes. Their curated caffeine sets with coffee beans, French press, and other inclusions start at P1,808, but you can also work with them to customize a box of goodies for your loved ones. 
Grazing Box
When it comes to giving gifts, you can never go wrong with food items. For a fuss-free approach to wedding souvenirs, consider placing orders for grazing boxes filled with treats your ninong and ninang can share with their family. A good grazing box can range from P900 to P4,500, depending on the size of the box and the inclusions, so you'll have the option to scrimp or splurge as you please.
TRY: Holy Graze PH
This family business creates special grazing boxes around Metro Manila, Bulacan, and Pampanga. Their Petite Box, good for one to two persons, costs P1,299. 
TRY: The Grazing Home PH
Cheese lovers will have lots to love in the charcuterie boxes offered by The Grazing Home. Price starts at P900 for their For Me box that's good enough for one to two persons.
ADVERTISEMENT - CONTINUE READING BELOW
TRY: Cased
Cased specializes in curated charcuterie sets for almost any type of celebration. These boxes include different types of cheese, deli meats, and more. At P1,600, their basic package comes with a note and is good for two to three persons.
Woven Blankets
Giving woven blankets to your guests is an excellent way to show that you care, all while supporting local weavers. It's a unique yet thoughtful gift that your sponsors will definitely appreciate. After all, can anyone ever have too many blankets?
TRY: Abel PH
The brand describes itself as a "social enterprise working with more than 50 weavers from the northern Philippines." They have lovely handwoven blankets ranging from P750 to P1,600 a piece. 
TRY: Our Little Ideas
In addition to blankets, this online business also sells bath towels and placemats made by Bicolano weavers. Their colorful woven blankets go for P800 each, or P1,500 for two. 
ADVERTISEMENT - CONTINUE READING BELOW
Skincare or Grooming Sets
Since skincare sets and grooming kits make excellent gifts for basically any occasion, it makes sense that these personal care items make good souvenirs reserved for your wedding sponsors. No ninang would say no to a box of skincare products, and the ninongs in your wedding could only be grateful that you saved them a trip to the mall to get their grooming essentials. 
TRY: Innisfree
This popular Korean skincare brand offers a variety of products that cater to different skin types. Ordering their boxed sets via Lazada will save you the trouble of curating gifts for your ninang.
TRY: Felipe and Sons
Felipe and Sons offers hair and shaving products for the special men in your life, your wedding sponsors included. Their essential shaving set, which comes with barber's grade shaving oil, shaving cream, and aftershave balm, is available in Lazada for P1250. 
Plants 
Even if your wedding sponsors aren't necessarily plantitos or plantitas, chances are they'd appreciate having a bit of greenery in their home or office. If you're considering giving your guests potted plants, go for small and sturdy ones that won't require a lot of tending to thrive.
TRY: Pots for Plants
Pots for Plants presents a wide selection of succulents, planters, and house plants that make great wedding souvenirs. Their physical store is located in Santa Rosa, Laguna, but they do ship orders nationwide. 
ADVERTISEMENT - CONTINUE READING BELOW
TRY: Succulents PH
This popular IG shop doesn't just sell succulents; it also designs special arrangements in geometric glass cases or framed terrariums—elegant souvenirs your sponsors would proudly showcase on their living room coffee table or office desk. 
Load More Stories