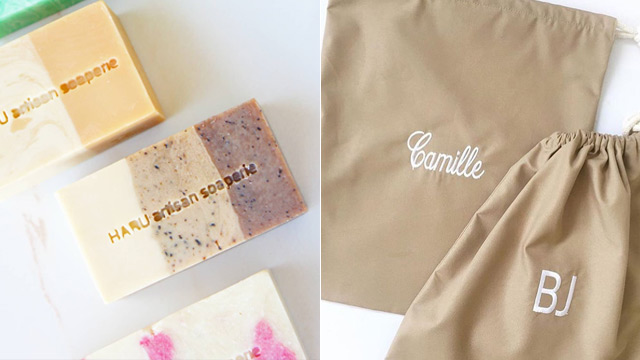 Wedding souvenirs are nice tokens of appreciation to receive, but more often than not, they only end up becoming added clutter to guests' homes. Think about it: How many unused shot glasses, mini liquor bottles, or even decorative ceramics do you have laying on your dusty shelves?
ADVERTISEMENT - CONTINUE READING BELOW
If your wedding is coming up, you may want to re-think what souvenir to give your guests, because you don't want to waste thousands of pesos for something your nearest and dearest won't even benefit from. Make sure your gifts aren't generic and unuseful, and don't give out wedding favors for the sake of following traditions. If you genuinely want to say "thank you", be sure to give them practical, everyday items you know that they'll actually use—and love!
Here are eight useful wedding souvenir ideas: 
1. Tumbler
Anyone could sure use a tumbler to fill with coffee and tea. Tumblers make a practical wedding favor, so they surely won't land on your guests' dusty shelves. 
CONTINUE READING BELOW
Recommended Videos
2. Bottled Coffee
After a crazy night of partying, a cup (or a bottle) of joe will be appreciated by your guests for the morning after—not to mention your 'tita' friends who stayed up way past their bedtime. It'll be a thoughtful souvenir that will immediately be consumed, and won't end up being a clutter in anyone's home. 
ADVERTISEMENT - CONTINUE READING BELOW
TRY: The Breadery Cold Brew Coffee (16 oz), P180 to P190 per bottle, available in all The Breadery stores 
You can also opt for these coffee-flavored handcrafted gelatos, because who can say no to ice cream.
TRY: Gelato Lab Coffee Stracciatella, P360 per pint, available online 
Gelato Lab also offers other crowd-pleasing flavors like Sea Salt Caramel, Pistachio, Milo Dinosaur, and Mango Pudding. 
ADVERTISEMENT - CONTINUE READING BELOW
3. Hand Sanitizer
They'll throw this one into their everyday bags for sure! A hand sanitizer may seem like a simple gift but it's a useful item to have. A regular hand sanitizer from a supermarket won't be wedding favor-appropriate, though, especially since your guests can easily buy them for themselves. Make these tokens more special by opting for this local brand's products that claim to boost one's mood, thanks to its refreshing citrusy smell. 
ADVERTISEMENT - CONTINUE READING BELOW
TRY: The Good Goods Mood Boosting Sanitizer, P100, available on thegoodsmnl.com 
If you want to make your souvenir feel even more special, you can also check out The Good Goods' cart service for weddings, where guests can customize their own giveaways, and choose from various essential oils. 
ADVERTISEMENT - CONTINUE READING BELOW
4. Fans 
Still don't know which souvenir to get? Think about your wedding's setting and what item will come in handy for the guests. For instance, if you're hosting an outdoor ceremony, it's highly likely that guests will want to cool down, and giving away fans will be much appreciated as they are thoughtful and practical. 
5. Lip Balm
According to BuzzFeed, "The average person loses like, one lip balm per week," so your guests would surely appreciate having a new lip balm in their kit—and yes, even men could use them. You can order handcrafted lip balms at Daily Bar, which are housed in a clean packaging with minimalist design. They're made with beeswax, cocoa butter, and coconut oil to soothe and repair chapped lips. 
FN TIP: These soothing lip balms would make for great souvenirs for destination weddings with cool temperatures, may it be in Tagaytay or Baguio—or even other countries with freezing cold weather! 
ADVERTISEMENT - CONTINUE READING BELOW
TRY: Daily Bar Basic Lip Care, price available upon request 
6. Bottled Gourmet Food
When in doubt, gift them something that's close to their hearts: Pinoy food! Local brand Native Gourmet offers bottled Filipino gourmet delicacies (think: tuyo, adobong tahong, and tinapa), which guests can either "enjoy as an ulam on its own or as a key ingredient in Pinoy dishes," explains Spot.ph. Plus, these gourmet picks are already nicely packaged so you can simply just order them and store them, until you're ready to give them away on your big day. 
ADVERTISEMENT - CONTINUE READING BELOW
FN Tip: These gourmet delicacies would make a nice touch to a Filipino-themed wedding reception! 
TRY: Native Gourmet Bottled Filipino Favorites, P175 to P300 each, available online
7. Shoe Bag
Gift your guests essential items that they won't normally buy for themselves like shoe bags. Not only will these come in handy when they're traveling, but they'll be useful for those who bring an extra pair of flats to the office! 
ADVERTISEMENT - CONTINUE READING BELOW
FN Tip: Instead of having your and your S.O.'s names embroidered on shoe bags, opt for a simple yet meaningful general message so your guests can use the for the years to come. 
TRY: Beyond Stitched Shoe Bags, P280 each, available online
8. Artisan Soap 
Soaps are another useful souvenir to give your guests because when does one not need a soap, right? Local brand Haru Artisan Soaperie has the prettiest handmade creations that your family and friends won't be able to ignore.
ADVERTISEMENT - CONTINUE READING BELOW
The products are made with a nourishing blend of virgin coconut oil, tsubaki oil, and other skin-loving ingredients, so you can be assured that they're not only pretty to look at, but also good for the skin. 
ADVERTISEMENT - CONTINUE READING BELOW
TRY: Haru Artisan Soaperie Face Soaps, P285, and Artisan Body Soaps, P185 to P195 each, available online
Before you start shopping (or ordering) your wedding favors, here are a few reminders: 
Do: 
Test them out. O

nce you've decided what souvenirs to give your guests,

you want to make sure that the products deliver on what they promise. 
Wrap them in beautiful packaging. If they're the type of souvenirs that need to be repacked, make them enticing to take home! According to Martha Stewart Weddings, you can choose an "

eye-catching bag or box, a colorful label, or a fun ribbon."

Leave a thank you note. Because it's simply just good form to do so.
Don't: 
Over-personalize. It's easy to get turned off by wedding souvenirs that have the couple's names, wedding dates, or even faces printed on them, especially if they're going to use these items every single day. Keep the personalization as subtle as possible so your guests can enjoy your gift beyond the wedding. 
ADVERTISEMENT - CONTINUE READING BELOW
Is it rude to not have wedding favors? 
Giving away wedding favors is a thoughtful way to thank your guests, but it certainly isn't mandatory—remember, guests don't really expect to receive gifts from the couple. That said, you can choose to forgeo wedding favors, especially if you want to save on costs.
What can I use instead of wedding favors? 
If you're thinking about skipping wedding souvenirs but still want to thank your guests, why not simply cap off the night by treating them to free-flowing drinks? Having a mobile bar at your wedding will ensure your guests will have a long, fun, and memorable night ahead. 
ADVERTISEMENT - CONTINUE READING BELOW
TRY: Mobile Bar, MIXED MOBILE BAR
You can also rent a photo booth so they can still somehow take home a memorabilia! 
TRY: 2-Shot Polaroid, BAICAPTURE INC. 
Load More Stories