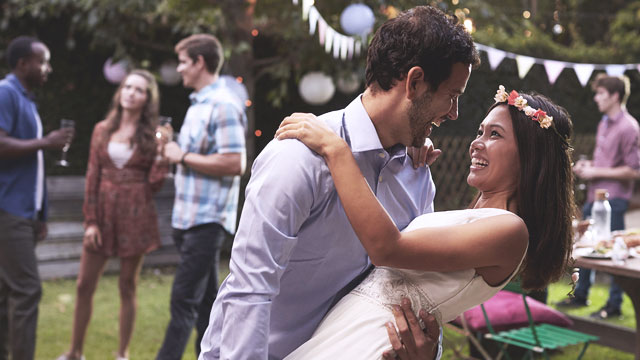 Whether it's after traditional marriage rites or an unconventional nuptial ceremony, the wedding reception program will determine the turn of events for one of the happiest days of your life. After the religious or civil customs are done, the celebration can follow a less formal—but still organized—flow to ensure the guests can party but still be cued into the important moments for the bride and groom. Planning this itinerary is a great way to manage everyone's expectations. Here, you'll find that we've dissected the three parts of the wedding program flow to pay attention to and write a script around.
ADVERTISEMENT - CONTINUE READING BELOW
Pre-program: Welcoming remarks, snacks, and the newlyweds' entrance
1. Greeting the guests
What should happen: A warm welcome and a quick downtime for your guests, plus a teaser of what's to come
What guests expect: Snacks and music
What to say: "Welcome to the wedding party of [Bride] and [Groom]. While waiting for the newlyweds, feel free to partake of the cocktails and refreshments.  [Brunch/Lunch/Dinner] will be served at [time]."
Guests usually arrive at the venue before the bride and groom. Have your assigned wedding coordinator for the day offer drinks and snacks. A few activities for entertainment would be a nice plus—if you have extra budget, a photo booth is a good way for your guests to kill time. 
The host can start with a few welcoming remarks at this point of the event or, if there's a band, they can be given a short script to announce in between songs. This can also be a good opportunity to remind everyone of the wedding hashtag. 
FN Tip: No matter how simple or how extravagant your wedding is, what's important is to manage your guests' expectations. A printed wedding program can be distributed or propped at cocktail tables to inform them of what's going to happen during the reception program. Having the host announce what's next in the agenda every few minutes or so can also keep everyone interested and excited.
2. Entrance of the newlyweds
What should happen: Your entourage's entrance, and your first presentation as a married couple
What guests expect: A fun and interesting entrance that won't take too long
What to say: "Ladies and gentlemen, please direct your attention to the [area where you're coming in] as we welcome Mr. & Mrs. [Newyleds]."
This is the start of the party. You and your new hubby may launch into your first dance at this time, though you can make a light-hearted show out of your entrance if you want. You may also opt to have your entourage give out sparklers, or even bubbles to the children among the guests, for a picturesque introduction to the event. After the entrance, the maid of honor and/or the best man can call for a toast, after which all your guests can settle down for their meals. 
ADVERTISEMENT - CONTINUE READING BELOW
Program: Meals, ceremonial activities, and speeches
What should happen: A good hour or so for eating punctuated by the reception program
What guests expect: To enjoy the food in a timely manner and to listen to speeches from about two to four key people, plus the viewing of wedding video/s
You and your husband, both sets of parents, your best man, and your maid of honor take center stage for this part of the festivities. It is customary to start with the Father of the Bride speech, which can also serve as the official welcome from the family. While your guests are enjoying their meals, the host can direct attention towards any videos that will play, though it is advisable not to keep the room too long in the dark so that guests can dine comfortably. If you and your S.O. are into traditional reception activities, you can ceremoniously cut the cake prior to the speeches so it can be served. Speeches can take place throughout this time—and since the rest of the party is feasting, let's hope the speakers keep their anecdotes and jokes palatable!
ADVERTISEMENT - CONTINUE READING BELOW
FN Tip: Leave copies of the menu on the tables. Don't forget about any vegetarians in attendance and get a catering service that's knowledgeable about allergens in their food. If it's a buffet, why don't you deploy plates of lechon for sharing at each table? That's definitely one of the things your guests will keep getting up for and they'll thank you for saving them the time. 
Post-meal entertainment and program closing
What should happen: Guests get to mingle, and/or enjoy an interesting program wind-down
What guests should expect: Light activities that don't stretch out too long
Once all your plates have been served is through, expect the guests to want to get up and mingle. The host can prompt a bouquet toss (or any other interesting alternative) from you. You can also go for a few fun games that every one can participate in (e.g. "Look under your chair! If your chair has a golden star, you have a prize!") Before announcing that the dance floor is open, though, make sure to distribute the giveaways or remind guests to have their photos taken in the photobooth (should you have one) to remember your special day by. In the movies, this is the part where the newlyweds leave the party to go to their honeymoon. In real life, it's a great time for you to continue the celebration with your family and friends.
ADVERTISEMENT - CONTINUE READING BELOW
Sample Wedding Reception Program Flow
If you're looking for a quick summary and a few suggestions of what you can do, you can base you own reception program on this basic list:
Welcoming remarks
Cocktails/Snacks
Invitation for guests to settle in their seats
Entrance of entourage
Entrace of bride and groom (can segueway to the couples' first dance)
Toast by best man/maid of honor
Invitation to dinner
Cake-cutting
Pre-nup video video (if available)
Father/daughter and mother/son dances
Speeches
Same-day edit wedding video (if available)
Garter and bouquest toss (or any similar iteration)
Distribution of give-aways and closing remarks
Party
For a successful (and succint) wedding reception program remember to:
Manage your guests expectations by always informing them of what's to happen next;
Make sure that food and drinks are available for you and your guests in a timely manner;
Make all parts of your program short but well thought of and sweet;
Make interesting activities that everyone can enjoy and relate to;
Sincerely have fun. It's your big day, after all.
ADVERTISEMENT - CONTINUE READING BELOW
With additional reporting by Charlene J. Owen
Load More Stories