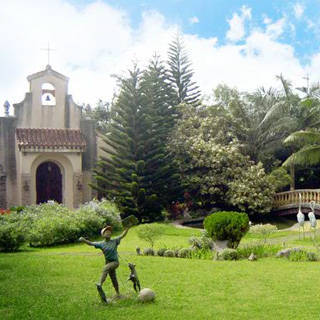 Outdoor celebrations have a certain whimsy and charm, which is why it's unsurprising that such events have become more popular in the recent years. An outdoor wedding not only looks great in photos, but it fosters an inviting ambiance as well.
Situated in nearby city Tagaytay is HillCreek Gardens, a private coffee plantation that has been opened for special events such as weddings. The grounds feature lush and sprawling gardens, which can accommodate an intimate party of 100, or a larger celebration of about 500 guests. Regardless of the number of guests you'll be inviting, HillCreek Gardens exudes warmth with its pleasant scenery. Pocket gardens, footbridges, ponds, and stone statues are just some of the elements that make HillCreek Gardens exude a rustic appeal.
The picture-perfect venue is perfect for weddings and prenuptial shoots, and there are also special packages to make it easier for you to plan your event. HillCreek Gardens offers Premium and Basic Packages if you want to do away with the hassle of having to deal with several suppliers. However, you may also bring your own suppliers and just book the venue (PhP80,000).
ADVERTISEMENT - CONTINUE READING BELOW
You may also hold your prenuptial shoot at HillCreek Gardens (PhP2,500 for 5 hours). Couples who'll be celebrating their wedding at the venue will have their shoot fee waived. With the several possible backdrops in the compound, you're bound to get dreamy photos.
HillCreek Gardens offers a scenic venue that's perfect for weddings and prenuptial shoots. With this charming space, your special affair will surely be a memorable one.
Comments
Load More Stories