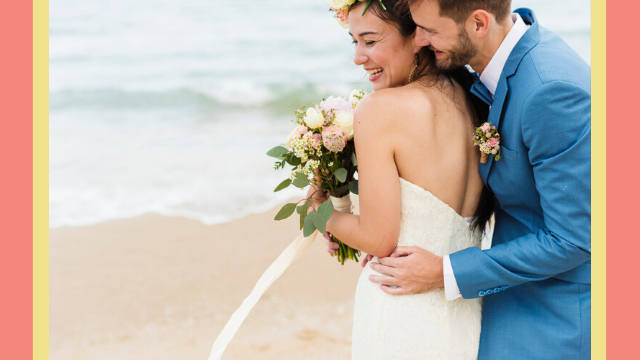 A destination wedding has a long list of pros and cons, with a typical highlight being that you'll have a smaller headcount compared to a big wedding so close to your hometown. But a typical concern is coordination: How are you going to plan your wedding miles and miles away?
ADVERTISEMENT - CONTINUE READING BELOW
The good news is, a lot of online booking platforms have made it easy for engaged pairs to have quick but customizable nuptials. With some you can even book days prior to your actual wedding (as long as you get the proper documents ready in time, of course).
Here's a list of top wedding destinations and packages available for your ceremony overseas:
*Rates may change without prior notice.
Note: When getting married abroad, make sure to research on the documents needed. You may also opt to have a civil wedding done in the Philippines should you prefer to only have the ceremonial wedding abroad.
Bali, Indonesia
There are many different locations and resorts to choose from, so any budget can be accomodated.
ADVERTISEMENT - CONTINUE READING BELOW
Recommended Videos
TRY: Bali Garden Beach Resort, Opal Package starts at AU$638 (About P22,394) for 30 guests
It comes with "simple yet elegant decorations" which consists of two Balinese umbrellas, four flower tassels, top pillar and altar flower, altar table, frangipanis flower aisles, flower petals for flower shower, chairs with white cover and sash for 30 people, sound system with one microphone, one CD player and docking for MP3 player during the ceremony. You can also upgrade to a diamond package at which is upwards of P60,000.
ADVERTISEMENT - CONTINUE READING BELOW
Queenstown, New Zealand
Can't get over Queenstown ever since Anne and Erwan's wedding made headlines? One popular spot in Queenstown is The Ledge, a "favorite for many couples with its amazing alpine views over the Remarkables and Lake Wakatipu."
TRY: Heli & Destination Weddings NZ, Packages start at NZ$5495 (About P179,579)
ADVERTISEMENT - CONTINUE READING BELOW
It includes coordination, a photographer, pickup/drop off and transport in passenger licensed black luxury 4WD, a helicopter for 1 hour shut down, marriage license application support, a marriage celebrant and two witnesses (the pilot and photographer), and a bottle of New Zealand Bubbles.
Click here for more information on the wedding packages.
San Francisco, USA
The San Francisco City Hall is one of the most iconic buildings in the city, making for classic wedding photos whether indoor or outdoor.
ADVERTISEMENT - CONTINUE READING BELOW
TRY: Pop the Know Elopment Package, US$1665 (about P85,000*)
Inclusive of an officiant, professional photographer, bouquet and boutonniere (up to six guests only). "Michele was on top of every detail and supportive of what we were looking for," writes one happy bride. Making the intimate affair elegant and memorable.
Paris, France
Vicki Belo and Rex Atienza are just a few of the Filipino personalities who tied the knot in the City of Love, and who can blame them? It's perfect for happy couples who just want to revel in the spontaneity of it all.
TRY: Perfect Paris Weddings, packages start at EUR 1065 (about P60,418*)
It includes an Eiffel Tower outdoor location, professional officiant, photographer, and a souvenir certificate.
One Reddit user shares his happy experience booking the service:
"On the day of the wedding a makeup artist came and did my wife's hair and makeup as well as her mother and her bridesmaid. They drove us out to the bank across the river, did the ceremony with pictures (with flowers), and then the photographer took us around to all the major Parisian sites for photos.
ADVERTISEMENT - CONTINUE READING BELOW
"Then they dropped us off at our location of choice for dinner. We got a few photos the week after and the rest are coming this week. Overall we loved it and they were pretty flexible with our requirements."
Conzumel, Mexico
Many couples opt for a wedding in Mexico because of the all-inclusive packages resorts typically offer. 
ADVERTISEMENT - CONTINUE READING BELOW
TRY: Cozumel Wedding Planner, starts at $700 (about P35,578*) for coordination and the Mr. Sanchos venue
They have partner vendors so you can book everything and customize your needs via their website. It's very straightforward as you can literally tick off what you want to choose from a list that already has the corresponding rate indicated. Example, a Standard Tropical Bridal Bouquet is an additional $80, while you can add $25 for a white aisle made out of sturdy material.
*Rates may change without prior notice.
Load More Stories