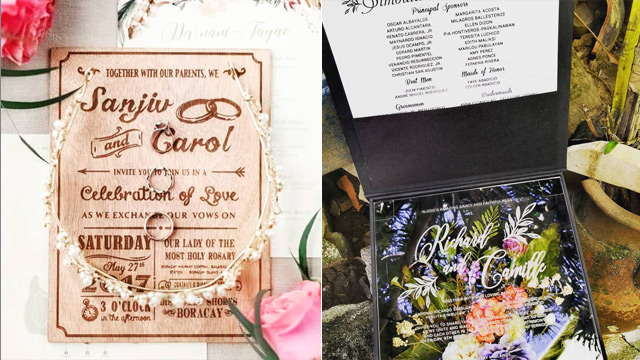 The real sneak peek of your big day isn't your prenup photos—it's your wedding invitations! Wedding invitation designs and the information you put there are crucial as your invites are the first little detail of your wedding that you'll be putting out, and will naturally set the tone for your nuptials. The only question is, where do you start? 
ADVERTISEMENT - CONTINUE READING BELOW
If you've scrolled through a supplier's Instagram account or checked out a couple of invitation samples at a bridal fair, you'll know how seriously overwhelming all the options can be. Incorporating your fête's theme (if you have any) is the easiest way for you to deck out your invites, but if you want to make your guests' hearts skip a beat, you can base the design on your couple history, hobbies, or your personalities. 
CONTINUE READING BELOW
Recommended Videos
To get you inspired, check out the following design ideas below—including a few wedding invitation traditions you can keep or break! 
How to choose a wedding invitation design that reflects your couple personality?
Wanderlust 

A travel-themed design is an adorable invitation idea not only for the wanderlusts but also for the LDR couples who have proven that love is really worth fighting (and waiting) for. 
This minimalist invitation features simple and elegant fonts and a world map illustration; consider highlighting you and your S.O.'s individual locations (for example, Philippines and U.S.A) to illustrate how far away you were from each other—and how much that distance never mattered. Sharing a bit of your couple history will give your guests a taste of kilig. 
ADVERTISEMENT - CONTINUE READING BELOW
You can also opt for a ticket-inspired design where you can incorporate you and your partner's locations at the "destination" and "arrival" section.  
ADVERTISEMENT - CONTINUE READING BELOW
Nature-inspired 
If most of your dates involve a lot of hiking, swimming, and even glamping, why not show off your love for the great outdoors through your invites? 
Nature-inspired designs are easy on the eyes. Take these refreshing invitations by Ink Scribbler for Printsonalities and Print Divas respectively as examples. Both feature earthy tones and watercolored illustrations of flora. 
ADVERTISEMENT - CONTINUE READING BELOW
ADVERTISEMENT - CONTINUE READING BELOW
Classic and minimalist 
Don't think twice about going for a minimalist invitation if you and your significant other want to keep things understated and uncomplicated. 
Minimalist invites need not be boring; elegant typography and subtle illustrations add visual interest to the fuss-free spaces where your guests' eyes can rest. In fact, a simple design can even make the biggest impact. 
ADVERTISEMENT - CONTINUE READING BELOW
ADVERTISEMENT - CONTINUE READING BELOW
You can also opt for an uncommon shape to add edge to your minimalist vibe. 
Unconventional 
Are you an outgoing, extroverted couple? There are lots of emerging fun and eye-catching invitation trends to check out. For starters, invitations made of acrylic are now a thing—and it's definitely an invite your guests are bound to remember. 
ADVERTISEMENT - CONTINUE READING BELOW
This tropical-themed acrylic invitation by Kenneth Uy is a fresh way to hype your guests up for your upcoming beach wedding. 
Do you both have a sweet tooth? Consider showing off that strong connection through this enticing boxed invitation, which comes with cupcakes on the side for your guests to devour. 
ADVERTISEMENT - CONTINUE READING BELOW
Leave a little surprise with a touch of pop-up art! 
ADVERTISEMENT - CONTINUE READING BELOW
Wedding invitation etiquette you need to know 
Now that you've decided on your wedding invitation design, you need to know the proper protocol on distributing them if you wish to make a good impression. More than being uptight, these tips are actually quite logical, and can show your guests that you really took the time to focus on details.
ADVERTISEMENT - CONTINUE READING BELOW
Double check if your guests are properly addressed on the invite
"The outer envelope of your wedding invitation should be more formal, with titles and full names," notes the Knot. If you're sending the invite to a married couple, for instance, formally address them as "Mr. and Mrs." and then mention the husband's first and last name (take note: if you're inviting a widow, you may just mention his or her name). 
Also, if you intend to invite an entire family, be sure to not only mention the names of the parents but even the kids. You can also simply write "The (Insert last name) family". Not clarifying who are invited will only create uncertainty among the parents on whether or not they should bring their children. 
Follow traditional wording 
Wedding invitations should start with the names of the event's hosts, which are traditionally the groom's parents (e.g. Mr. and Mrs. + [insert husband's first and last name] + request the honour of your presence at the marriage of their + son/daughter). In modern times, both sets of parents host the event, or couples fund their own wedding. However, most couples will still "opt to include their parents' names out of respect and Filipino convention," shares former editor of Martha Stewart Weddings Philippines Tata Mapa in an interview with Town and Country. 
ADVERTISEMENT - CONTINUE READING BELOW
What are wedding invitation traditions that are considered okay to break?
While traditional conventions are great, it's also important to asses when these are applicable and when you can replace them with something else. There are many ways to tweak your invites in such a way that your guests will still appreciate them—remember that it's the attention to detail that matters.
ADVERTISEMENT - CONTINUE READING BELOW
Sending out paper invitations 
It's 2019 and almost everything is digitalized; you can conveniently invite 150 guests to your wedding just by creating a Facebook event and posting a digital invitation. While this is undeniably practical, is it an improper thing to do? Will it make a bad impression among your guests (not to mention your well-mannered titos and titas)? 
"A beautifully printed wedding invitation is a keepsake your family may treasure—and traditionalists in the family may not understand (or approve of) a digital invitation," explains Deal News.
To find a middle ground, consider sending out Evites to your digital-savvy friends and paper invitations to your older relatives. This way, you can keep all parties happy and even cut down wedding costs. 
Listing down the names of your entire entourage
Traditionally, invitations have a separate page dedicated to the names of the entire entourage; this includes the principal sponsors, bridesmaids, flower girls, etc. Although it's nice to acknowledge your loved ones' participation at the ceremony, it no longer seems practical. Would it matter if your guests would see all these names of people they probably don't know? Chances are, they would skim through this page, which is a waste of paper—and yes, a waste of money. Instead, feel free to limit your invitation set to one or two cards (the other card can include both the map and the RSVP note). 
ADVERTISEMENT - CONTINUE READING BELOW
Finally, when should you send your wedding invitations?
Generally, you should send out your wedding invitations out six to eight weeks before the event. 
Set an RSVP date for two to three weeks before your big day to give you enough time to sort out your seating arrangements and to send your caterer a final headcount, which is normally given a week before the wedding.
ADVERTISEMENT - CONTINUE READING BELOW
Load More Stories