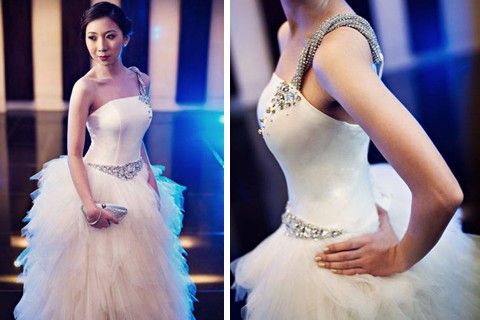 Every bride dreams of wearing her ideal wedding gown when she marries the man of her dreams. To help you confidently walk down the aisle, your wedding gown must perfectly fit your body type and your personality.
Zandra Lim is an excellent wedding gown designer committed to creating wonderful wedding gowns that are suitable for you. Her excellent skills shine through in every bridal creation that she works on.
Below, she shares tips for brides in choosing the perfect wedding gown.
Choose the Right Silhouette
Before you consider your wedding gown, you must make sure that it flatters your figure. "A bad silhouette can ruin a gown's design, if it is not flattering to a bride's body," Zandra shares. You must carefully consider your proportions. It's best to research first if your gown will perfectly complement your built. Work closely with your gown designer, who can suggest flattering styles.
ADVERTISEMENT - CONTINUE READING BELOW
Incorporate Your Style
With the vast variety of trendy wedding gowns, it's easy to give in to the fad. However, since you will be wearing your gown only once, it must be able to speak about your personality. You would want to look back at your wedding photos 10 years from now and be pleased with the gown's style. Come prepared to your consultation with your gown designer by preparing pegs of gowns you like. This way, your designer can gauge your personal style.
Plan Early
According to Zandra, it takes eight months to create a wonderful wedding gown that is tailored to your taste. It takes that much time and effort because every detail is created perfectly to suit you, and that is why it is important to have a head start in planning for your dream wedding gown.
Set a Budget
"The bride should know how much she's willing to spend," Zandra shares. When you decide on your budget, you must remember that a more elaborate gown may cost more than one with minimal embellishments. It's also good to factor into your budget the extra ensembles of your gown, such as your veil, shoes, and undergarments.
ADVERTISEMENT - CONTINUE READING BELOW
Invest in an Excellent Wedding Gown Designer
You surely want to get your money's worth, and that is why it's important to invest in an excellent wedding gown designer to create a lovely masterpiece for you. Ask friends for referrals, and also check gown samples to check your designer's craftsmanship. When you book Zandra Lim, she makes sure that she gives you her 100% commitment. She will guide you through every step, because she wants you to make your once-in-a-lifetime event memorable. Not only will she make sure that your gown reflects your personality, but she can also be the one to dress you up on your wedding day if she's available.
Comments
Load More Stories