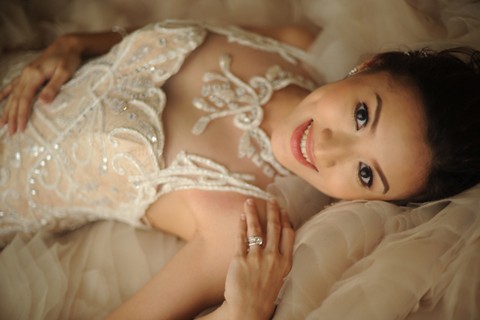 It is the bride's utmost desire to look beautiful on her wedding day. To achieve your envisioned look, you must discuss your ideas openly during your trial makeup session.
Dior Co says that a trial makeup session is a perfect opportunity for you to establish rapport with your makeup artist. It will also give you a preview of what you will look like on your special day. On the day of the event, you will be entrusting her with executing your ideal look, and your makeup artist can't afford to make mistakes.
Here are some tips for your trial makeup session:
Allot enough time for your trial hair & makeup session
If you have a busy schedule, you may book your trial session on a weekend so you won't feel rushed, and you'll have time to try out more than one look. Or, you can also schedule the prenuptial shoot on the same day as your trial session so you don't have to spend extra.
ADVERTISEMENT - CONTINUE READING BELOW
Arrive bare-faced
Before your trial session, make sure that you come there bare-faced. A fresh and clean face is important so the makeup would be easily applied. You may apply moisturizer, but that's it.
Bring pegs
Dior suggests that you bring photos of your inspiration peg. "It is easier for me and the bride if she comes with a photo of her desired look. It's very difficult to explain verbally what a bride wants." However, if you do not have any pegs yet, Dior will provide pegs for you to choose from.
Don't hesitate to ask questions & give feedback
Dior encourages you to openly ask questions. Some brides comment about the color's intensity and if a certain product can cause allergic reactions--such queries are fine with Dior. If however, you are not satisfied with the results, Dior will happily alter your look. In fact, she will keep working until you are satisfied with the output. "I never stop working, until the bride is happy," Dior says.
ADVERTISEMENT - CONTINUE READING BELOW
The bride's satisfaction is Dior's ultimate goal. This shows her commitment to her passion and her work. With Dior, your trial makeup session will be as successful just as your wedding day.
Click here to see photos and to book Dior Co Makeup Artistry for your wedding day.

Comments
Load More Stories