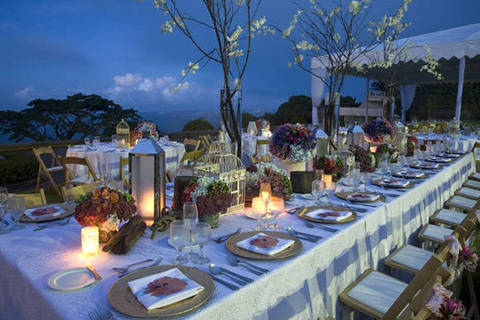 These days, weddings aren't limited to indoor celebrations. With the choices of outdoor event spaces, many couples choose to hold their event outdoors, as such affairs exude a charming and whimsical air.

If you're planning an outdoor wedding, check out our tips below.

Pick a venue with a stunning backdrop.
Planning an outdoor wedding usually starts with choosing the venue. For a memorable celebration, opt for a space with a stunning backdrop. This way, guests can enjoy the view, and you'll need less décor to liven up the place.

Taal Vista Hotel's Mid Garden presents the perfect backdrop for an intimate affair. With a stunning view of the Taal Volcano, the Taal Lake, the sprawling garden, and clear blue skies, the reception space certainly casts a spell of whimsy.

Coordinate with caterer to check that they have cooking provisions at the venue.
Food plays a huge role in making guests happy at your reception. If you do decide to celebrate outdoors, make sure that there's a nearby kitchen for your caterer.

ADVERTISEMENT - CONTINUE READING BELOW
In some cases, some venues have kitchen facilities and in-house caterers--taking advantage of these can make for a stress-free wedding. A garden wedding at Taal Vista Hotel includes sumptuous fare from their in-house kitchen team who'll serve warm food straight from the hotel kitchen. You can even make menu requests to suit your wedding's theme.

CONTINUE READING BELOW
Recommended Videos
Advise guests of appropriate attire.
For nippy places like Tagaytay, where it can get especially cool at night, tell guests to bring shawls, cardigans, or jackets. Make sure your guests will enjoy being outdoors by reminding them to wear the proper attire for the venue.

Also advise guests about the surface they'll be walking on so that they can wear comfy shoes. Flats, chunky heels, and wedges are your best shoe options for garden and beach venues.

Make sure there are clean restrooms nearby.
A breathtaking venue can lose its charm if there's nary a clean restroom nearby. When scouting for an outdoor space, remember that clean restrooms are a non-negotiable. Guests will surely want to freshen up in between the festivities, so make sure that the restrooms are well-stocked with toiletries, too.

ADVERTISEMENT - CONTINUE READING BELOW
Taal Vista Hotel's reception spaces, including the Mid Garden space, all have strategically located restrooms, making it easy for guests to freshen up at the wedding.

Provide favors to keep guests comfortable.
Prove to guests that you value their comfort by giving out simple yet well thought-out favors. For an outdoor celebration, you can provide bottled water or a refreshments station to keep guests hydrated. You can also hand out fans or packets of tissue so guests are comfortable throughout the celebration. Sunblock lotion, shawls, and rubber slippers are other items to consider. These seemingly simple items will surely go a long way in terms of your guests' comfort level.

Go for details that will hold despite the heat.
Outdoor weddings are largely affected by the weather. If you'll be celebrating under the sun, opt for wedding details that can withstand the heat. For flowers, choose ones that don't bruise easily, like roses, carnations, mums, birds of paradise, and baby's breath. Also have your wedding cake come in fondant icing, as soft icing like buttercream will melt in high temperature.

ADVERTISEMENT - CONTINUE READING BELOW
Let your suppliers know where you'll be celebrating your wedding, so that they can make suggestions.
Pitch tents or have a back-up venue in case of rain.
An outdoor wedding hugely relies on good weather. If your wedding will be on a month when rain is probable, make sure that you have a back-up plan. Check with your supplier if there's an indoor venue nearby, and if you can use that space as a back-up venue in case of heavy rain. Taal Vista Hotel has both outdoor and indoor venues, so you'll have that perfect wedding regardless of the weather.

You may also consider pitching tents or having one on standby so that you can still celebrate outdoors even when it rains.
Load More Stories