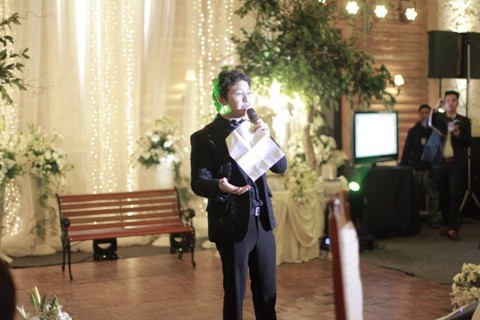 For your guests, your wedding reception will be among the memorable parts of your wedding day. Surely, you'd want everyone to have pleasant memories of your celebration, and achieving that lies in choosing a competent host for the event. Below, wedding host and columnist RJ Ledesma lists down things that your wedding host should be able to do.
Connect with the audience
RJ points out that couples sometimes assume that someone who speaks well will make a great host. The truth is, your host shouldn't just sound good, but rather he should engage the crowd throughout the wedding. RJ says that the host should be able to adjust to the audience's mood and reaction. "An inexperienced host cannot adjust when the situation calls for a formal or laid-back style," he points out.
Suggest a program flow
They don't call the host the "master of ceremonies" for nothing. The host is in charge of the program flow, and so he should set a nice pace to keep the crowd interested. Having hosted different events, RJ knows that a program should be customized according to the couple's personalities. Prior to each event, RJ meets with the couple to familiarize himself with the dynamics of the couple's relationship.

ADVERTISEMENT - CONTINUE READING BELOW
Prepare games about you and your groom
Holding games is just among the ways for a host to endear himself to the crowd. Doing so not only catches the audience's attention, but it also fosters a comfortable and festive atmosphere at the party. In every wedding, RJ takes it upon himself to prepare games that incorporate the couple's personality. This way, he can make the program truly about the bride and groom.
Ad-lib to fill gaps in the program
The difference between a non-professional and a professional host is that the latter will remain unfazed in stressful situations. The seemingly unexpected events at your wedding will be old news to a pro, and so a professional host can perfectly handle any situation, RJ says. A host who's easily perturbed will pass on the stress to the crowd. On the other hand, a calm host can mask a stressful situation, allowing you and your guests to enjoy the special day while the rest of your suppliers find solutions to the problem.
ADVERTISEMENT - CONTINUE READING BELOW
Comments
Load More Stories