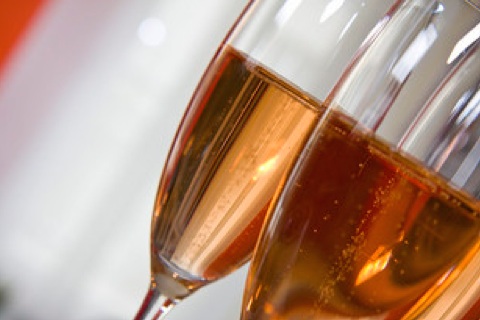 For most couples getting married, the wedding toast is one part of the reception program that gets neglected. While you might think that your guests are the ones who should worry about their speeches, it falls to you as gracious hosts to know how to handle toasts.
Wedding experts Lia Bernardo and Rachel Martelino of Bridesmaids & Co. share some things about the reception toast. You might learn some surprising things about this time-honored practice.
You must have toasts at your wedding
Some couples get caught up in all the festivities of their reception that they bump off the speeches from the reception program. This shouldn't be the case--at the very least, you should have two speeches. The first one is from your best man, who will toast in your honor, and who can speak on behalf of the guests. The second speech is traditionally given by the groom, who responds to the best man's speech and speaks on behalf of the couple. If you want to add more speeches, you may do so.
ADVERTISEMENT - CONTINUE READING BELOW
You should acknowledge toasts
Toasts will be made to your happiness, and it's in bad taste not to respond to a toast given in your honor. As mentioned, the groom should acknowledge to the toasts by speaking on your behalf as newlyweds--this is also his opportunity to thank everyone for coming to your special day.
CONTINUE READING BELOW
Recommended Videos
You don't drink on toasts done in your honor
When a toast is done in your honor (and on your wedding day, most--if not all--toasts will be done in your honor), the proper thing to do is to raise your glass to acknowledge the toast, but remember to put your glass down as everyone else drinks from theirs. Drinking to your good fortune would make you appear self-serving. However, if you'll be giving your own toast in honor of others (i.e. a toast to your new family, who helped you in planning your wedding), you may drink from your glass.
ADVERTISEMENT - CONTINUE READING BELOW
You shouldn't hesitate to ask guests to work within the time limit
Guests will be wishing you well, and listening to their toasts and anecdotes might seem like good fun to you. However, even if it is your wedding, remember that not everyone will be able to relate to the speeches and personal anecdotes. Ask your guests to limit toasts to two minutes to keep the rest of the guests from getting fidgety or bored.
For listings of wedding coordinators, click here.
For listings of wedding caterers, click here.

You might also want to check:
Comments
Load More Stories