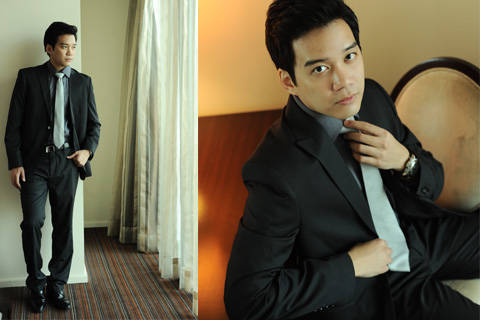 As brides fuss over their wedding gowns, grooms also need to take the time and effort of getting the perfect suit. While some people think that suits all look the same, in reality, suits can have a variety of details that work with different kinds of events, face shapes, body types, and personalities.
To help your groom decide on the suit that fits him best, we list down the basic parts of a suit.

The Jacket
The groom can express much of his personality through his choice of jacket. There are different jacket styles that depend on the formality of the affair.
Single-breasted
This classic jacket has a single column of buttons along the front panel. It has a slimming effect, which is perfect for petite grooms who wish to appear taller and leaner.
Double-breasted
This jacket style is usually worn at indoor formal weddings. It has overlapping front panels that feature two parallel columns of buttons. It is worn closed, without a vest or cummerbund.
ADVERTISEMENT - CONTINUE READING BELOW
CONTINUE READING BELOW
Recommended Videos
Morning Coat/ Cutaway
With the Philippines' tropical climate, grooms here in the Philippines commonly opt for this jacket style as it presents a casual look. It has a single button in front, positioned at a low stance, making it easy for grooms to move around.

Lapels
The lapel is a part of the jacket that frames the chest area.
Notch lapel
A common kind of lapel, the notch lapel works well with anyone as it is the most wearable style. The flaps are sewn to the collar at angle, forming a triangular gap in between. 

Peaked lapel
A peaked lapel is more pointed compared to a notch lapel, and goes past the edge of the collar. It presents a more dramatic formal look, and it is the most versatile. Grooms who wish to give their round faces more definition can opt for jackets with peaked lapels.

Shawl lapel
This rounded lapel exhibits a stylish vintage appeal. This is perfect for grooms who wish to don a dapper look.
ADVERTISEMENT - CONTINUE READING BELOW
Inner Shirts

Inner shirts serve enhance the style of the suit. Depending on the details of the jacket, inner shirts may be buttoned up, pleated, colored, or textured.
Collars
The most determining detail of an inner shirt is the collar. The choice of collar should be considered with caution as it rests closest to the face.
Classic collar
An inner shirt with a classic collar is normally paired with morning coats. Neckties are often worn with this kind of collar.
Standing collar
Shirts with standing collars are worn with Mandarin-style jackets. The sleek collar style presents a minimalist look.
Winged collar
This structured collar works best with bow ties. With its high and pointed stance, it frames the jaw and exhibits an elegant look.
Turndown collar
For grooms who wish to don a more comfortable and contemporary style, a shirt with a turndown collar is a fitting choice.
Launch the gallery below to see a variety of suits with a mix of stylish details.
ADVERTISEMENT - CONTINUE READING BELOW
Comments
Load More Stories