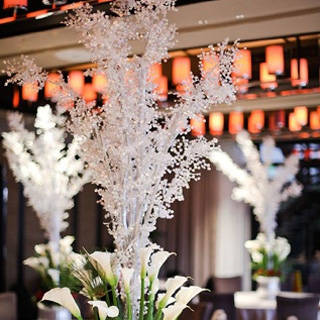 A beautifully styled table sets the mood for the wedding reception. Over the years, table setting and styling has evolved from simple floral centerpieces to include props and personal accessories of the couple such as books, frames, mirrors, and even lamps. Not only do they bring a touch of character to the table, they oftentimes make great conversation pieces.
Crystal Creations, the brain child of Veronica Chua that specializes in the creation of unique crystal bouquets and accessories, now also creates crystal centerpieces.
Veronica shares creating a centerpiece is in many ways similar to how she creates her crystal bouquets, both requiring the same amount of meticulous attention to detail. The advantage to making the centerpieces is the limitless designs. Currently, they have tall centerpieces (somewhat like tree branches adorned with crystals), medium centerpieces, and round centerpieces (much like the crystal bouquet but enhanced to stand alone as a centerpiece), but Veronica is quick to add that they can always customize the design to suit the preference and theme of the couple.
ADVERTISEMENT - CONTINUE READING BELOW
Crystal Creations can also enhance your existing flowers by adding accent pieces to the arrangement. 
The pieces also serve a dual purpose--they can be given as gifts to principal sponsors after the reception, or can serve as accent pieces for the couple's new home.
Couples who wish to add sparkle to the reception without having to worry about what to do with the pieces afterwards can also opt to rent the centerpieces instead.
A customized centerpiece from Crystal Creations can add a touch of class to the venue. The crystals--whether clear or colored--cast an enchanting glow when hit by the light, creating a shimmering effect to the ambiance and lending an air of sophistication to the couple's special day.

To know more about Crystal Creations, click here to view their supplier listing.
Load More Stories